China Tourism Forum Reveals Opportunity in China's Growing Outbound Tourist Market
By: Matt Coughlin
First Published: July 29, 2019
Topics: Faculty, STHM School, Tourism & Hospitality, U.S.-Asia Center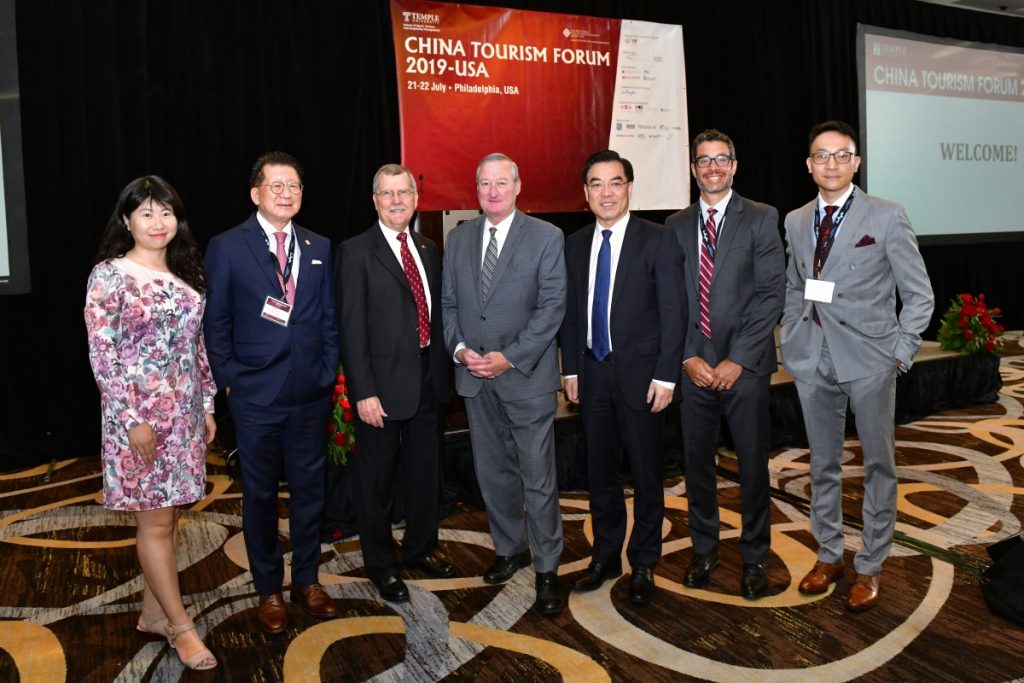 Nearly 180 tourism experts from the professional and academic world discussed the opportunities and challenges of U.S.-China travel amid rising trade tensions on July 21 and 22 during the China Tourism Forum 2019-USA. The forum was co-hosted by Temple University's School of Sport, Tourism and Hospitality Management (STHM) and Hong Kong Polytechnic University's School of Hotel and Tourism Management. The 15th annual conference, held for the first time outside of China, opened up the conversation on the importance of U.S.-China travel and trade.
"The forum could not have come at a better time for the industry and academic leaders to get together and discuss the importance and prospects of travel between the world's two largest economies," says Professor Xiang (Robert) Li, Director of Temple University's U.S.-Asia Center for Tourism and Hospitality Research.
Chinese passport-holding citizens are expected to double by 2020, creating a significant opportunity for the U.S. which consistently ranks among the most-visited destinations by Chinese tourists. However, as discussed during the forum and in a recent study conducted by the U.S.-Asia Center for Tourism and Hospitality Research, safety and security, international relations and a growing negative view of the U.S. are now key concerns constraining Chinese tourists from visiting the U.S. The forum provided a very timely platform for tourism experts to discuss these and other issues that the tourism industry faces in attracting Chinese tourists.
The two-day forum began with roundtable discussions and academic paper presentations, aiming to better understand U.S.-China travel markets. The official program kicked off with speeches by Dr. Richard M. Englert, President of Temple University; Jim Kenney, Mayor of City of Philadelphia; Ambassador Ping Huang, Consul General of People's Republic of China in New York; and Stephanie Sun, Pennsylvania Governor's Advisory Commissioner on Asian Pacific American Affairs. Forum hosts Dean Kaye Chon of Hong Kong Polytechnic University's School of Hotel and Tourism Management and Associate Dean Jeremy Jordan of STHM both delivered warm welcoming speeches.
The forum featured thought-provoking talks from international tourism and travel leaders and faculty from research institutions who shared their insights and strategies on Chinese-U.S. tourism. Speakers and panelists included Roger Dow, President and CEO of the U.S. Travel Association; Shengkang He, Senior Counselor to the World Tourism Cities Federation; Huayong Ge, Chairman of UnionPay International; and Adam Goldstein, Vice Chairman, Royal Caribbean Cruises.
During the forum, Li emphasized two critical purposes that tourism serves for the nations: fueling the economy and as a communication tool to improve the perceptions, relationships, and understanding between the people of both nations. All speakers remain optimistic about travel exchanges and tourism development between the two nations despite existing trade tensions.
Aligning with the forum's theme, "Riding Opportunities Ahead", panelists shared insight and ideas that the U.S. tourism industry could implement to enhance travel among Chinese tourists. These insights included the implementation of mobile payment systems such as Alipay that are not commonly used in western nations and studying social media behavior and online travel platform usage patterns unique to Chinese consumers. Experts also shared insights about tourism education and research.
The forum—sponsored by Fliggy, Alibaba's travel division, the World Tourism Cities Federation and the Philadelphia International Airport, among others—was a rare opportunity for academics and professionals to engage in discussion and share innovative practices and cutting-edge research that could bolster travel and tourism in both nations despite trade tensions.