STHM Internship Experience: From Owls to Eagles
By: Courtney Kubitza
First Published: November 30, 2018
Topics: Sport, STHM School, Student Stories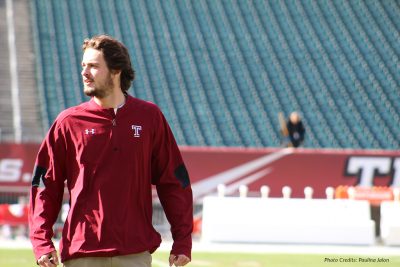 Joseph 'Joey' Glennon Jr. grew up playing sports, but when it came time to choose a career, he opted to look into the programs at the School of Sport, Tourism and Hospitality Management (STHM). Now as a senior sport and recreation management, Joey has multiple internships under his belt that are preparing him for a career at the NFL.
When Joey first joined Temple, he combined his love for sports with his love for videography by becoming a video student worker for Temple University Football. This experience with Temple Football inspired Joey to pursue his true passion for football off the field and soon guided him to his first internship.
In the summer of 2017, Joey was one of 16 applicants chosen from a pool of almost ten thousand applicants to intern at NFL Films. As the Media Services Intern, some of Joey's tasks included creating highlight videos for the players, completing footage for television networks and going through historical footage dating back to the beginning of the NFL.
Joey understands that some of the best opportunities in life come from connections.
"Networking is essential in this industry," Joey said. "A former boss of mine from Temple Football actually connected me with someone at NFL Films. Networking is a huge asset when it comes to the Temple and STHM community."
Joey's hard work, experience and connections have allowed him to earn a spot as a Team Video Intern for the Philadelphia Eagles, where he still interns today.
"Every position I've had has helped prepare me for my professional life," Joey stated. "Each step along the way I've picked up a strong workflow, and I built on that. I hope to bring that to my next position after graduation."
Watch the video to learn more about Joey's internship experience at NFL Films.
Are you interested in taking the next step towards a career in sports? Learn more about the Bachelor of Science in Sport and Recreation Management.
For more news and stories, follow STHM on Facebook, Instagram, Twitter and Linkedin.