STHM senior shaping Philadelphia youth through sport of rowing
By: Courtney Kubitza
First Published: October 31, 2016
Topics: Connections, In the News, STHM School, Student Showcase, Student Stories
Imani Johnson viewed her junior internship as more than just fulfilling credits; she made a difference in children's lives.
Johnson, a senior at Temple University's School of Sport, Tourism and Hospitality Management, believes her work with Philadelphia City Rowing has enabled the program to develop logistically while she serves as a coach and role model for the students it supports. Philadelphia City Rowing recruits, trains, and empowers young people to use the lessons learned on the water in everyday life. The program is provided for free to Philadelphia public school students.
In June, Johnson spoke on the behalf of Philadelphia City Rowing at the John Wanamaker Athletic Award ceremony, where it received the Robert P. Levy Community Service Award. It was there that Johnson, a senior Tourism and Hospitality Management major, shared the same stage as event master of ceremonies Philadelphia Mayor Jim Kenney and the Villanova men's basketball team, a fellow awardee.
"I remember watching Philadelphia City Rowing grow, to now having quality boats, and now we were getting awarded along with Villanova's men's basketball team," Johnson said. "It shows that PCR is up there."
Born in California, Johnson moved around plenty before she was able to call Philadelphia her home. Jumping from the West Coast to East Coast may be an adjustment for some in itself, but Johnson moved to an entirely different continent at the age of nine. For two years, she lived in Lagos, Nigeria. "I loved it so much, but I was protected from a lot," she said.
She experienced poverty first-hand, while living in a country that was in the midst of political uprising and terrorism.
"Because of that experience, I now know that my little bubble in Overbrook Farms is not like everyone else's," she said.
At Philadelphia City Rowing, Johnson has found another home. She stumbled across a flyer one day while in high school, and signed up for what was then a rowing camp. Not knowing a single thing about the sport, she stuck to it for three years.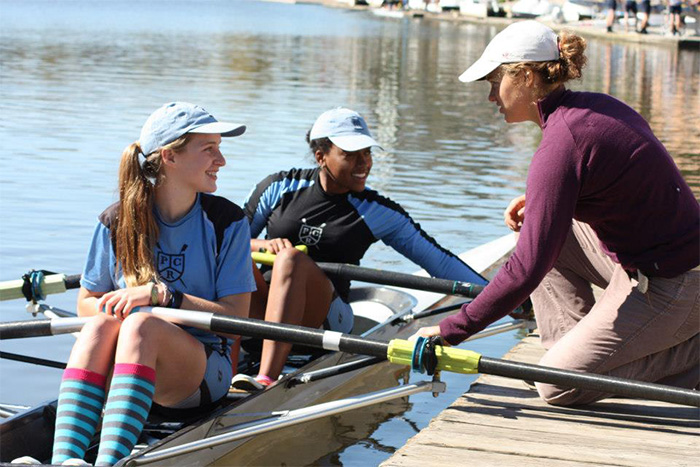 Johnson flirted with the idea of rowing competitively at Temple, before giving up the sport – but not entirely.
"I really missed the sport," she said. "I would pop in and say hi to the people at PCR, and one day they asked if I could help coach the middle-schoolers."
Today, not only is Johnson responsible for coaching middle- and high school-level students, but she also participates in fundraisers and meet-and-greets for the program. She completed her junior internship with PCR, helping to write newsletters, recruit investors, track inventory, and more.
She works with the kids, keeping in mind that their home life isn't quite the same. She tries to get other coaches to realize where they are coming from so that they can relate to them more.
"I'll never forget these two girls," she said. "They were getting really mad and frustrated. I wasn't out (on the river) with them at the time, but they got it one day and they immediately ran up to me and told me that they just had their best row ever. They came to me! It makes you feel so good about yourself."