STHM Professor, Dr. Thilo Kunkel, Receives 2018 Emerging Scholar Award
By: Jamie Cann
First Published: September 24, 2018
Topics: Faculty, Research, Sport, STHM School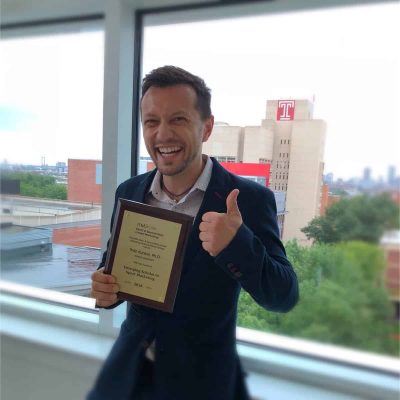 Dr. Thilo Kunkel has made a powerful impact on the field of sport management.
Earlier this year, Dr. Kunkel received the Research Fellow of the North American Society of Sport Management (NASSM), an achievement awarded to NASSM members upon attaining a scholarly record of publications and presentations.
His latest achievement from the American Marketing Association's Sport & Sponsorship-Linked Marketing Special Interest Group (SportSIG) further celebrates his dedication to the sport industry. The 2018 Emerging Scholar in Sport Marketing Award, presented to Dr. Kunkel by SportSIG, recognizes a scholar in the early stage of his or her career who has significantly contributed to the scientific study of sport and/or sponsorship-linked marketing.
Each year, SportSIG honors the service of its members towards the academic study of sport marketing with three annual awards, the Distinguished Career Contributions to the Scientific Understanding of Sport Business Award, the Emerging Scholar in Sport Marketing Award, and the Paper of the Year in Sport Marketing Award.
Kunkel joined Temple University's School of Sport, Tourism and Hospitality Management (STHM) in 2013 from Australia's Griffith University, where his PhD thesis in Sport Management explored the influence of the league on team fans. His research is positioned on the intersection of strategic management and marketing with a focus on the sport industry.