Students Host Temple's Sport Business Conference
By: Tate Kay
First Published: May 31, 2022
Topics: Applied Knowledge, Industry Engagement, Sport, STHM School, Student Groups, Student Stories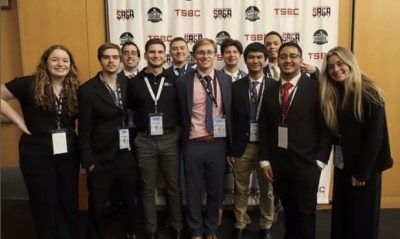 This April the Sport and Governance Association (SAGA) held the third Temple Sport Business Conference (TSBC). After a two-year hiatus and last-minute cancellation of the 2020 conference, SAGA returned triumphantly to host a plethora of top industry professionals in a packed day of panels, interviews and networking.
Founded to help students become sport business professionals, SAGA is the largest Student Professional Organization at Temple's School of Sport, Tourism and Hospitality Management (STHM). Each year its leadership finds creative ways for SAGA members to engage with the interdisciplinary sport industry, including group trips and hosting guest speakers. TSBC is the highlight of the SAGA calendar.
"Having TSBC in person was a great culminating event for our school year," says Assistant Professor Caroline Heffernan, "and SAGA did a terrific job of planning the day, including highlighting many trends within the sport industry."
Learning from high-level officials and pro sport execs
The 2022 event started with a presentation on the 2017 NFL draft. Sharing their insights were Jazelle Jones, the City of Philadelphia's deputy managing director/director of operations, and Robert T. Allen '06, the City's program manager for strategic planning and event operations (and a Superbowl consultant).
Among other highlights was an Interview with Michelle Roberts, former executive director of the NBA Players Association. The Diversity Equity and Inclusion in Sports Panel was lively and instructive, thanks to speakers David Gould, chief diversity and impact officer at Harris Blitzer Sports & Entertainment; the NBA's Chief People and Inclusion Officer Oris Stuart; Cleveland Cavaliers' Kevin Clayton, VP of Diversity, Inclusion and Community Engagement; and Jeff Scott, The NHL's VP of Community Development and Growth.
A panel titled "Behind a Champion" discussed the path of various teams to championship victory. Panelists were Salvatore DeAngelis MEd '02, director of operations and security for the Philadelphia Phillies; Allison Stangeby, vice president of community and corporate relations for the New York Giants; and Christian Molnar '97, director of retention and Development for the Philadelphia Eagles.
The conference's final panel of the day on the ever-growing collegiate industry of Name, Image, and Likeness (NIL), an area of expertise for moderator Thilo Kunkel, associate professor and director of the Sport Industry Research Center. Panelists included attorney Dan Greene, who specializes in sport law and sport management; law professor Dan Lust, a sport and entertainment lawyer and podcaster; and Santino Stancasto, head of creative at J1S and former brand manager and digital content coordinator at Temple and Georgia Tech.
"It was a tremendous honor to be a panelist at this year's event, which was one of the most professional and engaging events I have attended," Greene says. "The TSBC team did an amazing job, and it was awesome connecting with those in the sports industry with different backgrounds, perspectives, and experiences."
Student-planned and student-run
SAGA organizers said the conference was a big challenge but was long-awaited for those who helped plan and execute the event. Ultimately they sold more than 115 student tickets.
"To have TSBC in person again—it's amazing," says Jacob Bealer '24, SAGA's director of professional outreach (and student recruiting assistant for Temple Football). "It was a massive undertaking for us and we heard a lot of good feedback from the speakers and attendees. We accomplished a lot and learned about how to make TSBC 2023 even better."
"The value of TSBC lies in it being a student-run event," Heffernan says. "Planning the full day provides students the opportunity to set the agenda, grow their network and develop a number of skills."
Invaluable face-to-face experiences
A networking session made it possible for students to connect with representatives of a number of local sport business firms and organizations—many of which have alumni connections. Among these were the Cleveland Cavaliers; Comcast Spectacor; the Philadelphia 76ers, Philadelphia Phoenix and Philadelphia Nation; Spectra; and the Washington Nationals.
And students were able to reap the benefits. "It was great to be able to attend this event in person, to listen to industry leaders, and get a peek at what it's like to work in sports," said Sport and Recreation major Jimmy Wu '23.
This year's TSBC very much encapsulated the resolve of the industry, not just in rebounding from COVID-19 but also in thriving in its wake. The TSBC will clearly continue to connect Temple students with major industry players in the industry for years to come.
Connect with SAGA on Twitter or Instagram: @SAGA_Temple.