Chair of Sport and Recreation Management Charts New Territory
By: Alison Rooney
First Published: September 21, 2022
Topics: Faculty, Faculty and Curriculum, Inclusive Culture, MSSB, SIRC, Sport, STHM School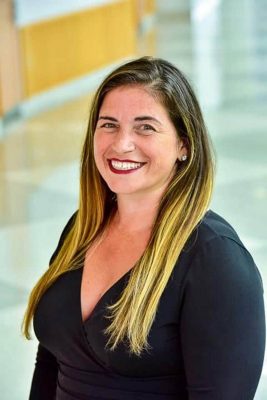 This summer, Professor Amy Giddings was named the first woman chair of the department of Sport and Recreation Management (SRM) at the School of Sport, Tourism and Hospitality Management (STHM). We sat down with her to learn about her vision for leadership and how her vast experience has informed her teaching and scholarship. 
STHM: What is your vision for the department and how do you see it evolving under your leadership? 
Giddings: I have the opportunity to lead a great team. I see my most important role as prioritizing the student experience and advocating for and supporting our faculty. My strength has always been my ability to connect people and resources and to find creative solutions to challenges.  
As academic director of the Master of Science in Sport Business (MSSB) program for four years, what have you seen  students go on to do in their careers? 
The MSSB program has been preparing people to work in the industry since the 1970s, and as an alumna, I'm very passionate about it. Our graduates are all over the U.S. and across the globe, and you'd be hard pressed to find a sport organization in our region that doesn't employ someone from our program.  
We prepare students to work in professional sports, collegiate athletics, recreation, club and nonprofit sports, and mega events in a variety of areas—from analytics, e-commerce and entrepreneurship to finance, marketing, media and operations. I'm most proud of the culture we've built in the master's program; students are engaged, get to know each other and work closely with the faculty. Their experience speaks for itself when they return to mentor current STHM students. 
You led a group of students on immersion trips. What do students get out of these experiences? 
I've led more than a dozen unique study abroad trips and/or international immersion programs. Both faculty and students engage in significant preparation to understand the countries they'll visit. I find that study abroad is life-changing—especially with strategic, well-organized programs like those we offer at STHM. When a student sees me years after a study abroad program, they say it still impacts how they see the world and that it opened their eyes to so many possibilities. 
After founding the Women's Coaching Network, you wrote a Women in Coaching blog for a decade and launched a video series. What perspective has that given you? 
What those projects taught me was invaluable. At the time the momentum for supporting women coaches was in its infancy. Research on the topic and those in the field told us that, if we wanted more women to consider a career in coaching, we had to make sure women saw other women coaches. This would help them to ideate a career in coaching. The blog and video series were one small step in meeting this need, by highlighting the ideas, experiences and strengths of women coaches around the country. Their stories inspired me and showcased their tenacity, creativity, grit, sheer will and their genuine love for their athletes.  
You work with Philadelphia schools, communities and nonprofits to assist with programs including coach development. How does this tie in with the goals of the department and the school? 
The work we've done through the Sport Industry Research Center (SIRC) with Philadelphia's public schools, under-resourced communities and nonprofits brings together our broader goals of impactful research, inclusive culture, transformational education and industry engagement. Several of our faculty, including assistant professors Gareth Jones and Elizabeth Taylor, do research that directly affects our industry partners. I drew upon the work of our faculty and other researchers to inform the content for our Certificate in Sport Leadership program, which enables us to work with young people and athletes in our community.

We also serve as the education partner for coach education initiatives of the Philadelphia Youth Sports Collaborative (PYSC). I reviewed PYSC's coach education curriculum to ensure that those in urban environments have access to comprehensive content that is relevant to their experiences. With PYSC's leadership, we offer coaches in our community a four-module, in-person program. This also brings together other nonprofit education partners, such as the nation-wide Positive Coaching Alliance, The Center for Healing and Justice through Sport near Chicago and the local organizations Mentoring Independence Region (IR) and Strive.
These utilize our research expertise and develop a more inclusive culture by opening up our campus resources to those who may not have otherwise been able to access them. And our strong, mutually beneficial connections with industry partners translate to projects that give students, alumni and faculty opportunities to put classroom learning into action.
You're the school's first woman chair of the SRM department—although many sport faculty are women. What role do you see diversity playing in the STHM student experience?  
Increasingly, women see sport as an exciting industry with limitless possibilities. As an undergraduate, I could not yet access the vision that our students have today. I rarely saw women working in sport and did not work with women who held leadership positions within sport, so it was hard to envision doing the same. But this is something I love about STHM and Temple: we're committed to a diverse faculty to best serve our students.  
I'm humbled to have been selected as the first woman chair, but we have a long road ahead. We need to actively create opportunities for all students and faculty from diverse backgrounds—including not just gender, but race, ethnicity, age, ability and level of experience. We learn best in an environment of diverse experiences. How can we train students for positions demanding they lead diverse groups without having worked with those who don't look like them or who've had different life experiences? 
You were a student-athlete yourself—a rower. How has that informed your leadership style? 
I found rowing in college as a walk-on and never looked back. I rowed at the University of Dayton for 4 years and then at Temple as a graduate student, while earning both my master's and my PhD. Now I've been rowing or coaching rowing for nearly 30 years. My experience has taught me so much about working with others to achieve a common goal, working through challenges and perseverance. 
We speak all the time in our industry about how sport participation, particularly team sports, better prepares you for working and leading. When you're on a team and working toward shared goals, you experience failures and successes together. You recognize that everyone plays a critical role in the team's success, and this directly translates to work. If I wasn't a competitive athlete, I might not have the perspective I do now regarding the values of open communication, dissension—that's important, too!—trust, teamwork and so much more. But if I think of the SRM department as a team, and I'm the coach, it is the exact roster I would have chosen. I work with phenomenal faculty, colleagues and students.