From STHM to the Super Bowl: The Sky's the Limit for Skylar Burg
By: Alison Rooney
First Published: February 18, 2022
Topics: Applied Knowledge, Feature Story, Industry Engagement, Online Exclusives, Sport, STHM School, Student Showcase, Student Stories
Many students who enroll at Temple University's School of Sport, Tourism and Hospitality Management (STHM) dream about working behind the scenes for a pro team and even being on the inside during playoff season. This year, Skylar Burg '22, a Sport and Recreation Management (SRM) senior, lived out the dream—all the way to the Super Bowl. Hers is a story of initiative and drive, which landed her an exceptional internship with the Los Angeles Rams, and how she seized every opportunity once she got there.
In some ways it was luck that Burg's fall internship with the Rams would overlap with Super Bowl LVI at the team's home turf: SoFi Stadium in Inglewood, CA. But hard work had a lot to do with it, and for months leading up to that Sunday, she'd proven herself an essential member of the close-knit communications team that supports the Rams every step of the way. Then, her experience ramped up even more as  the Rams won their way through the playoffs, earned a spot in the big game and ultimately won it all.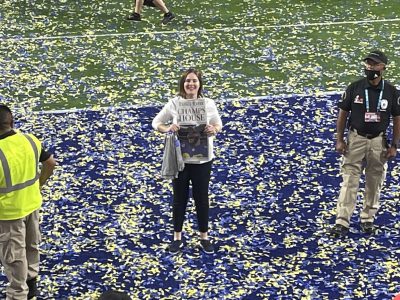 "It was an unreal experience," Burg says. "A year ago, I'd just started the process of reaching out to people in the NFL. A year later I'm celebrating and sharing one of the best moments of my life—with friends old and new."
Growing up on the Field
For Burg, sports are in her blood. At a young age she dreamt of being the first woman to play for the Yankees. A native of Voorhees, New Jersey, Burg grew up hanging around the Temple football fields. Her father, Rich Burg, was the assistant athletic director for football communications—a role he still has today.
Some illustrious Owls even took the time to get to know her, including linebacker Tyler Matakevich EDU '15 and offensive lineman Dion Dawkins CLA '15. Little did she know this would be only the first of many brushes with football stardom. Still, she singles out one person as her biggest role model. "I used to tease my dad that all he did was jingle the keys and look pretty,"  she laughs. "Now I know what he does. And I love it."
Leveraging Her Time at STHM 
Burg says all aspects of her STHM experience prepared her for the opportunity of a lifetime. And she showed tremendous initiative at every turn, assuming leadership roles and showing great resilience. Assistant Professor Elizabeth Taylor says that, from the very first SRM course, Sport and Society, Burg stood out in terms of her passion for sport and how engaged she was.
"She's an incredibly hard worker," Taylor says. "At 8:00 a.m. every week, she was front and center in the classroom, ready to answer—and ask!—questions. Her commitment to learning and willingness to cold-call industry folks and take risks—even move across the country—have led her on this exciting journey." From mastering Excel for business applications to soaking up all aspects of Assistant Professor George Diemer's coursework on stadium-building, Burg has brought it all into play with the Rams' communications team.
And the classroom was not the only place where Burg stood out. Starting in her second year, she served as director of professional outreach (DPO) for STHM's Sport and Governance Association (SAGA). She names Anika Singh '20—then SAGA's first woman president—and other SAGA leaders her key mentors.
"I wouldn't be the person I am today without Anika," Burg says. "She helped me gain the confidence to reach out to pros in the industry. She's an incredible leader who was there for me academically as well as socially. From the start she made me feel part of the team."
As DPO, Burg was the point person for all SAGA communications and networking events, including liaising with speakers for Temple's second annual Sport Business Conference in 2020. Though that year the conference would ultimately become a casualty of COVID, she pivoted to take the opportunity to learn some real-time lessons in managing crisis communications. Always looking to take on more, for the six months before she left for L.A. she was an academic tutor at Temple's Resnick Academic Support Center for Student-Athletes. "Each of these experiences turned out to be key in preparing me for the internship with the Rams," she says.
Getting Her Foot in the Door at the NFL
Burg landed her role with the Rams by taking the initiative to leverage industry connections she made at Temple. In spring 2020, as COVID was in full force, she decided to focus on setting up her senior internship for 2021. She took some extra summer classes to free up her schedule in her final year.
With her eye on the NFL, she followed advice from some industry pros and reached out to teams between the Super Bowl and the draft. She emailed 31 teams in all—vigilantly tracking all correspondence with potential VIPs—and heard back from more than half.
"I learned my lesson when I missed a call that turned out to be from the NFL League office," she recalls. Answering every call after that paid off; just before Memorial Day, she heard from Artis Twyman, the Rams' vice president for communications. At the time she had no idea how closely she'd be working with him and his team over the season—and all the way to the Super Bowl.
Burg had two other offers in Boston but decided to jump at the chance for the L.A. experience. "I knew it was right for me, personally and professionally," she says. Never having been that far away from home, she embraced the chance to expand her horizons.
The Day-to-Day of NFL Communications
From the get-go at the Rams—in July, when training camp started—Burg and her fellow interns underwent pro football trial by fire. Most weeks, her day begins at 5:30 a.m., when she compiles a daily summary of media hits for the higher-ups at the organization. When one of the full-time members of the communications staff left the department, she and another intern took over compiling the "weekly release" as well, a 100-page document that compiles game recaps, offensive and defensive notes, stats and coaches' and player bios.
"My role is to help anyone I can," says Burg. "When I don't have a specific task in front of me, I go out and seek a project." She's done everything from compiling rosters for upcoming games to working alongside some of the trainers.
The leadership took notice. After showing the VP she was a whiz with spreadsheets, he had her organize head coach Sean McVey's schedule for training camp. And when the department lost a full-time staff member, those same Excel skills meant she was ready to take over managing the roster of trades or distribution. In the lead-up to the Super Bowl, she continued to coordinate player interviews, which in the week before the game translated to 25 requests—including moderating quarterback Matthew Stafford's NFL media day. During NBC's Media Day in early February, she helped rotate all 53 players through the tent for interviews. "It was hectic, but I can't tell you the last time I had that much fun."
The Many Faces of Football
"When I got to the Rams I was shocked to see the diversity of the staff, honestly,"  Burg says. "It's not what you'd expect for an NFL team." This includes Sophie Harlan, the Rams' director of football operations. Burg observes that women might notice unique aspects of the business of sport. "Sometimes we're interested in a different story line," she says.
Her advice to other women looking to work in pro sports is, "Don't worry about the outside noise. You do you. Be a sponge and do the work and people will notice—even if you don't have a huge background in the specific sport you're working in. And listen to people when they say network, because it really does matter."
She and Dr. Taylor have stayed in close touch, including as part of STHM's Women in SRM group. "Seeing her grow as a person and sport industry professional over the last several years has been a joy," Taylor says. "I know her success with the Rams is only the beginning." Burg's internship concludes on February 28th, but it's clear that she will have lots of career options after graduation—possibly even include a full-time role for the Rams. But she says the Super Bowl experience will be hard to match.
"I'll never forget this—not just the past two weeks since we won the NFC championship, but the whole year," Burg says. "I'm especially proud of the relationships I've built with the players and coaches as well as the staff. I care most about being part of a team that feels like family and loving the people I work for and with. STHM really set the standard that way."
Burg says that all season she kept calling her dad and saying, "Hey, this is what I did today!" This past Sunday, he saw exactly how far she'd come.