STHM Takeover: The Philadelphia Flower Show
By: Courtney Kubitza
First Published: March 7, 2019
Topics: Alumni, Alumni Stories, In the News, STHM School, Tourism & Hospitality
Nothing signals the arrival of spring like the Philadelphia Flower Show. Since 1829, the annual blockbuster show has lit up the Pennsylvania Convention Center with stunning displays. As the world's oldest and largest indoor event of its kind, the Philadelphia Flower Show takes over 33 acres of the Pennsylvania Convention Center with displays from the world's premier floral and landscape designers.
This year's theme, Flower Power, celebrates the impact flowers have on society in the year of the 50th anniversary of Woodstock, and is sure to impress.
So how does this iconic event, which draws in over 250,000 people every year stay so fabulous?
With the grit, determination and hard work of leaders from Temple University's School of Sport, Tourism and Hospitality Management (STHM).
This year, 5 STHM alumni and 6 seniors in the Bachelor of Science in Tourism and Hospitality Management and Event Leadership Certificate programs are working tirelessly to ensure the event goes off without a hitch.
We sat down with 7 of the alumni and students who are fueling the event to learn more about their role in the iconic show.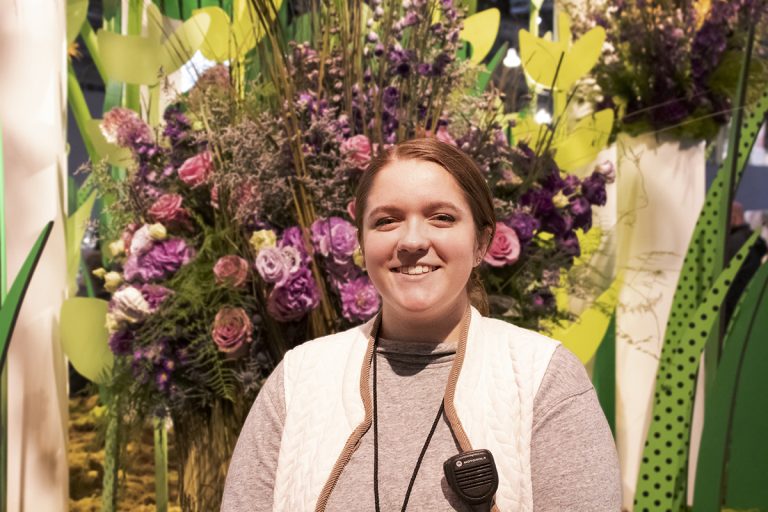 Meet: Hannah Mullen, Operations Specialist, Alumna '18
The vibrant floral displays and landscaping draw in thousands to the Philadelphia Flower Show.
The exhibitors behind the gorgeous displays are a critical piece to the show. Hannah Mullen, 2018 alumna and operations specialist at Pennsylvania Horticultural Society, works with over 50 exhibitors to bring their designs to life and share their vision.
As part of the exhibitor relations team, Hannah ensures that her client's displays are successful from start to finish. From initial concepts to production and on-site management to post-show management, Hannah's dynamic role ensures that every piece of the exhibit is achieved.
After working as an intern for her first show in 2018, Hannah is excited to see the convention center come alive once again with this year's show. "It's amazing to watch the empty hall come to life in a few days. Sometimes you forget to look at the show when you're working it because it's so busy. Taking that step back in the beginning and taking it all in is truly amazing."
Ready to dive into her second year of the Philadelphia Flower Show, Hannah is thankful for the opportunities and connections from STHM. "The internship requirement really prepared me for my job because it gave me the opportunity to see the big picture and how all of the parts of a show work together."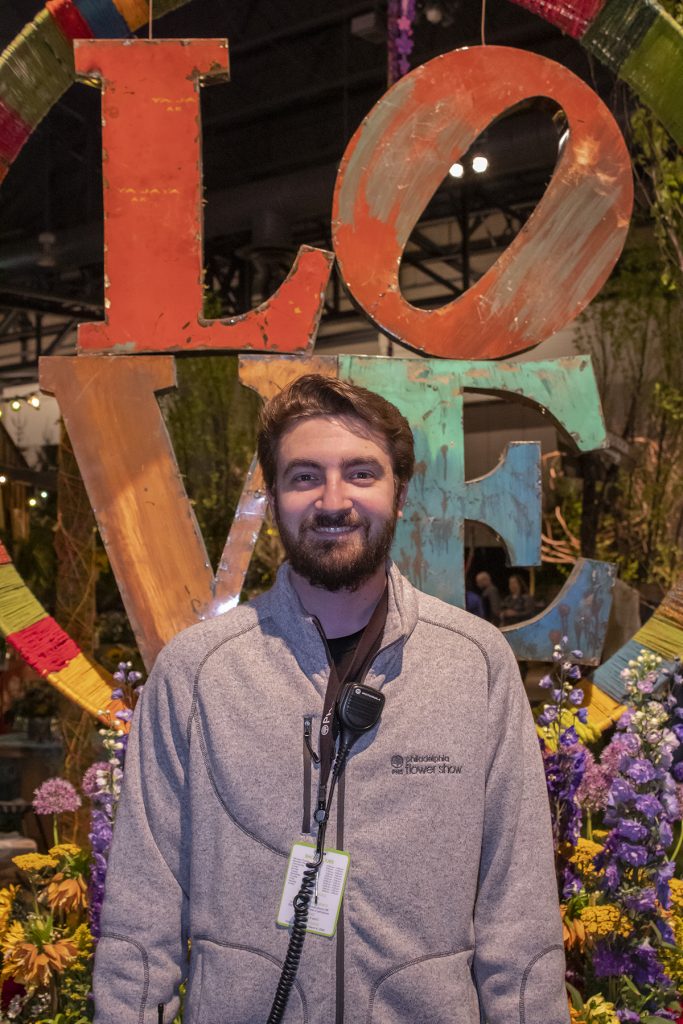 Meet: Andrew Silverman, Event Operations Specialist, Alumnus '15
The Philadelphia Flower Show comes to life in 5 days. The speed of set up and tear down requires hard work and substantial coordination of logistics. Behind the beautiful displays is Andrew Silverman. Andrew works with the director of event operations and team to ensure the show runs smoothly from start to finish and beyond.
Answering questions and making things happen for exhibitors, liaising with contractors and union labors, and working with the convention center security and police are just a few of the many things within Andrew's role.  Once the show is up and running, Andrew continues to put out fires and prepare for the tear down and move out of the show, which happens in 3 days.
Ready to kick-off his third show, Andrew reflected on his favorite part. "Standing at the entrance doors and seeing the expressions on the attendee's faces is one of my favorite parts. It's so rewarding to see the wow and awe as they walk in."
With a desire to continue to learn and get better in his current role, Andrew shares that the mentorship and industry knowledge from faculty at STHM was a key contributor to his success. "All of the professors brought their personal industry experience into the classroom through lessons and projects. The real-life examples really helps me to know how to adapt in my career."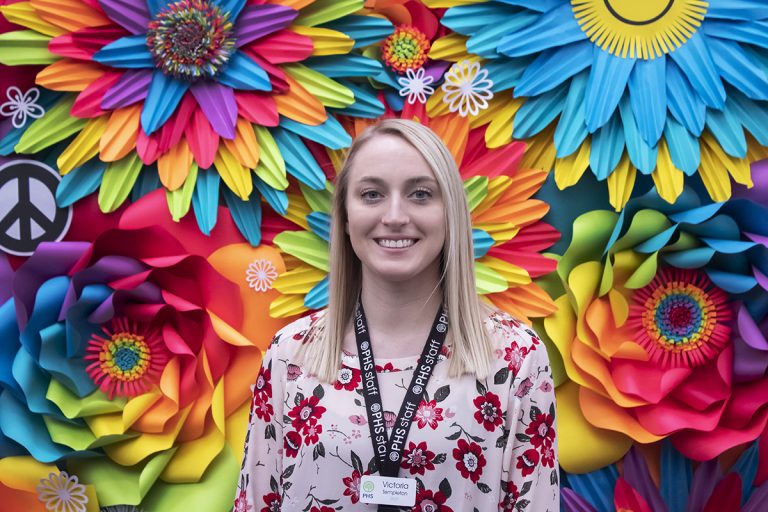 Meet: Victoria Templeton, Event Coordinator, Alumna '18
When you attend the Philadelphia Flower Show, the magnificent displays are the talk of the show. But, did you know know there are dozens of smaller events that happen behind the scenes, enhancing the overall experience for guests? Victoria Templeton, is an event coordinator with the show. In her role, Victoria coordinates many internal and corporate hospitality events for the show. Working with various departments and clients to coordinate meetings, breakfasts, lunches and receptions, she wears many hats to ensure the events are successful.
After working as an intern for the 2018 show, Victoria is excited to see the show from a different side this year and utilize the hospitality skills she learned at STHM. When asked about her favorite thing about STHM, she shared how the individualized attention from faculty and small class sizes have helped her get out and make powerful connections. "It's nice to have professors that care. When you're in smaller classes like STHM has, you can build relationships with the professors that are invaluable."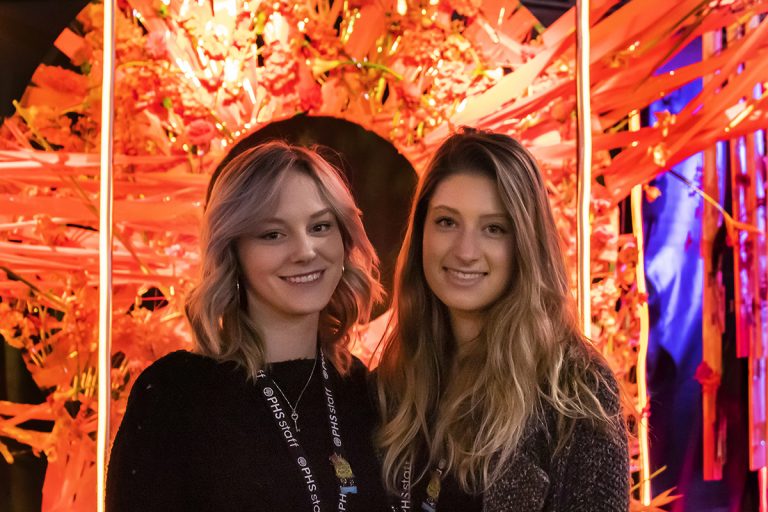 Meet Krista Micheletti, Shows and Events Intern & Kaitlyn Kapralik, Event Programming Intern, STHM '19
Entering their final semester as undergraduate students at STHM, Krista Micheletti and Kaitlyn Kapralik are learning the ropes from fellow STHM alumna, Alexa Kormos. Working with ancillary events for the show, Krista and Kaitlyn are gaining valuable hands-on experience with managing events.
Krista's focus is on a nighttime event for younger audiences called Flowers After Hours. A fun and interactive event, Krista taps into her marketing and event management skills to find ways to make the event creative. Coordinating vendors, managing budgets and assisting with marketing materials keep the soon-to-be graduate busy.
Preparing to share the Philadelphia Flower Show with our four-legged friends, Kaitlyn's role includes coordinating and overseeing the Fido Friday event. A fun experience for all, bringing animals into the show requires a few extra details to be put in place. In addition to coordinating food and beverage, working with vendors and managing budgets, Kaitlyn must work with the health department to ensure all permits are filed for this unique event.
When asked about their favorite things about being students at STHM, both share the same pride and thankfulness for the industry connections and faculty at the school. "The STHM network in the city of Philadelphia and in the event industry is incredibly strong,"shares Krista. "It's incredible how the professionalism and etiquette learned through the courses and workshops gives a strong, positive perception across the industry."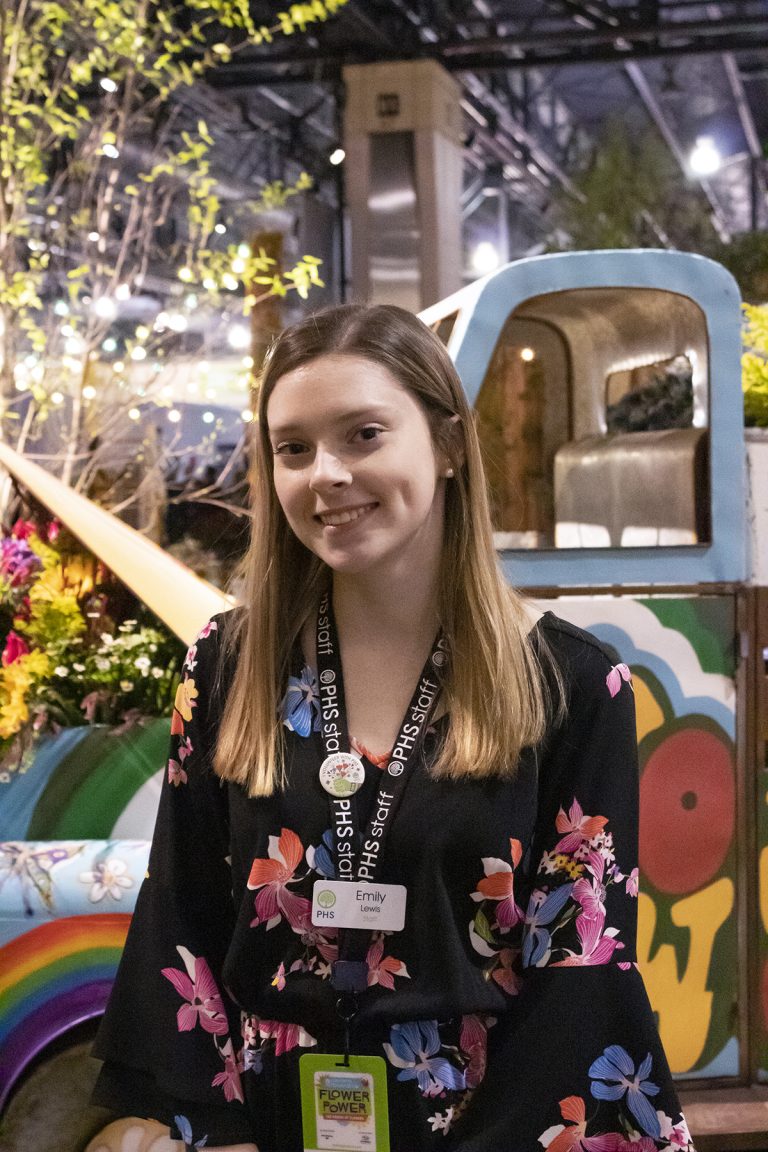 Meet Emily Lewis: Volunteers and Competitive Classes Intern, Event Leadership Certificate and Klein '19
While working on her undergraduate degree from Temple University's Klein College of Media and Communication, Emily Lewis discovered her passion for event planning. This passion led her to STHM's  Certificate in Event Leadership , where she is learning to expand her love for events with business-focused skills and knowledge.
As a volunteers and competitive classes intern with the Philadelphia Flower Show, Emily helps organize materials for thousands of volunteers, trains and supports the volunteers and manages aspects of the PHS Hamilton Horticourt, an experience of the show that allows garden enthusiasts to share their talents for a chance to win awards.
With her sights on interning for one of the world's largest events and Temple-made drive, Emily took advantage of her connections at STHM and industry-knowledge to find and land one of the internships with the Philadelphia Flower Show. "Overall, my time at Temple has really afforded me these types of experiences and given me the drive to pursue these opportunities. The experience in and out of the classroom is truly priceless."
Meet Emily O'Malley, Marketplace Intern, STHM '19
The Philadelphia Flower Show Marketplace brings nearly 200 vendors to the show selling everything from garden furniture and hand-crafted jewelry to fresh cut flowers and garden supplies. STHM senior, Emily O'Malley is learning how retail and events work together as the marketplace intern. In this role, Emily helps coordinate with the vendors to ensure the set up and execution of their booth is successful. She also helps support the show's early morning tours. Building relationships with the vendors is key to success in this role. Emily credits the internships and hands-on projects at STHM in helping her adapt to her role. "The internships and projects really helped me to develop the communication and professional skills to work with the vendors. They really prepare you to be successful."
From elaborate displays and one-of-a-kind events to competitions, retail and so much more, the Philadelphia Flower Show is an incredible event that brings excitement and vibrancy to the city. Through a well-connected network and industry-experienced faculty, STHM works hard to prepare their students and alumni to tackle the dynamic changes of the event industry.
For more news and stories, follow STHM on Facebook, Instagram, Twitter and Linkedin.