Hitting it Out of the Park: Students Raise Nearly $7,000 for Scholarships
By: Hannah Eadie
First Published: May 1, 2019
Topics: Industry Partnerships, Sport, STHM School, Student Groups, Student Stories, Transformational Education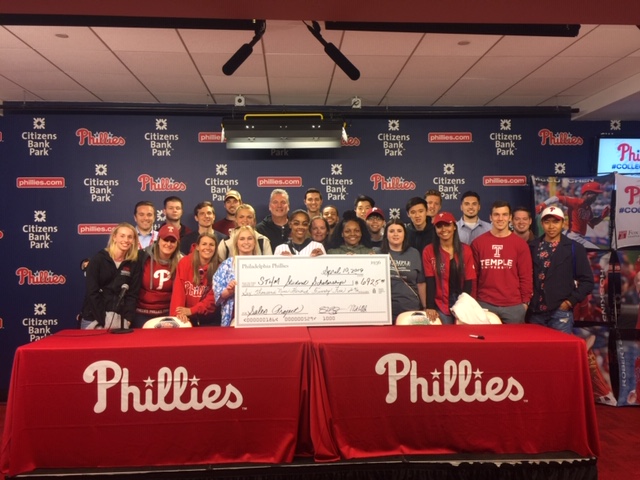 The annual ticket selling competition held in Temple University's Sport Sponsorship and Sales graduate course in partnership with the Philadelphia Phillies allows students to practice their selling skills while fundraising for School of Sport, Tourism and Hospitality (STHM) student scholarships. This year's class hit their sales straight out of the ballpark, selling a record-breaking 1,385 tickets.
The class's initial goal was to sell 1,050 tickets, which was easily surpassed weeks before the game. With each ticket sold, $5.00 goes towards STHM student scholarships allowing the students to raise $6,925 for future students.
The class is taught by Rick Ridall, associate professor & director of industry relations at STHM. To inspire the students to sell, he held a competition for ticket sales, crowning one individual winner and one team winner. Mariah Reed, first-year graduate student in the Master of Science in Sport Business program, was the individual winner of the competition. Her team, the Temple Phanatics, which included herself, Laura Brasch, Dennis Chu, Connor Ellis, Tyler Ihle and Taylor Matteson, collectively sold the most tickets. They were congratulated by Phillies players in the Phillies Media Room, and had the opportunity to be guests of the Phillies for a pre-game dinner in the Diamond Club.
It wasn't just the winners who had a great experience, though. The entire class went on a stadium tour of Citizens Bank Park, joined the players on the field during batting practice, and sat in a premium seating area during the game.
"This class has been an awesome learning opportunity to gain real industry sales experience," said Emily Springle, second year Master of Science in Sport Business student. "It was great that Professor Ridall helped us to gain this experience outside of the classroom."
Emily had the opportunity to throw the games' first pitch on the field during the pre-game.
"Throwing out the first pitch was such an amazing opportunity to represent Temple and the STHM program," exclaimed Emily post game. "I've been a Phillies fan my whole life so it was definitely something that meant a lot to me and I'm thankful to Temple and Professor Ridall for giving my that opportunity!"
Overall, it was a great night for STHM.
Curious about our hands-on experience within the sport industry? Learn more about our Bachelor of Science in Sport Recreation and Management or our Master of Science in Sport Business.