STHM's Executive in Residence Panel Showcases Three Pillars of Event Leadership in Philadelphia
By: Alison Rooney
First Published: December 12, 2019
Topics: Industry Partnerships, STHM School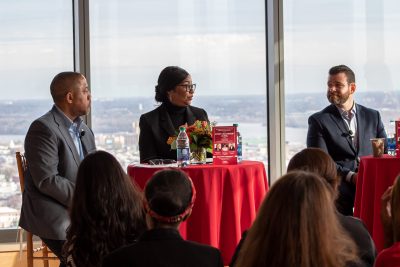 On a recent November afternoon, the 27th Floor of Temple University's Morgan Hall featured more than a breathtaking view—thanks to the Executive in Residence program at Temple University's School of Sport, Tourism and Hospitality Management (STHM). Three of Philadelphia's leaders in tourism and hospitality visited campus to share insights on event leadership with an eager audience of students, faculty and professionals.
The panel was stacked with talent: Michael DelBene, president and CEO of Welcome America, Inc.; Jazelle Jones, deputy managing director of the City of Philadelphia Office of Special Events; and Kelvin Moore, general manager of the Pennsylvania Convention Center. Moderator Lynnette Camacho—herself a leader in sport and tourism, having directed nine seasons of special events sales for the Philadelphia Eagles—set the stage for the instructive conversation. These professionals offered STHM's undergraduate and graduate students wide-ranging perspectives on essential topics, from infrastructure and risk management to leveraging partnerships.
Staying True to the Mission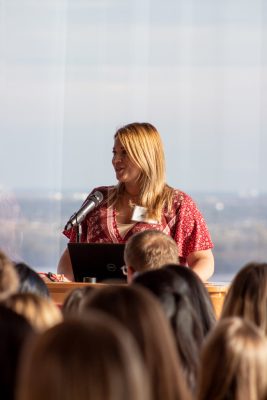 Camacho engaged the panel on ways to highlight Philadelphia's uniqueness while serving the vision of each vital organization. Jones—a 14-year veteran City administrator who oversees logistics, production and operations—discussed the city's increase in events in the wake of the recession. "We went from 600 to 1,600 events a year," she said, "which is part of the reason people who used to go to New York City now see Philadelphia as a desirable destination."
Moore now draws upon his experience at eight convention centers, and how it informs how he oversees many of those events each year. "Convention centers, which are non-profit, have considerable economic impact," he said. "Our role is to ensure that attendees have a fantastic time."
DelBene spoke about designing Welcome America's week-long series of events through the lens of giving back. "Free events are one way we strive to stay true to the needs of Philadelphians," he said. "We're always asking ourselves, 'Is this good for the city?'"
Realities and Risks of Large-Scale Events
The panel described the daily risk- and crisis-management measures they take year round. Moore emphasized the importance of discretion, to manage the expectations as well as the safety of the public. DelBene added, "Plans are for nothing, but planning is everything. Each day of the festival, we get together and ask, 'What did we learn today that we can apply tomorrow?'" Jones detailed the extensive Federal Emergency Management Agency training that City employees receive, from incident action plans to security and crowd management.
Partnerships and Tools That Drive the City's Success
"If managed correctly," Jones said, "these large-scale events created through partnerships with national organizations with the National Football League or Democratic National Committee can have a massive impact on a city and drive tourism for years to come." She cited a study of the 2017 NFL Draft—co-authored by STHM's Sport Industry Research Center—which revealed that visitors hailed from 42 states, and 62 percent of them planned to return for a vacation within a year.
Leveraging City Investments in Infrastructure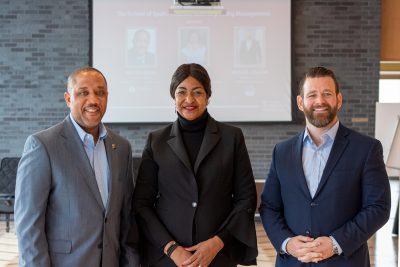 The conversation included how the City administration has helped each to realize the potential to produce first-rate events. DelBene described a "trickle-down effect" of improvements to streets and transportation. "LED streetlights, for example, open up new possibilities for night festivals and night markets," Jones said. She offered the examples of the 2018 Superbowl parade as well as the master plan for the redevelopment of FDR Park adjacent to the sports complex.
Jones reflected on what the city has gained through its commitment to excellence. "We have now won the IFEA World Festival and Event City award six years in a row," she pointed out. "And still we continue to perfect our strategies and make use of new insights and perspectives."
After a question-and-answer period, in which students explored topics such as sustainability, the event concluded.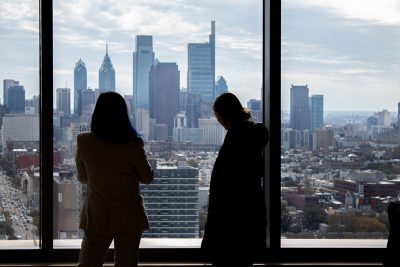 Founded in 2011, the Executive in Residence program is one of many STHM platforms that support students as they network and gain industry knowledge in preparing to embark on their chosen career path. For more information, contact Andrew Lovell, Senior Associate Director of Industry Relations (215.204.8795 or andrew.lovell@temple.edu).