EXECUTIVE IN RESIDENCE
STHM's Executive in Residence series is designed to enhance the academic excellence of the school through exposure to the experiences of accomplished business executives. Personalized discussions with executives from the sport, recreation, tourism and hospitality industries improves students' transition from classroom to industry. The exchange proves to be rewarding for both the student audience and the visiting professional.
The programming and schedule of each event is custom to the professional visiting.
Moderators are identified and selected with the visiting executive. The moderators facilitate the discussion and provide parallel insight to the discussion. These visits can also include a meeting with the deans of the school, a meet and greet with faculty, staff, and select students, and a post-event reception.
The Executive in Residence series is just one of the many incredible opportunities that give students a platform for networking and gaining industry knowledge that benefits them as they embark on their chosen career path.
Previous Executives in Residence
Shawn Tilger, Executive Vice President and COO
Joe Heller STHM '05, Vice President of Marketing
The Philadelphia Flyers March 29, 2018
Finding new ways to cultivate, engage and retain fans for a 50-year-standing brand is a tall order when you consider challenges like generation gaps, constantly-changing technology and finding new ways to create more experiential value for customers. Shawn Tilger, Executive Vice President and COO of the Philadelphia Flyers, and Joe Heller, Philadelphia Flyers Vice President of Marketing, face these questions daily and leverage these 4 best practices to navigate the climate of this $1.6 trillion industry.
Give Fans More Value in a Ticket Purchase
It is no secret that the fan experience is the most critical part of sales. If your customer does not see enough value in their purchase, they won't make one. The Flyers teamed up with Pennsylvania brewing company, Yuengling, to create the ultimate fan package and grow ticket sales. If fans bought tickets within a specific time frame, they walked away with exclusive t-shirts, drink cups and other prizes – not to mention a free 24-ounce beer – creating a more memorable and value-driven experience. This promotion saw sales of more than $10K in a considerably slower time of year.
Capitalize on All the Content
Being a fan is so much more than attending games and dawning the jersey of a favorite player. Today's fans want to know everything about their teams and modern technology makes it super-easy to capitalize on this growing demand. Whether it's a podcast interview with a coach or a Facebook Live with players, beyond-the-game content helps keep fans engaged before, during and after a season as well as opens the door to new sponsorship opportunities.
Keep Your Marketing Flexible
When working with a long-standing brand such as the Flyers, your target audience spans across generations – each having their own preferred way of digesting information. Make sure you're considering all platforms available when developing large-scale campaigns, so your messaging is clear whether a fan is reading about it in the Sunday paper or scrolling through Twitter. It's also important to create smaller, focused campaigns, driving traffic from one platform to another. This could be a radio spot that promotes an Instagram contest or a newspaper ad asking readers to check out a special Facebook Live. The more ways you're engaging fans, the more you increase brand recognition.
Out-of-the-Box Fan Cultivation
It's one thing to find new ways to keep die-hard fans coming back game after game, but generating new fans is a whole other ball game (see what we did there). One of the larger challenges Shawn and Joe face is taking steps to cultivating new and future Flyers Fans. They do so by going beyond focusing on the action on the ice, creating more experiential opportunities to build a relationship for a larger demographic of fans including events like the Flyers Carnival, school assembly programs, military welcome-home events, fan appreciation tours with players appearances and reaching beyond the status quo with events like Hockey for Her – a special event that speaks to female fans.
Are you looking for more ways to keep your sport marketing game on point? Let's talk and see if a degree in sport business is right for you.

Vice President of Global Diversity & Inclusion at Hyatt Worldwide
February 13, 2018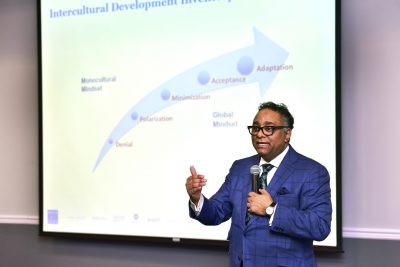 "Giving back has always been my key to success," Tyronne Stoudemire remarked after his presentation at Temple University as the first Executive in Residence of the spring semester.
On February 13, 2018, Tyronne Stoudemire, Vice President of Global Diversity & Inclusion at Hyatt Worldwide, shared insight of his career with students at the School of Sport, Tourism and Hospitality Management (STHM). The evening, which consisted of an intimate presentation and a Q&A session, was moderated by Richard Lee Snow, Senior Advisor of Multicultural Marketing at St. Jude Children's Research Hospital.
Currently, Stoudemire works besides one of the world's top hospitality companies, Hyatt Hotels Corporation, with the primary focus of increasing diversity in the workplace and global marketplace. Stoudemire, a graduate of Wayne State University, started his career in human resource management at Aon Hewitt.
"At a very young age I had to learn how to navigate through cultural differences," Stoudemire remarked. "So, it is of no surprise to me that I am doing work with diversity and inclusion."
Stoudemire credits his career, which he also considers his life's work, to his parents. Growing up outside Detroit, Stoudemire lived in a household where giving back was an essential aspect of the family dynamic. Stoudemire steadily witnessed his family extend their hands to those in need.
"Working in the church, contributing to communities where people were underserved and volunteering shaped my worldview," said Stoudemire. "These lessons followed me into my career which is why I'm so passionate about creating environments where all people can thrive."
A prime accomplishment in Stoudemire's career was being able to turn human resources into a profit center. Stoudemire, who's sales-oriented by trade, took a business approach when he was asked to diversity efforts at his current company. Stoudemire's solution was to create, test and implement strategies to increase inclusivity in-house and then market these strategies to other companies.
"I knew that certain communities were not given access and I also knew that this served as an opportunity to bring talent to the business," Stoudemire stated. "The best part of this whole venture was that I had the opportunity to transform corporations and do the right thing for people around the world."
As one of the first few in the industry to realize the value of diversity and inclusion, Stoudemire understands that organizations that are not cross-culturally competent will suffer long-term in talent, products and services and not be able to advance their business.
Having worked in a variety of industries, Stoudemire wasn't phased as he stepped into his role at Hyatt Worldwide. In his mind, people are people, regardless of the industry.
"You can train an individual in hospitality," Stoudemire claimed. "But what you can't teach is how to treat people with dignity and respect—that takes monumental practice and education."
Stoudemire stressed the importance of global diversity and inclusion in the hospitality industry due to the changing world. Working with Hyatt, which is a global organization, it's imperative to Stoudemire and his team that they became the first to initiate this type of change in the industry.
"Hospitality greatly benefits from inclusive practices due to the fact that it's an industry which revolves around people," Stoudemire noted. "If we don't understand cultures or aren't adapting to outside values, guests won't be willing to return to our hotel."
As Stoudemire's presentation came to a close, he shared the following advice with STHM students looking ahead to the future.
"If you have a good heart, a good mindset and a willingness to learn, you will do well in the industry," said Stoudemire. "If you want to give back and are people-focused, you will be immensely valued in any industry."
Visit the Executive in Residence page for more information on the series.
Senior Vice President of Research & Analysis
NYC & Company
October 12, 2017
A native New Yorker at heart, Dr. Donna Keren has roots in Philadelphia. In the 1990s, she was a professor at Temple University in the anthropology department. Nearly 20 years later, Keren returned to an evolved campus to speak with students about her new career focus: travel and tourism research.
As part of the Executive in Residence series, Keren shared insight from working in the industry with students of Temple University's School of Sport, Tourism and Hospitality Management (STHM) on October 12, 2017. Following a presentation on NYC & Company and her research, Temple alumna and anthropologist, Dr. Sheldon Zink, moderated a discussion.
Keren currently works at NYC & Company, New York's official destination marketing organization. There, she serves as the Senior Vice President of Research & Analysis, merging her love for anthropology and research. The comprehensive research department at NYC & Company is responsible for visitor segments, economic impact, scenario planning and forecasting, and market research. Keren's current focus is the international visitor market.
Keren discussed NYC & Company's global reach and how the organization connects with different cultures through their 17 international offices. In February of 2017, NYC & Company launched the campaign "New York City – Welcoming the World," which was the city's response to the initial discussions to implement a travel ban for certain countries to the United States.
"Welcoming the world is a critical message," noted Keren on the campaign. "New York City is a city of immigrants and diversity. This message aligns with the city's brand."
On the research side, Keren shared her findings on youth and international travel to the city. She discussed travel trends among 18- to 34-year-olds compared to older generations, as well as how these trends have changed or stayed the same over the years. This research provides information vital for the organization's marketing efforts to reach younger and more diverse audiences, as well as improving the visitor experience altogether.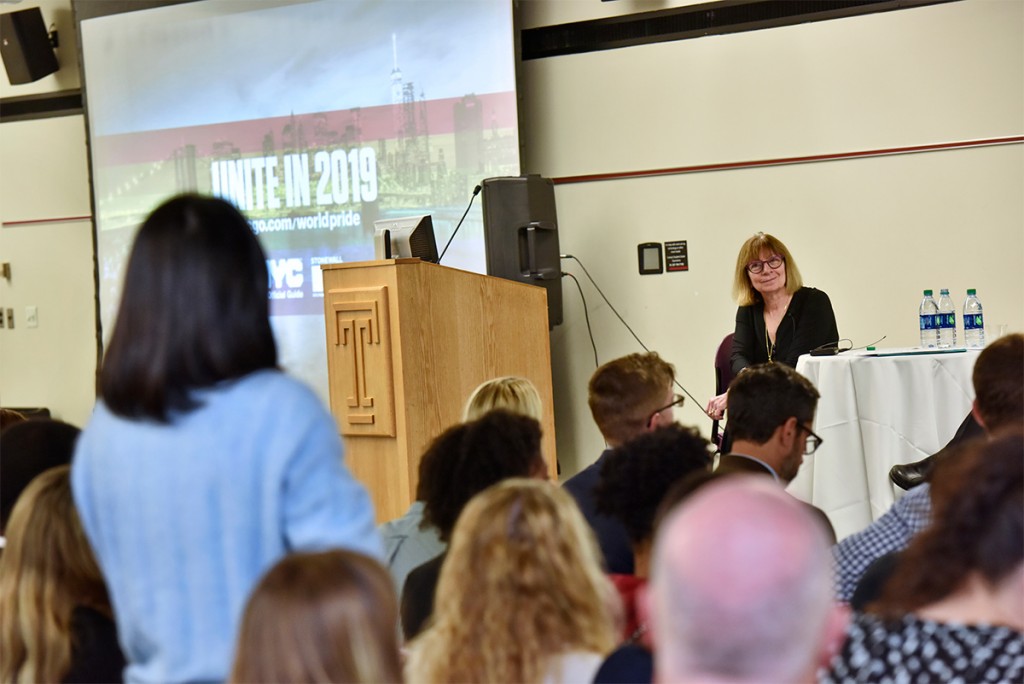 In 2019, New York City will host World Pride, an event that brings in millions of visitors. Keren ended her presentation with a video that shared the message "Unite in 2019."
"What you all just saw was the complete New York City brand. Welcoming, diverse, young, historical – that's what we do to tell the story of New York," said Keren.
Please visit the Executive in Residence web page for more information on the series.
---
President and CEO
Philadelphia Convention & Visitors Bureau
September 28, 2017
"Folks, we're gonna have some fun here," John McNichol began as he moderated the first Executive in Residence of the semester. After a grueling speed round of questions, Julie Coker Graham caved under pressure and revealed the best university in Philadelphia: Temple University.
On September 28, 2017, Julie Coker Graham, President and CEO of Philadelphia Convention and Visitors Bureau, spoke with over 200 students and alumni at the School of Sport, Tourism and Hospitality Management (STHM) during an hour-long discussion moderated by John McNichol, President and CEO of the Pennsylvania Convention Center Authority. Graham discussed an array of different topics such as Philadelphia hosting mega events and the benefits of getting a degree in hospitality.
"The fact that you are choosing to get a degree in hospitality management gives you an advantage," Coker Graham shared with students. "Hospitality crosses so many different areas including hotels, restaurants, event planning, asset management… pursuing this degree will expose you to the wide-range of opportunities available to you."
Coker Graham's career in the hospitality industry began her senior year of high school when she was a waitress. From there, she received a bachelor of science in hospitality management from Johnson & Wales University and jumped right into Hyatt's corporation training program upon graduation. Through her ability to move and adapt, she climbed her way up the ladder at Hyatt, ultimately becoming the General Manager for the Hyatt Regency Philadelphia at Penn's Landing.
Today, Coker Graham serves as the President and CEO of Philadelphia Convention and Visitor's Bureau. She is the first African-American woman to run the organization since it began 76 years ago.
"I'm honored to be in the role," said Coker Graham. "It is a part of my process every day, but more importantly, I need to set a path for the folks behind me to take full advantage of."
As she transitioned into her role as president, Coker Graham was welcomed with hosting three mega events in the city of Philadelphia: the World Meeting of Families, the Democratic National Convention and the NFL Draft.
"These mega events gave Philadelphia the opportunity to be presented on a global stage. It gave folks an opportunity to touch and feel parts of Philadelphia that they may have never seen before. That's visibility that you can't pay for," Coker Graham commented on the success of the events.
This discussion is part of STHM's Executive in Residence series, a program designed to expose students to professionals in the industry through personalized discussions and engagement.
Visit the Executive in Residence page to learn more about Julie Coker Graham and the ongoing speaker series.
---
Vice President of Enforcement
NCAA
April 13, 2017
Jon Duncan is not the bad guy.
As the NCAA's Vice President of Enforcement, Duncan does not write the association's bylaws or issue its penalties. He does not target select institutions, or operate in secrecy. In a way, he said, he's like a soccer referee. Duncan used that analogy during his presentation at Temple University, showing a photograph of men's soccer players from two collegiate teams surrounding an official who was about to issue his judgment call.
"We're not out to get you," Duncan said, "but there is reason to believe that our allegations may change many people's lives, and the trajectories of their respective universities and the next generation at those institutions.
"We are tasked with calling them like we see them, like this referee on the screen."
Duncan spoke to students from Temple's School of Sport, Tourism and Hospitality Management (STHM) during an April 13 visit. He served as Executive in Residence, an ongoing speaker series through which STHM invites accomplished business executives to campus to meet with students and impart upon them their industry expertise in the fields of sport, recreation, tourism, and hospitality management.
"Our goal is to bring executives of the highest caliber to you — to share their stories, and to make what we faculty members talk about in the classroom real for you as you prepare to launch your careers," said Dr. Aubrey Kent, STHM Senior Associate Dean.
Duncan's role — and that of his 56 colleagues in the NCAA's Enforcement division —entails the enforcement of more than 5,800 bylaws across the NCAA's Divisions I, II, and III, with more than 460,000 student-athletes, 1,100 member institutions, and 16,000 teams.
The infractions process, of which the Enforcement division is a part, Duncan said, focuses on three primary tenets: upholding integrity and fair play, prescribing fair and appropriate penalties, and ensuring member institutions are abiding the rules and are not disadvantaged by doing so.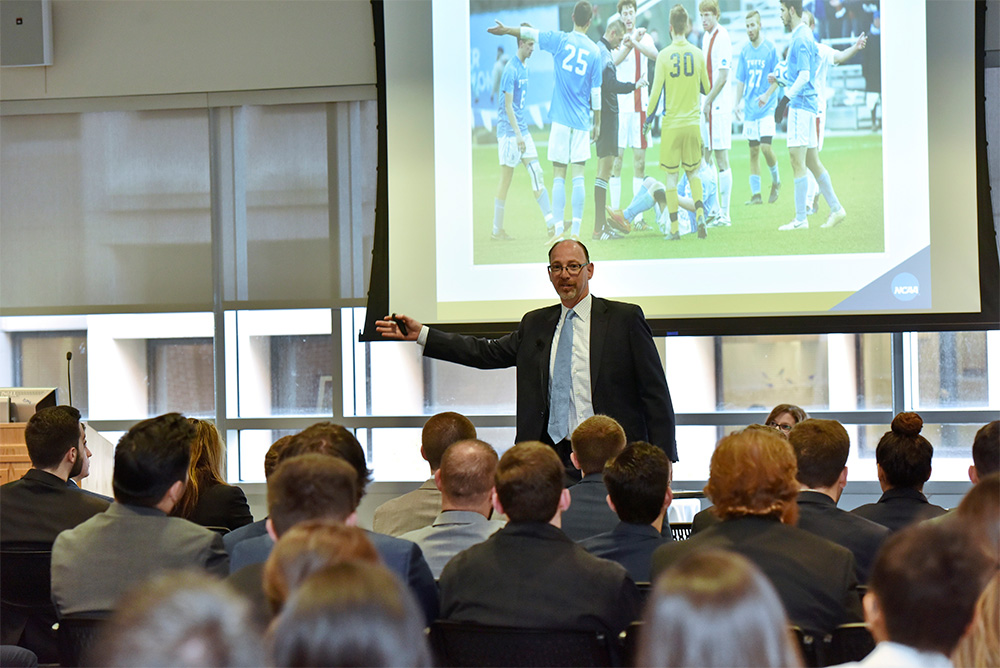 Many potential violations by member institutions are not processed as formal allegations and, subsequently, turned over to the NCAA's Infractions committee because "our evidentiary standard is so high that only a small portion of cases render allegations," Duncan said.
Recruiting and academic integrity violations account for a majority — close to 70 percent, he said — of the most-serious rule violations that are brought to his attention. The evolution of new technologies has changed the means by which people are inclined to bend the rules.
"But those same challenges with which my predecessors wrestled more than 20 years ago are the same ones we're seeing today," Duncan said.
Duncan quipped that "the old $100 handshake" occurs less frequently now, and that the introduction of other electronic currencies rule the day. Fortunately for Duncan and the NCAA's Enforcement division, electronic mischief is easier to detect and trace. That's similarly the case with academic-integrity violations.
"Players, coaches, and other administrators have not found a way to sanitize their electronic fingerprints," Duncan said.
Duncan reflected positively on STHM Associate Professor Dr. Jeremy Jordan, whose recent research work examined all major NCAA infractions dating to 1953. The project, conducted by Temple's Sport Industry Research Center, found comparative consistency in the penalties that had been issued over the 61-year period.
"While my role does not deal with the penalties levied against member institutions, I was pleased with the outcome, that there were no great disparities in the infractions that had been issued," Duncan said.
"Jeremy and his team used a solid methodology for looking at something that nobody else has ever examined, that thoroughly or with that degree of precision. That's a credit to this school (STHM) and this university."
---
Founder & CEO
Longwoods International
March 29, 2017
A destination marketing strategy comprises more than flashy photography on a billboard, or words in a full-page magazine advertisement. It delves into unlocking consumers' emotions, and cravings for excitement and escape.
"That's what we do best," said Bill Siegel, during his March 29 visit to Temple University.
Siegel, the CEO of Longwoods International, spoke with students from Temple's School of Sport, Tourism and Hospitality Management (STHM), serving as the school's most-recent Executive in Residence. The ongoing speaker series invites accomplished business executives to Temple to meet with students and impart upon them their industry expertise in the fields of sport, recreation, tourism, and hospitality management.
Longwoods, a market research firm founded by Siegel in 1978, specializes in advertising research, from strategy development to measuring the bottom-line impacts or return on investment of campaigns. Longwoods conducts studies on destination image and visitor profiles, to improve the reach and exposure of its clients.
Siegel's professional experience is rooted in higher education, having earned a PhD in psychology from the University of Michigan. His earliest research centered on experimental design and statistics, which provided him a foundation upon which to transition into market research.
Today, Siegel and Longwoods use methodologies the company created to dig beneath the surface levels of clients' marketing strategies in a bid to "avoid promoting the wrong things and, instead, find those real hot buttons to push," he said.
"In order for a campaign to work, we tell clients that they have to get beyond talking about features and amenities, things like restaurants or beaches," Siegel said. "As a former psychologist, I hone in on the emotional side. Look at one of the most-successful destinations in tourism—Walt Disney World. (Disney) took a swamp in Florida, and sold fantasy and excitement. That's what people were looking for, and that's how he attracted them."
Siegel, with Longwoods, has provided direction for Canada's "The World Next Door" campaign, as well as Hawaii's "The Islands of Aloha" and, most recently, Michigan's "Pure Michigan" effort. The latter, said Siegel, has helped Michigan more than sextuple its tourism budget—reaching $34 million. It has helped the Great Lakes State generate a strong return on investment.
"That campaign is pure poetry," Siegel said. "With (actor) Tim Allen on the voiceovers, the music from the film "The Cider House Rules" playing in the background, everything comes together. Pure Michigan has evolved from a regional campaign with a very small budget into an international campaign with a halo effect that has had spillover into multiple areas of the state's economic development."
Moderated by Dr. Xiang (Robert) Li, STHM Professor and Washburn Senior Research Fellow, Siegel's presentation provided insight into destination marketers' use of local culture as a tool to drive tourism.
A partnership between Siegel's Longwoods International and Li's U.S.-Asia Center for Tourism & Hospitality Research will soon be finalized, Siegel said. The agreement would grant STHM students and faculty access to Longwoods' database for academic use, while Li's research center — which is housed at STHM — could potentially support Longwoods' efforts to reach the Asian tourism market.
"We are truly excited about this partnership with Longwoods and the prospect to work with one of the most-preeminent travel consulting brands in North America," Li said. "From an academic research perspective, we are particularly grateful for being granted access to a huge travel dataset—a gift of enormous value to colleagues and students here at STHM."
Siegel also commented on STHM's Master of Science in Travel & Tourism, a graduate program with an online-delivery model that will launch in Fall 2017. The aim of the program is to prepare students to face the tourism industry's challenges through analytical- and critical-thinking perspectives.
"The program takes advantage of existing online capabilities in a unique way," Siegel said. "The concept of the program fills a gap that will help educate future leaders in tourism, which will be most beneficial."
President
Jordan Brand
March 22, 2017
On occasion, Larry Miller's office phone rings — and on the other line is Michael Jordan. You know… His Airness. MJ. The G.O.A.T. (or Greatest of All Time).
"Actually, calls from him are pretty standard in my line of work," Miller said.
Miller serves as President of Jordan Brand. He's responsible for elevating the brand and driving all aspects of its global growth strategy. As recently as 2015, according to Forbes, Jordan Brand accounted for 58 percent of all basketball shoes sold in the U.S.
"That's why there is no time to rest on our laurels," said Miller, who visited Temple University as the School of Sport, Tourism and Hospitality Management's Executive in Residence.
The STHM Executive in Residence program is an ongoing speaker series that welcomes accomplished business executives to impart their industry expertise to STHM students in the fields of sport, recreation, tourism, and hospitality management.
"These opportunities supplement what we do in the classroom and help to bring industry here to campus, and to our students," said Dr. Aubrey Kent, STHM Associate Dean.
Miller spoke with STHM students March 22 at Temple's Alter Hall during an hour-long presentation moderated by Lara Price, Senior Vice President of Business Operations with the NBA's Philadelphia 76ers.
Miller is no stranger to the campus, having graduated from the Fox School of Business in 1982 with a Bachelor of Business Administration degree in Accounting.
"Temple absolutely prepared me for a career in business," said Miller, a native of Philadelphia. "The university allowed me to start in accounting and transition into general management, marketing and beyond. It prepared me to look at what I do from a business perspective, because it's easy to get caught up in the excitement of sports. You don't have to be a professional athlete to have a career in sports. There are incredible opportunities out there."
Miller has served in his role since 2012, and from 1999-2006. Complex Magazine once named him one of the nation's most-powerful people in the sneaker industry. In the five years between his stints with Jordan Brand, Miller served as team president of the NBA's Portland Trail Blazers. He broke into the sport apparel industry in the 1990s with swimwear brand Jantzen, after stints with Campbell Soup Company and Kraft Foods.
Today, Miller works with Nike in its corporate headquarters in Beaverton, Ore., to continue the evolution of Jordan Brand, from an American commodity into a household name internationally. He said Jordan Brand already has launched branded stores in Hong Kong, Toronto, Beijing, Dubai and Paris, with plans for similar stores in other countries down the road. Additionally, he said, the popular brand is pouring resources toward its female clientele. "There are a ton of women who love our brand," Miller said, "and we have to show them love in return by customizing the brand for them."
Additionally, Miller said, Jordan Brand has utilized different media to reach its target audience. "We spend just as much, if not more, on digital ads than we do on television ads," he said. "We want to be where consumers can see us.
"We want to instill in others that they can be the best, and inspire them to be their best. That's our goal as a brand – to represent what Michael Jordan exemplified."
In other words…to be like Mike?
"You could say that," Miller said, laughing.
President and Chief Executive Officer
US Travel Association
February 7, 2017
Only a few minutes into his presentation, Roger Dow cued up a video. The words "Dearly departed vacation days" scrolled across the screen, drawing a chuckle from Temple University students.
"I'll admit – our video is funny," said Dow. "But its message is anything but."
Dow is President and CEO of the U.S. Travel Association (U.S. Travel), the nation's foremost leader in helping grow travel and tourism to and within the United States. U.S. Travel has researched the how and why behind the United States' gradual move toward becoming, in his words, a "no-vacation nation." From 1976-2000, Americans used an average of 20.3 vacation days each year. In 2015, that number plummeted to 16.2.
"Our workforce, particularly Millennials, have to realize that creativity flows when you stop for a few days to recharge your batteries," Dow said.
Dow spoke to students from Temple's School of Sport, Tourism and Hospitality Management Wednesday, Feb. 8 as part of its 2017 Executive in Residence speaker series.
Dow and U.S. Travel have championed the use of data in their research-driven initiative, "Project: Time Off." Launched in 2014 under the name Travel Effect and renamed in 2015, Project: Time Off promotes the use of vacation time and correlates it to personal well-being, professional success, and economic expansion. According to a Project: Time Off study, Americans annually allow 658 million vacation days to go unused and forfeit $61.4 billion in work benefits.
"For us, research is everything," Dow said. "Numbers tell a story that our words and promotional videos sometimes cannot."
U.S. Travel is a national non-profit organization that represents all components of the travel and tourism industries, which support 15.1 million jobs and generate $2.1 trillion toward the economy. In all, Dow said, one of nine jobs in the U.S. is rooted in travel and tourism.
Dow's visit coincided with STHM's continued growth and momentum. Home to a nationally ranked Tourism and Hospitality Management undergraduate program, STHM also is one of the first nationally to offer a Master of Science in Travel & Tourism degree program. The 30-credit online program, which will launch in Fall 2017, will address challenges facing the tourism industry, through analytical and critical thinking. The program can be completed in 13 months.
"You can climb in this industry through the operations side," Dow said, "but there's a point when you must be equipped to understand the finances or business principles. I'm not sure I know of another school that offers a graduate program along these lines."
Dow's message to STHM's students did not revolve solely around U.S. Travel's research endeavors. The tourism executive shared a story of an encounter with John Willard "Bill" Marriott, the chairman of Marriott International, and one of Dow's close friends and mentors. On a Marriott Hotels visit, Dow witnessed Marriott engaging with each of his employees – from those in housekeeping or working the door, to those managing high-level operations.
"I learned that day the importance of taking care of your employees, because they will take care of your customers and your business will thrive as a result," Dow said.
Close to 200 students and local industry leaders attended Dow's presentation, at which former Philadelphia Convention and Visitors Bureau President and CEO Jack Ferguson, who recently founded the hospitality consulting firm JPF Solutions, LLC, served as moderator.
Before he closed his program, Dow again emphasized the value of downtime.
"Because Millennials are entering the workplace in one of the toughest economies, I think young people are scared to leave the desk because they want to demonstrate how much they are needed," Dow said. "But when you ask them about their favorite memories, they don't mention emails they received. They talk about their first beach trip, or the first fish they caught, or their first visit to Disney World."
---
Roger Dow on STHM's New Master of Science In Travel and Tourism:
---
Executive Vice President/Offensive Coordinator
Whistle Sports
November 29, 2016
There was a time when sports fans watched professional athletes on television to identify "the coolness factor," said Brian Selander.
Selander, the executive vice president of the Whistle Sports Network, admitted that he was not immune to this phenomenon in his youth. He grew up in the New York-New Jersey media market, where the NBA's New York Knicks reigned. Their players determined the coolest crossovers, the jaw-dropping dunks, and the hottest new apparel.
"Now, the game has changed," Selander said, "and you have to get ahead of it in order to stay relevant."
The gap separating fans from the athletes they admire has closed considerably in the last decade. For example, a contingent of participants in last year's NBA Slam Dunk Contest sought out a Chicago-based dunk team they players had seen on Whistle Sports, to learn how to throw down the best dunks.
Selander engaged with students and faculty from Temple University's School of Sport, Tourism and Hospitality Management (STHM). As part of the ongoing STHM Executive in Residence series, Selander and other accomplished business executives each year visit to impact their experiences in the tourism, hospitality, sport, and recreation management industries.
Selander's Whistle Sports Network, the first digital social sports network, is turning traditional sports viewership on its head. Whistle Sports, which launched in 2014, is a network of "creators," Selander said, who deliver fresh and engaging content for a younger audience of sports fans. Boasting more than 210 million subscribers, fans, and followers across its various avenues of digital and social-media consumption, Whistle Sports was conceived at what Selander called "the intersection of ESPN and Nickelodeon."
It has evolved far beyond that initial categorization. In less than three years, Whistle Sports reports a growth rate of more than 2 million subscribers per week in order to deliver engaging, fresh content for the coveted demographic of 14- to 30-year-olds. Whistle Sports also has established partnerships with some of the major sports leagues and brands, including MLB, the NFL, and NASCAR.
Selander took a circuitous route toward Whistle Sports.
The native of Piscataway, N.J., who majored in political science at Rutgers University, originally planned for a career in politics. He ran for a school-board position as a 15-year-old, and helped change the district's affirmative action policies. From there, he worked as the communications director for Delaware State Senator Tom Carper, the press secretary for a New Jersey state legislator, and aided Bradley's campaign for the U.S. presidency in 2000. Selander held most of those titles before his 30th birthday. He also previously served as managing director of Silver Oak Solutions, a leading provider of spend management solutions. He helped scale the company to more than $20 million in revenue and 120 employees before its successful acquisition by a multibillion-dollar company, at which he served as national practice director. His last role in politics was as chief strategy officer for Delaware Governor Jack Markell.
"I always gravitated to this ability at an early age to make a difference beyond what my age might have dictated," Selander said.
His career made a 180-degree turn when a friend described Selander as "an entrepreneur in disguise." Recalling that conversation one day, Selander continued, "My friend said, 'These campaigns you're running are actually startups that failed.'" That's when Selander started thinking outside the box, and aligning himself with people who turned Whistle Sports from a concept into a reality.
"The traditional view of sports is people who look like us, sitting in a suit behind a desk and telling us what we just saw," Selander said. "And yet on a daily basis, there are YouTube creators racking up millions of views with trick shots, behind-the-scenes views, and slam dunks.
"For years, sports was a monologue of analysts and athletes speaking to people sitting on their couches. That's not sufficient anymore. With Whistle Sports, the dialogue is between the fan and the creator."
Senior Vice President, Strategic Growth Initiatives
Comcast Spectacor
March 29, 2016
For Dan Gallagher, leadership and professional success go hand in hand.
Comcast Spectacor's Senior Vice President of Strategic Growth Initiatives, Gallagher presented a video snippet from a TED talk. The video showed a concertgoer dancing by himself. In time, another man joined in. Soon after, more and more people flocked to those original two dancers.
"You need to have the courage to be the leader, or be that first follower," Gallagher said. "Both roles show that, personally and professionally, you don't always have to be right, but that you have the creativity, the charisma, and the courage to succeed."
Gallagher visited Temple University March 29 as part of the School of Tourism and Hospitality Management's ongoing Executive in Residence series, which unites students and faculty with industry leaders from the fields of sport, recreation, tourism, and hospitality management.
In his role with Comcast Spectacor, Gallagher leads corporate communications, information technology, training functions, and management changes to fuel the growth of the company and its various entities, including Philadelphia's Wells Fargo Center, the NHL's Philadelphia Flyers, and Spectra, which provides venue management, food services and hospitality, and ticketing and fan engagement to more than 300 clients at 400 global properties. Spectra provides venue management, and ticketing and fan engagement to Temple University's Liacouras Center.
Though students in attendance might pursue different lines of work after attaining their degrees, Gallagher said, their futures eventually would overlap.
"We are all talking about jobs where the role is hosting others to create memories," he said. "At Spectra, our focus is whether we are hosting a concert, a wedding, or a ballgame, we are transforming events into experiences through our passion for and attention to the details."
Gallagher, a Philadelphia native, explained that Comcast Spectacor takes great care to avoid "cookie-cutter scenarios," wherein properties in different regions of the country serve different food, for example. "A cheesesteak works in Philadelphia, but it may not work in Phoenix," he said.
Comcast Spectacor's strength, he said, is in the hiring of employees with expertise in various capacities. Case in point: Two years ago, Gallagher left a job within parent company Comcast, in which he'd directed leadership and organizational development for 13 years. When he joined Comcast Spectacor, which he'd previously helped in the rollout of enterprise systems, Gallagher was admittedly new to information technology, a prominent aspect of his job description.
"I went from a position where because of my tenure and functional training, I knew my job inside and out, to a position where I didn't always know the answers," Gallagher said, "but to be a leader, you have to surround yourself with capable individuals who complement your skills."
You also have to study patterns, Gallagher said. Patterns were the basis of his undergraduate degree in sociology and, later, his master's degree in training and organizational development – both from Saint Joseph's University. Through patterns, companies like Comcast Spectacor can best determine where, when, and how to pool their resources and identify new opportunities for growth.
To better make his point, Gallagher used an analogy – not unlike the video of a dancing concertgoer.
"When you're stuck in traffic, it's easy to get caught staring at taillights," Gallagher said. "But leaders rise above the traffic and find the patterns, so that the next time, they can avoid the traffic and get ahead of it.
"You'll find that Temple and STHM are preparing you to do just that."
Founder and CEO
Salamander Hotels & Resorts
March 16, 2016
Sheila Johnson has always been an entrepreneur. As a child, she went door-to-door selling handmade potholders. Today, she's a successful, renowned businesswoman.
The founder and CEO of Salamander Hotels & Resorts, Johnson detailed her beginnings in the arts and entertainment industry to her breakthrough in the sport management and hospitality fields as a part of the School of Tourism and Hospitality Management (STHM) Executive in Residence series. The series welcomes accomplished and veteran business executives to share their experiences with Temple University students interested in the tourism, hospitality, sport, and recreation management fields.
Johnson began her career as a concert violinist in the nation's capital, where she launched her first entrepreneurial venture teaching private violin lessons. It was during this time that she and then-husband, Robert Johnson, co-founded Black Entertainment Television (BET). The network premiered January 1979.
"We started BET because the African-American voice wasn't being noticed," Johnson said during her March 16 visit. "It was kind of a fluke, but it was a lesson in life and a great journey."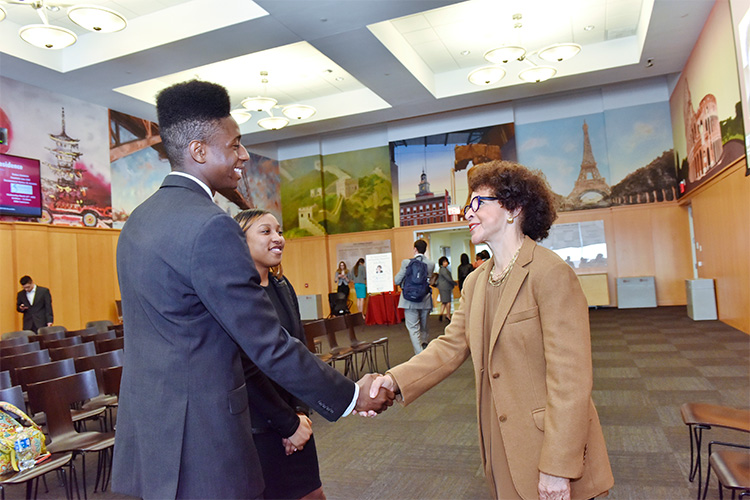 It was through Johnson's beginnings in arts and entertainment that she was catapulted into the sport management and hospitality industries. Following the 2001 sale of BET to Viacom for $2.3 billion, Johnson – eager to redefine her professional purpose – set her sights on opening a hotel company.
Salamander Hotels & Resorts launched in 2005 and, in August 2013, Johnson opened the company's flagship property, Salamander Resort & Spa, in Middleburg, Va. In between those dates, Johnson was establishing her brand portfolio to include three resorts in Florida: Innisbrook in Tampa Bay, Reunion Orlando, and Hammock Beach in Palm Coast. The company's newest Florida addition, Henderson Beach Resort in Destin, opens this summer. Each location boasts luxurious lodgings, authentic dining, numerous event locations, and spa and fitness services, and Johnson expects to soon announce Salamander's entry into new destinations.
Though now a flourishing empire, the company suffered rocky beginnings in historic Middleburg, Johnson said.
"When I set out to build this resort, I misunderstood how strong some of the opposition would be," Johnson said. "It was just the beginning of a very long and contentious fight."
Signs went up in town calling her the "Cable Czar," and gossip pages and online bulletin boards wrote negatively about Johnson. But an undaunted Johnson moved forward and broke ground on the resort. Since opening, the resort has welcomed the star-studded Middleburg Film Festival, and the town's economy has increased as the hotel has hosted events that have drawn large numbers of occupants.
Despite her success, Johnson admits to knowing little about the hospitality industry when she first began. She remedied that problem by hiring and learning from those who did. She considers all of her employees as mentors and is devoted to their professional and personal growth.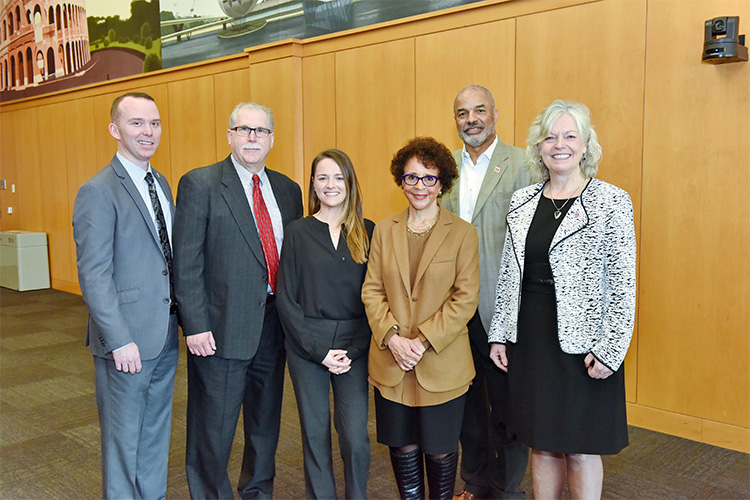 "It's important to start building leaders in the hospitality community. It's been so isolated and often works in silos," Johnson said. "We've got to be more collaborative and inspire the younger generation to join this business."
Reaching outside the hospitality industry, Johnson entered the sport management field when she became a partner in Monumental Sports & Entertainment, which owns the NBA's Washington Wizards, the NHL's Washington Capitals, and the WNBA's Washington Mystics, and subsequently helped break the glass ceiling in the male-dominated sports industry.
"You're probably wondering how this woman got into sports because it's an old-boy's club," Johnson said to the audience.
Her answer? Knowing her worth. Johnson said there were dark times when she made mistakes both personally and professionally, but it was recognizing what she had to offer in any situation that allowed her to learn from errors and continue to thrive.
Currently working to expand her hotel business as well as continue to successfully support the Washington-area sports market, Johnson said her eyes remain steadily focused on growth.
"I have such a passion for this industry," Johnson said. "I'm trying to get my voice out there to help others so no one evaporates into the background."
NFL Analyst, Majority Owner – Philadelphia Soul,
Owner – Ron Jaworski Golf
November 18, 2015
As seats in M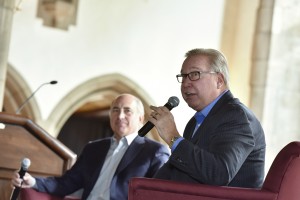 itten Hall's Great Court filled with students from the School of Tourism and Hospitality Management (STHM), Ron Jaworski shared a memory from a day when he was their age.
"I was a 21-year-old when I was drafted by the Los Angeles Rams," said Jaworski, the former NFL quarterback, "and I remember being in a meeting when someone told me that the average NFL career lasts three-and-a-half years. That's it. Your playing days would be over before you turned 25.

"The students here in the room today have the right idea. You're getting an education, and that's to be commended."
Jaworski visited Temple University Nov. 18, 2015 as part of STHM's ongoing Executive in Residence speaker series, which bridges the gap between accomplished business executives and STHM's students in tourism, hospitality, sport, and recreation management.
A football analyst for ESPN, Jaworski's professional experience extends beyond his multimedia commitments. He owns a business development company, Business Clubs of America, as well as five signature golf courses in New Jersey. Since 2004, he's also served as majority co-owner of the Philadelphia Soul, of the Arena Football League.
During his hour-long chat with students – which was moderated by co-owner of the Philadelphia Soul Cosmo DeNicola, FOX '76 – Jaworski shared his four keys to success for today's college students. Education, Relationships, Hard Work, and Leadership skills are paramount, he said.
A native of Lackawanna, N.Y., Jaworski starred in three sports in high school and was drafted by Major League Baseball's St. Louis Cardinals at the age of 17. Rather than sign a professional contract, he attended Youngstown State University.
"No one in my family had gone to college, but my dad was smarter than me," Jaworski said. "He knew I was a kid from a steel town and he said, 'You're getting an education.' I've since been told, 'Your next play could be your last play,' and that sports aren't always around for you. But if it wasn't for my dad guiding me and directing me, I never would have been able to accomplish all that I have."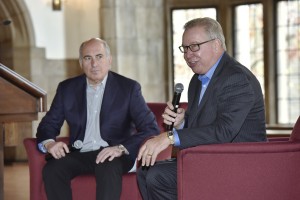 Jaworski went on to earn his college degree and play 17 seasons in the NFL, including 10 for the Philadelphia Eagles. Receiving an education and playing professional football allowed Jaworski to fine-tune his relationship- and leadership-building skills.
Even with an education, Jaworski said he has made professional mistakes.
"I'll be totally honest with you. I was clueless," he said. "I was trying to figure out how to beat the Dallas Cowboys' defense, not run a business. I'm so thankful that I made connections and had professional mentors. I made mistakes, but I limited them. I learned how to get back up off the ground. It's the same in sports as it is in business. There's nothing wrong with failing if you've built those foundation blocks to support you when you fall down."
When Jaworski mentioned connections, DeNicola beamed. In August, the Fox School of Business alumnus financed the participation of four STHM students in a one-day Sports Agent Academy, hosted by legendary sports agent Leigh Steinberg.
"Life isn't about who you know or who knows you," said DeNicola, a Philadelphia businessman and entrepreneur. "It's who you owe and who owes you. You have to work hard in life, and build connections before you ask for favors."
Jaworski, as he concluded his remarks, encouraged students to capitalize on the opportunities available to them during their careers at Temple, and to remember, "there's no substitute for working hard."
"I may not have been the biggest, fastest, strongest, or smartest, but I knew no one was going to outwork me. When my opponent went to sleep at 11, I was up until 12," Jaworski said. "The future is yours and it's so bright. You are in the right spot. Temple University affords you great opportunities. My daughter went here. I should know. So take advantage of all that's here for you."
–Christopher A. Vito
Vice President, Diversity & Inclusion
NBCUniversal
October 2, 2015
Salvador Mendoza paused his presentation ever so briefly, and then uttered four words that caused students to wriggle in their seats.
"Time for a test," Mendoza said, smiling widely.
Mendoza, the Vice President of Diversity & Inclusion at NBCUniversal, asked the gathering of students from Temple University's School of Tourism and Hospitality Management (STHM) to identify which of the two shapes visible on the projection screen was a square. Only one student raised his hand with an answer to Mendoza's seemingly simple question.
"In my line of work, it's not taboo to raise your hand and have an opinion," Mendoza said. "You need to be the person who isn't afraid to step up, say something to challenge the norm, and do what is right for the greater good of your constituents."
Mendoza visited Temple University Oct. 2 as part of STHM's ongoing Executive in Residence series, which bridges the gap between accomplished business executives and STHM's students in tourism, hospitality, sport, and recreation management. Executive Director of the PHLDiversity Multicultural Affairs Congress Greg DeShields served as the moderator of Mendoza's presentation and subsequent question-and-answer session.
In his role with NBCUniversal, Mendoza is responsible for the development of long-term strategies in the areas of workforce, community investment, and management of the company's employee resource groups. He places a focus on enhancing the company's diverse and inclusive environment.
For Mendoza, these comprise an easy proposition. The Honduran-born Mendoza said he could relate to underrepresented communities. He moved to the United States as a 14-year-old boy – "one of the dreamers, when the term was unknown" he said, making reference to a faction of the American population that, as a result of immigration status, left him unqualified for Federal Student Aid.
"When you work hard, over time, you can achieve greatness," said Mendoza, who earned his U.S. citizenship while pursuing his undergraduate degree at Chicago State University. "It's like a baseball player who practices his swing over and over again. In what I do, as it applies to diversity and inclusion, there's always work to be done toward being more representative of all cultures and all people without even thinking twice about it. It will eventually seem automatic, like that baseball swing."
NBCUniversal, Mendoza said, is a leader in this arena. He said NBC was the first major American television network to cast a black actress in the lead role of a primetime comedy show, or as the host of a primetime variety show. NBC also was groundbreaking in its televising of the first made-for-TV movie about the AIDS epidemic, Mendoza said.
"The greatest challenge facing a company like NBCUniversal is building long-term relationships with the community you represent," he said. "We are an entertainment, film, and news company in an industry that's constantly evolving. You cannot let contentment stand in your way. We need to be authentic."
As an example, Mendoza recalled the once-widespread use of the term "illegal alien" on national television broadcasts across all American networks. The term, he said, gives off "an instantly negative connotation."
"I'll never forget turning on NBC Nightly News, then CNBC, then MSNBC, and hearing the term 'undocumented immigrant,'" Mendoza said. "It was such a proud moment to be part of a company that made the decision to start changing the conversation. This scenario demonstrates that there's always work to be done, not only in how we deliver the news, but also in how we view programming.
"At NBCUniversal, we will always continue to make efforts to produce rewarding results."
–Christopher A. Vito
CEO and Operating Partner
Philadelphia Union
March 19th, 2015
The transition, from soccer goalkeeper to soccer executive, wasn't smooth. For Nick Sakiewicz, the bumpy path is the preferred route.
"My whole career," he said, "has been about taking risks."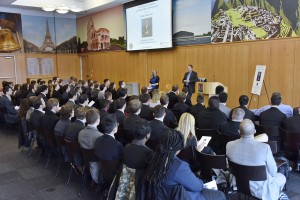 Sakiewicz has built a career upon a series of personal and professional risks. The Chief Executive Officer of Major League Soccer's Philadelphia Union, and Operating Partner of Keystone Sports & Entertainment, LLC, the Union's ownership group, Sakiewicz visited Temple University March 19 and spoke to students from the School of Tourism and Hospitality Management (STHM) as an Executive in Residence.
With Comcast SportsNet anchor Amy Fadool serving as moderator, Sakiewicz shared stories of his move from a career in professional sports to one in sport business at the age of 29, how he helped found the Union, and what challenges await the sixth-year soccer franchise.
Before helping build the Union into a Major League Soccer (MLS) fixture, the 54-year-old Sakiewicz played the sport. In the last stop of his playing career, he said he earned $500 per game "and maybe a steak dinner if we won" while playing in 1990 with the little-known Tampa Bay Rowdies, of the American Professional Soccer League.
"I was chasing the dream, and that's when I had a conversation with my dad," said Sakiewicz, whose father had played semi-pro soccer in his day. "I'll never forget what he told me: 'As an athlete, the older you get, the less valuable you get. But as a businessman, the older you get – presumably, if you do it right – the more valuable you become.'
"He was right."
Sakiewicz hung up his spikes after that one season with the Rowdies, moved to California to pursue a career in banking and, in 1995, accepted an offer to become an employee of MLS. The career switch landed him with Tampa Bay Mutiny, for whom he served as President. In 1999, the New Jersey native moved back to the Garden State to become President of the New York/New Jersey MetroStars. He'd stay in that role for five seasons, and then accept a position with AEG New York. With AEG, he later became President and oversaw the 2006 sale of the MetroStars, his former team, to energy-drink giant Red Bull.
Again, Sakiewicz looked ahead to the next big thing.
"When it was time for me to leave AEG and figure out my next step, I honed in on Philly because it was available," he said. "Why a team wasn't in Philadelphia was beyond me. So I pulled out my American Express card and started Keystone Sports. It was either going to be a great story one day, or a really big credit-card bill."
Jumping through political hoops and cutting through construction-loan red tape, Sakiewicz navigated the first steps of the Union's infancy, which fell in line with an American recession. He oversaw the location scouting for the stadium, PPL Park, which sits in Chester, Pa. He hired the first coach. He helped field the first roster. And he watched in 2010, as the Union took the pitch for their inaugural season.
"The canvas was blank when I came to town seven years ago, and we're incredibly appreciative and proud of what we've built and what we continue to build," Sakiewicz said. "But we're not done.
"I say to my staff quite regularly, 'We're like an 18,000-seat restaurant that, on Saturdays, hosts parties. The product on the field is the food that goes on the plate. And if that food isn't good, those patrons – in this case, our fans – are not coming back.'"
The Union have carved out a foothold in the region. They've established a youth development academy near King of Prussia, Pa., they've erected practice fields in Chester, and they're making plans for an adjacent, state-of-the-art training facility. They boast 100,000 fans engaged on social media, average 18,000 fans per home match and have paced MLS in merchandise sales for three of the Union's first five seasons.
"The next thing we need to do," Sakiewicz told STHM's students, "is win a trophy. Philadelphia loves hard work and grit, but this city loves a winner more."
President and Chief Executive Officer
Wyndham Hotel Group
February 24th, 2015
Geoff Ballotti's first position in hotels was working as a dishwasher. Then, he was promoted to busboy. Soon after, he'd found his way to waiting tables.
Now, he's a senior executive for the world's largest hotel company.
"Anyone who says you can't climb the ladder in this field isn't working hard enough," said Ballotti, President and Chief Executive Officer of Wyndham Hotel Group.
Ballotti spoke to School of Tourism and Hospitality Management (STHM) students on a Feb. 24 visit to Temple University, as part of the school's Executive in Residence series. With Wyndham Hotel Group, whose global portfolio consists of approximately 661,000 rooms in 7,650 hotels in 70 countries, he is responsible for guiding the strategic direction, operation, growth and performance of the business and its 6,000 associates.
The Boston native imparted tips on a career in hospitality, the pursuit of work abroad and his humble beginnings in the industry.
"We are so delighted to have Geoff join us," STHM Associate Dean Dr. Elizabeth Barber said, in her welcome address. "Growth of the tourism and hospitality industries is not taking place just here in Philadelphia or in the United States. It's expanding internationally, as well, and Geoff can speak to that. This is such an exciting time to be in this industry."
Ballotti wasn't always working his way up the ladder in hospitality. In fact, he majored in French at Colby College, in Waterville, Maine, and had hoped to teach the language, before taking a position in banking. As a banker, Ballotti said he had crossed paths with a marketing executive who represented the former ITT Sheraton, which has since been purchased and rebranded as Starwood Hotels.
"And I thought, 'Wow. His job is much more fun than mine,'" Ballotti said. "I had these mundane stories about construction loans in Chelsea, (Mass.), or South Boston, or New Hampshire. … and he was talking about opening hotels on the Great Wall of China. I remember going to my first ITT Sheraton World Conference. Here was this hotel world, and it was so incredibly exciting."
Ballotti never envisioned a career internationally. After completing his Master's of Business Administration at Harvard, he took a position in development with ITT Sheraton, which had been assembling a team to close a deal in Italy. Ballotti, who had a basic understanding of the Italian language, joined that team and relocated with his wife, Leslie, to Milan.
"What was supposed to be a couple years overseas became 10," he said.
Ballotti, nor his wife and their four daughters didn't seem to mind. He became a general manager in the industry, moving from Milan to Brussels and, later, back to Italy before returning stateside.
"In this line of work, especially as a GM, you're like a ballplayer in that you get moved around a lot," Ballotti said to the group of students who had gathered at Alter Hall. "To think, I had gone from wanting to teach French, to banking, to real estate development and then into operations, I never imagined such an exciting career"
During his candid presentation, Ballotti urged STHM students to educate themselves on technologies that weren't available when he was getting started professionally. He encouraged them to turn to social media to learn about a future employer in advance of an interview or a business meeting. "My favorite six words: Fail to prepare, prepare to fail," he said. He vouched for hard work and dedication in the workplace "because there's no hiding from bad scores and bad reputations on the Internet."
He also reminded students that it's never too late to get into his line of work.
"You work your way up, into leadership positions, and there's something different and exciting every day," Ballotti said. "As a general manager, that couldn't be more true. I lead GMs, and that's just as exciting as being a GM.
"You get bitten by the bug and you never leave. And the people I see leaving always find their way back."
Senior Vice President of Revenue & Profit Management
Walt Disney Parks and Resorts
February 16th, 2015
Mark Shafer loves numbers. He said his passion for data and analytics runs deep, and "as crazy as it sounds, I looked forward to my classes and tests" as a Temple University undergraduate.
"To work at Walt Disney World Resort, you have to be a great storyteller," said Shafer, the Senior Vice President of Revenue and Profit Management for Walt Disney Parks and Resorts. "We explain complex ideas in easy-to-digest ways."
The School of Tourism and Hospitality Management (STHM) welcomed Shafer for its ongoing Executive in Residence series. During his Feb. 16 campus visit, Shafer spoke to students about his position and The Walt Disney Company, which reported $48 billion in annual revenues in 2014.
"When I first started at Disney, very few people were talking about analytics," said Shafer, an alumnus of the Fox School of Business. "The initial conversations were about hotel revenue management. Given the successes we had analyzing data for our resort hotels, we were able to expand its use outside parks and resorts."
And Disney did not. In fact, Shafer's team projected record-breaking viewership for the game, which drew more than 33 million viewers.
In discussing the complexity of his position, Shafer mentioned his eldest son, Zack, an economics major at Florida State University.
"The discipline of revenue management, it's a thought process," he said, "and I tell my son that, in this line of work, you need to be able to convey your thoughts clearly and have your message understood. I encouraged him to consider minoring in journalism for that reason."
The magic of Disney has transcended from his working environment to his personal life. Shafer and his wife Jane refer to their 7-year-old daughter Caelin as the "princess" of the house."
"That's the Disney touch, I guess," Shafer said, smiling.
President & CEO
Wawa
October 29th, 2014
A hand in the crowd went up, and Chris Gheysens called upon the student in order to field his question. Admittedly, it was a query Gheysens already had heard a number of times.
"And I think you're the sixth person to ask me that question today," said Gheysens.
No, a Wawa will not be coming to Temple University's Main Campus any time soon, Gheysens said. But the chain of convenience stores and gas stations is expanding in ways that excite Gheysens, the President and CEO of Wawa, regarded as one of the nation's top privately owned companies.
More importantly for Gheysens, who visited Temple Oct. 29 as an Executive in Residence to the School of Tourism and Hospitality Management (STHM), is Wawa's never-ending pledge to improving the customer-service experience.
Wawa has more than 22,000 associates operating its 665 stores across six states. It's the No. 7 seller of coffee nationally, and it owns the market regionally in sales of both coffee and sandwiches. And yet, there was a time when Wawa was viewed in some parts as "just a gas station," said Gheysens, who's been with Wawa in various capacities for more than 17 years.
"Most people would not associate decent, fresh and healthy food offerings with a gas station," Gheysens said, "but then most people wouldn't associate a commitment to the customer with a gas station, either."
Gheysens spoke to a group of more than 200 students and faculty at Alter Hall, as STHM's final Executive in Residence of the semester. In his 45-minute address, he emphasized a devotion to core values, the maintenance of a desire to serve and a passion for retail.
According to Gheysens, a Philadelphia area native, a bulk of Wawa's locations are "at the corner of Main Street and Main Street." He called Wawa the "unofficial town hall in your community," where people gather to socialize, gas up, and grab a bite to eat. And somewhere along the way, the company – which this year celebrated its 50th anniversary – changed the way people view convenience stores.
You can get a cup of coffee just about anywhere, Gheysens said. That's why he and Wawa are focused on adhering to the company's six principles, all of which place the consumer and customer service above all else.
"You don't want to come to work to make coffee," Gheysens said of Wawa's employees, "so we attach a higher calling to every position, every day. We have a three-minute window to make someone's life better, and when that happens millions of times a day, we've found that you can make a profound impact in your community."
Gheysens didn't always envision a career with Wawa, he said. After attaining his Bachelor's degree from Villanova University, he took a position in auditing practice with Big Four firm Deloitte, in Philadelphia. While there, he received advice from a colleague, who had encouraged him "to become friends with the person who schedules clients," one of which was Wawa, headquartered in nearby Delaware County, Pennsylvania.
Since 1997, Gheysens has worked for Wawa in accounting, operations, research, human resources and information technology. Less than two years ago, he was appointed the President and CEO – or, in Wawa parlance, their "Lead Goose" – and he's piloted the company's expansion into Florida, among other accomplishments. Wawa knows a thing or two about expansion, having evolved from a local dairy farm to a home-delivery service to what it's best known for today – a chain of convenience stores that ranks among Forbes' top privately owned companies.
"Everybody knows what is in a Wawa," said Dr. M. Moshe Porat, Dean of the School of Tourism and Hospitality Management and the Fox School of Business at Temple University. "The power of that brand is simply amazing."
During his visit, Gheysens engaged in a spirited question-and-answer session with students from both STHM and the Fox School, with STHM Assistant Professor Ira L. Rosen serving as the moderator. That's when Gheysens, whose company annually sells more than 200 million cups of coffee, took a question about expanding Wawa's operations to include a Temple location.
"We were delighted to have a high-level executive like Chris speak to our students about Wawa, its tremendous business model and its embrace of core values in its daily operations," said Dr. Elizabeth Barber, Associate Dean of the School of Tourism and Hospitality Management.
Then, Dr. Barber interjected personal opinion – one that had nothing to do with a certain future location on Temple's campus.
"Pumpkin-spice coffee is back," Barber said, smiling, "so thank you, Chris."
Sr. Vice President of Human Resources & Chief Diversity Officer
Wyndham Worldwide
October 9th, 2014
During a recent hotel stay – at a Wyndham property, of course – Patricia Lee caught herself people-watching. She had identified a comfortable vantage point and, from that spot, and for no more than half an hour, observed the hotel's employees going about their business.
This was completely natural for Lee, who is in the business of understanding people.
Wyndham Worldwide's Senior Vice President of Human Resources and Chief Diversity Officer, Lee discussed taking calculated risks and her pursuit of professional opportunities, among other themes, as part of the School of Tourism and Hospitality Management (STHM) Executive in Residence program.
A leader in employee engagement and organizational development, Lee shared stories of her more than 10 years in the hospitality industry, as an executive with Wyndham Worldwide, before engaging the nearly 150 students and faculty in attendance in a question-and-answer session. She also broached the topic of time management, which she described as a daily challenge in her line of work.
"The easiest way to describe my day-to-day is this bumper sticker I saw once. It said, 'You make plans. God laughs,'" Lee said. "I have my to-do list and I probably don't get to any of it."
Lee explained that, in her position with Wyndham Worldwide, she is a self-described "sort of fire-fighter." The New Jersey native, an expert in problem resolution, said she first honed her change-management and coaching skills at Lehigh University, where she began as an engineering major before completing her undergraduate studies in The Classics. The predictive nature of engineering, which uses measurements and metrics, helped form her ability to handle elements of human resources that aren't nearly as predictable, Lee said.
Dr. Elizabeth Barber, Associate Dean of STHM, kicked off the Executive in Residence programming with a rhetorical decree in the same vein.
"What are your aspirations?" Barber asked, hinting to the unpredictability of the job market. "That first job may not be your last job. It may not be where you end up. It's never too early to think in that manner."
Lee thinks similarly. She said she often directs her team at Wyndham Worldwide to steer from their first attempt at a resolution, pointing out that those often are knee-jerk reactions. Instead, Lee said, the second and third options tend to be more fully developed.
"I love people. You have to love people to do what I do," Lee said, "but my focus is putting metrics around things, measuring things, streamlining processes. For example: I might ask, 'What are the key performance indexes, the returns on investment?' Those are things looked at from a financial perspective.
"Can those same areas of measurement be put into the human behavior? I think they can. People will never be 100-percent predictable. It's bringing scientific measures to the human side. Everybody is unique and you have to identify the drivers of individuals."
Wyndham Worldwide is "more than just a hotel business," Lee said, pointing to the time-share and property-exchange venues of Wyndham that are managed by some of the company's 33,000 employees worldwide in 65 different countries.
And Lee is more than just another executive. She is an individual who has allowed her core values to dictate her career path. She informed the students in attendance that she never once has accepted a position she sought; instead, she said, she jumped at opportunities as they presented themselves.
She cautioned the undergraduate and graduate students in the room against mapping out every last step of their days. Like those daily to-do lists that Lee assembles, there's risk in leaving items on those lists incomplete. Lee reflected upon an intern with whom she once crossed paths. The intern was driven and motivated, Lee said, but did not allow room for failure.
"Follow your passion without fear," Lee said. "I hear a lot of folks say they're afraid to make a mistake, but there is no wrong answer. There is no wrong path. Be fearless. Follow your passion. Wherever it leads you is going to be the right place for you."
Like a plush chair in a hotel lobby in Philadelphia, for example.
Pat Kraft, Deputy Athletic Director
Temple University
Vince Nicastro, Athletic Director
Villanova University
Renie Shields, Associate Athletic Director & Senior Women's Administrator
Saint Joseph's University
April 14th, 2014
Three leading Division I athletics administrators recently visited the School of Tourism and Hospitality Management for an Executive Panel exploring a variety of issues, from the financing of intercollegiate athletics and regulatory compliance to conference realignment and the rise of, and response to, social media.
Villanova University Athletic Director Vince Nicastro, entering his 14th year in the role, was joined by Renie Shields, associate athletic director and senior women's administrator at Saint Joseph's University, and Pat Kraft, deputy athletic director for Temple University, for the April 14 discussion, moderated by longtime KYW Newsradio anchor Harry Donahue, who also serves as the voice of Temple football and basketball.
"It's great to be back here on campus. I haven't been back…" Donahue said, pausing for comedic effect. "In about two weeks."
Sponsored by STHM and the Sport Industry Research Center, the candid discussion touched on the importance of fundraising for athletics and the recent developments, stemming from Northwestern University, of student-athletes attempting to unionize.
"I think that's a fair and appropriate conversation to have," Nicastro said of labor issues for collegiate athletes. "What construct or model that takes is uncertain. It's fair to say student-athletes will have a stronger voice."
Waves of conference realignments were also a topic of discussion, as each school was affected. Temple joined the American Athletic Conference, Villanova remained in a redesigned and basketball-centric Big East, and St. Joe's saw schools come and go in the Atlantic 10, including longtime member Temple.
While schools in the American must travel nationwide for conference games, Kraft said it has taken "the Temple brand in major cities, and that was something we did not have."
Before the panelists took questions from students, the conversation touched on the increasing popularity of social media, including mentoring of student-athletes on appropriate usage of the platforms and the exploding opportunities for teams to reach fans directly via social channels.
Kraft said Temple's athletics department was in the process of interviewing finalists for a social media position, and Nicastro said two athletics administrators at Villanova are assigned to social media roles. The exploding popularity of smartphones, not just for social media usage but also for second-screen viewing, has impacted various aspects of college sports, including arena renovations.
"It's a trend we're all planning for to ensure we're adapting to the viewing experience young people are accustomed to," he said.
Lorenz Hassenstein, General Manager
Pennsylvania Convention Center
Michael Hill, Managing Director
Synterra Partners
Bob McClintock, COO of Convention Center Division
SMG
April 2nd, 2014
Three leading executives from the facility management industry visited the School of Tourism and Hospitality Management for an Executive Panel on Wednesday, April 2, 2014.  The panelists explored a variety of issues ranging from the economic impact of increased tourism to improving the customer service model at their facilities, all with the intent of emphasizing the importance of convention business to Philadelphia.
Bob McClintock, COO of SMG's Convention Center division, kicked off the discussion after initial introductions.  McClintock has over 27 years of industry experience.  He was joined by Lorenz Hassenstein, General Manager of the Pennsylvania Convention Center, and Michael Hill, Managing Director of Synterra Partners.  The discussion was deftly moderated by John Kroll, President of Keating Hospitality and a member of the STHM Dean's Council.  John McGill and Mary Logue, two seniors majoring in tourism and hospitality, performed introductions for all the visiting executives.
SMG is the world leader in venue management, marketing and development and has corporate headquarters located in Conshohocken, PA.  They manage over 233 facilities that include convention centers, exhibition halls and trade centers, arenas, stadiums, performing arts centers, theaters, and specific-use venues.  In Philadelphia, SMG is charged with improving the customer experience and operations in the Pennsylvania Convention Center.  They took over management of the building in January of this year.
The candid discussion touched on SMG's perspective and strategies in facility management and the ancillary projects that Synterra Partners anticipates will come with the Convention Center's continued success.  Hill spoke about the SMG and Synterra partnership as a "Partnership with a Purpose", further underscoring the commitment to inclusion and outreach in subcontracting and employment practices.  SMG and Synterra have developed a unique strategic partnership to improve the center's commitment to access and diversity for employers, subcontractors, and service partners.
Students also learned more about the recent $800 million dollar renovation the Pennsylvania Convention Center underwent and how the increased capacity allows it to host the largest conventions and trade shows, and most importantly multiple events at the same time.  Much of the discussion also focused upon the PHL Alliance, the term McClintock used for the key stakeholders involved in growing the center's business.  Each panelist spoke about the collaboration necessary between Aramark, the Philadelphia Convention and Visitor's Bureau, the city's major hotels, and SMG in order to continue the long term success of the Pennsylvania Convention Center.
President
The Americas InterContinental Hotels Group
January 9th, 2014
April 2nd, 2014
More than two dozen School of Tourism and Hospitality Management students enjoyed an intimate executive luncheon Jan. 9th with Kirk Kinsell, President of the Americas for InterContinental Hotel Group (IHG). Even though the event occurred in the middle of the university's winter break, students came ready to listen and heard a firsthand account of an extremely successful hospitality career.
IHG is global company with nine hotel brands, more than 4,600 hotels and nearly 674,000 rooms in nearly 100 countries around the world. With a vision to become one of the great companies in the world by creating Great Hotels Guests Love, it is safe to say that IHG knows hospitality.
Kinsell initiated the conversation by candidly admitting that he "liked to talk about himself." He explained to the attentive audience that you are always your strongest advocate and therefore should enjoy talking about yourself, and be proud of who you are. Kinsell also reflected upon the importance of being aware of how others perceive you, because whether they are correct or incorrect, often times "perception is one's reality."
During the hour-long event, Kinsell recounted the journey that his career has taken, starting with taking organic chemistry as an undergraduate because of a desire to follow in his physician father's footsteps to establishing his current home with IHG. He detailed key moments in his professional path and times when he leaned on mentors, and emphasized that when he moves on from his current position, the true mark of his legacy will be the quality of the company's employees.
Kinsell also took the time to express to the students the importance of having an international experience throughout their career. He explained that in order to be cognizant of how others perceive you across a variety of different platforms, it is vitally important to experience diverse cultures and learn that each environment is different. Therefore, one may have to adjust their behavior in order to not be perceived incorrectly. Kinsell had the honor of experiencing an international career, as he served as Senior Vice President of Franchise for Holiday Inn Worldwide.
Kinsell also expressed to the students the importance of maintaining a balance between their work and personal lives. He compared the balance to a juggling act with glass balls and rubber balls, stating, "You have to be aware of which balls you can drop because they will bounce back to you, versus which balls you must always catch." He then spoke of his personal belief that throughout his career, family has been a "glass ball" and one of the most important aspects of his life.
Mark Piazza, Senior VP Sports Team Operations
Madison Square Garden Company
Ron Skotarczak, Executive VP Marketing Partnerships
Madison Square Garden Company
November 19th, 2013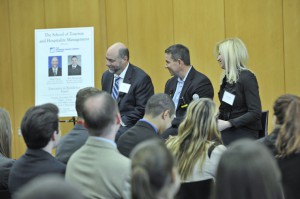 Ron Skotarczak and Mark Piazza are both Philly guys. Both are sport management executives and both have professional experience with local teams, Skotarczak with the 76ers and Eagles, and Piazza with the Sixers and Flyers.
Now they're in New York City, one of the fiercest of Philadelphia's sports rivals. "My parents still don't talk to me," Skotarczak joked about his defection to the Big Apple after being raised in Philadelphia's Port Richmond section.
Without missing a beat, Piazza quipped: "No one talks to you."
That exchange, which drew rounds of laughter from an audience of 150 students, faculty, and staff, was indicative of the light-hearted but informative mood of a recent Executive in Residence Panel hosted by the School of Tourism and Hospitality Management (STHM).
The Nov. 19 event in Alter Hall highlighted Piazza's position as senior vice president of sports team operations for the Madison Square Garden (MSG) Company. In that role, Piazza oversees revenue management, scheduling, travel and other aspects for the New York Knicks, Liberty (of the WNBA) and Rangers. MSG also oversees the Hartford Wolf Pack, the Rangers' AHL affiliate.
As executive vice president of marketing partnerships, Skotarczak leads MSG's sales and service organization. This includes developing, managing and implementing the company's overall sales strategy and initiatives within the marketing partnership sales and service groups, including integrated sales, team sales, entertainment sales and sports property sales.
Or in Skotarczak's words: "My team makes the money. Mark's team spends the money."
The Madison Square Garden Company is comprised of three business segments: MSG Sports, MSG Media and MSG Entertainment. Working in New York for a company that operates three fully integrated business segments and seven venues nationwide – including, of course, the Garden in Manhattan and the newly renovated Forum in Los Angeles – comes with pressure. But if their panel discussion is an indication of their professional approaches, Skotarczak and Piazza attribute their success to the basics.
Piazza advised that STHM students work hard, remain honest and trust their instincts. Skotarczak shared similar advice through the mission statement of the 70-person team he oversees: "Be great every day through transparency and integrity."
Skotarczak also preached passion. Since we all spend about a third of our lives at work, "make sure you do something you love and are passionate about," he said.
Rhea Hughes, a Temple alumna who hosts the Sportsradio 94 WIP Morning Show and Lunch Break on CSNPhilly.com, moderated the discussion. Hughes is a staple in the Philadelphia sports world – having served as a producer, engineer, play-by-play announcer and sideline reporter – and Sportsradio 94 WIP is consistently regarded as one of the best sports radio stations in America. Piazza is also a Temple graduate.
In opening the event, Associate Dean Elizabeth H. Barber said the school's relationship with MSG is a prime example of STHM's strong partnerships that extend beyond Greater Philadelphia. Seven STHM alumni work at MSG, and the company hosts eight to 10 interns each semester.
"That's how you build a partnership, with years of hard work and consistency in the quality of what we do here," Barber said.
Wynn Resorts
October 3, 2013
President & COO
Wynn Resorts Development
October 2, 2013
President & CEO
Dolce Hotels and Resorts
April 3, 2013
President & COO
ARAMARK
March 22nd, 2013
Senior Vice President, Administration & Operations
Philadelphia Phillies
February 21, 2013
Vice President & Chief Marketing Officer
The Atlanta Falcons
October 26, 2012
Senior Vice President, Development
Americas Hilton Worldwide
October 18th, 2012
Owner and Executive Chef
Garces Group
September 11, 2012
CEO & Co-Owner
Philadelphia 76ers
Spring 2012
Chairman
Philadelphia Phillies
Spring 2012
President & CEO
Choice Hotels International
Spring 2012
Joe McInerney, President & Chief Officer
American Hotel & Lodging Association
Len Vermillion, Editor Lodging Magazine November 9th, 2011
Chief Strategy Officer
STR Global
October 28th, 2011
Executive Director
TEAM Coalition
October 5th, 2011
Founder & Interim Vice-President
Global Abilities
September 15th, 2011
President and Chief Executive Officer
National Museum of American Jewish History
September 14th, 2011
Connect with OUR INDUSTRY RELATIONS TEAM TODAY