STHM students win case cup competition
By: Mariyum Rizwan
First Published: April 28, 2023
Topics: STHM School
Liz Taylor and Jonathan Howe, assistant professors in the Department of Sport and Recreation Management, both had no doubt in their minds that their students were winners. Now they have the awards that prove it.
This spring, for the first time, students from the School of Sport, Tourism, and Hospitality Management (STHM) competed in the Case Cup, an annual case study competition hosted by the University of South Carolina's College of Sports Research Institute (CSRI).
"(CSRI) focuses on college sport research," says Taylor. "Their conference features academic panels and presentations along with panels of industry professionals and athletes from college athlete departments."
Competing against seventeen teams from across the nation, three STHM teams tackled ways to address the changing governance model of the National Collegiate Athletics Association (NCAA). The STHM teams thrived under the tutelage of Taylor and Howe. Their hard work and preparation paid off—
Carli Miller, Jacob Bealer and James Majette won the undergraduate track and Austin Jones, Dan Getliff, Despina Evangelopoulos and Hannah Kloetzer won the graduate track.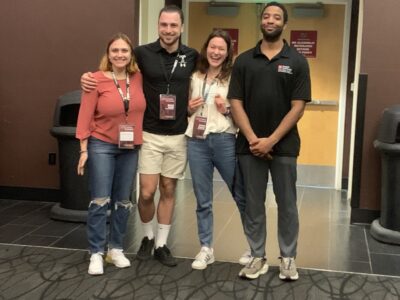 "When Carli, James and I heard our names called, I was ecstatic," says Bealer. "It validated all of the hard work that we put in and the hours of practicing that we put in."
The NCAA is the largest governing body of college-level sports. Over the last few years, the organization has undergone several changes to increase diversity and create more equity. For the case cup, the students were tasked with creating an updated mission for the NCAA.
"Based on the changes, (the students) had to identify three key areas of change under the NCAA purview," says Taylor "Our teams focused on issues related to diversity, equity and inclusion; name, image and likeness (NIL); athlete wellbeing; athlete transition from sport; and broadcasting and TV deals."
For example, the graduate team worked on a suggestion for the NCAA to support athletes' holistic development.
"We created mandatory centralized programming via the NCAA for institutions to instate in their athletic departments," explains Kloetzer, a graduate student in STHM's Master in Sports Business program. "We did a buy-in point system where athletic departments receive $40K in funding to support this programming if they reach a 75% athlete completion average of programming and a 50% survey completion for a feedback loop. The NCAA has the resources to create succinct, meaningful programming that is centered around athletes' needs, so we wanted to make this easy and accessible for all institutions to utilize."
Aside from the conference itself, the students had the opportunity to tour the University of South Carolina, including basketball practice facilities and the football stadium.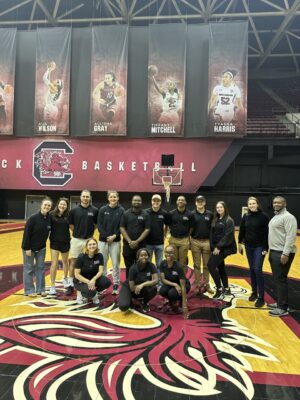 "We got a tour from the women's basketball head strength and conditioning coach and also toured their football stadium with a member of their development team," says Howe. "We really got the ins and outs of what goes on behind the scenes of a big-time, power five athletic department."
To prepare students for the case study competition, Taylor and Howe designed a College Sport Research course, which was ten weeks and three credits. They both plan on continuing to teach this course, which gives students the unique opportunity to be exposed to this type of research during their undergraduate college career.
"As long as the student interest is there, we will continue to engage. I think they really got something valuable out of it,' says Howe. "When we had our wrap-up class, students were sharing their thoughts about their experiences, and it was really positive for us,"