Leading the Way: STHM Executive in Residence Recap
By: Courtney Kubitza
First Published: March 15, 2019
Topics: Industry Partnerships, STHM School
Throughout the year, Temple University's School of Sport, Tourism and Hospitality Management (STHM) invites leaders in the sport, tourism and hospitality industry to take part in its Executive in Residence program. Created to enhance the student experience through exposure to the knowledge and background of accomplished business executives, the program has been bringing key executives to campus since 2011.
Here is a recap of four Executive in Residence guests that shared their insight with STHM this past year.
1. Meryl Levitz, Former President & CEO at Visit Philadelphia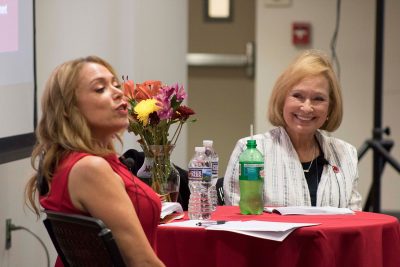 Philadelphia has seen its fair share of change and growth. The city has gone from a booming industrial city to an international travel destination for both business and pleasure. One woman that led the charge toward showcasing a vision for a more exciting and diverse Philadelphia is Meryl Levitz.
By the time the era of "Rocky" had left Philadelphia in 1990, the city wasn't really known as a hot and happening place to be. Meryl jokes that the words "Philadelphia" and "fun" were not used in the same sentence when she started the organization. She saw the massive potential and hidden beauty and knew more could be done to bring that message out for the world to see.
Visit Philadelphia, established in 1996 as the Greater Philadelphia Tourism Marketing Corporation (GPTMC), was created to reinvigorate the city and to build a more robust leisure segment aimed at highlighting independent shops, restaurants, hotels, and historical destinations. Over 20 years later, Visit Philadelphia continues to innovate their approach to marketing the city. The agile startup culture of the organization allows it to meet the ever-changing demands of the visitor and stay connected to visitors through technology.
During a Facebook Live interview with STHM senior Joy McKenzie, Meryl shared her advice for emerging professionals in hospitality and tourism after a successful career. "It's important for professionals in the tourism industry to remember that it's about being part of a team—no one does it alone. The more ideas that you have, the more opportunities you'll have for success."
2. Jim Van Stone, President of Business Operations and Chief Commercial Officer at Monumental Sports & Entertainment, STHM
Alumnus
'94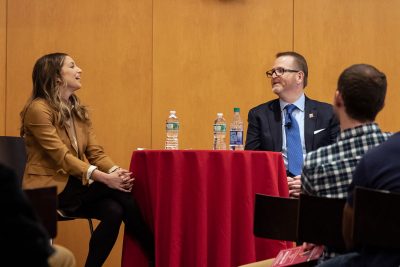 With nearly 30 years of experience in the sport industry, STHM alumnus Jim Van Stone joined the Executive in Residence series in November to share his experience on the sales and business operations side of sports.  Jim's career in sport began while enrolled in a master's degree program at STHM through engaging courses and an internship with the Philadelphia 76ers.
Jim continued his career after graduation as a ticket sales representative with the team, later working for organizations such as the Tampa Bay Lightning and Cleveland Cavaliers before landing with Monumental Sports & Entertainment. Today, as the president of business operations and chief commercial officer, Jim has the opportunity to impact the lives of countless fans across the nation. The organization located in the nation's capital, is an integrated sports and entertainment company made up of seven teams, four entertainment venues, and a network division.
Working in sales, marketing and community engagement through his entire career, staying innovative and adapting to trends has been key. Jim opens up during a conversation with senior Joshua Dicker on Facebook Live about how content marketing and technology are changing sport. "Content is changing everything. Being able to capture content and deliver it through a variety of channels is key. We, as marketers, have to use the data we have to deliver the content that they want to consume. " At Monumental Sports & Entertainment, Jim and the organization are adapting to this change by delivering fresh, bold new content across all of the right platforms using a new system to track touch points and better tailor each experience.
An active and engaged member of the diverse alumni community at STHM, Jim credits the power of connections as a key contributor to his success. "STHM gave me the connections and inroads to make my first steps into the professional world of sports. I encourage all students to get active and select internships to build a strong professional network. "
3. Nick Bayer, Founder & CEO at Saxbys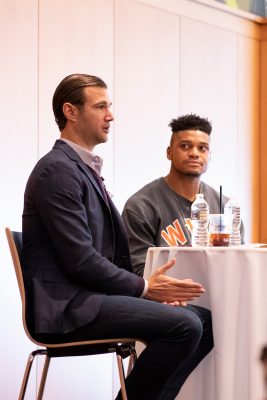 At first glance Saxbys might just seem like another hip place to get a cup of coffee, but one would be remiss not to look a bit deeper. Founder and CEO Nick Bayer's mission to make life better is heavily ingrained in company culture and allows them to truly stand out in an otherwise saturated marketplace.
In 2005, Nick had a dream of creating a company that could transcend the typical textbook café model of just providing a great product — he also wanted to provide a great human experience. "I wanted to start a business that was predicated upon not only treating each other and our communities well, but to be able to use it as a vehicle for doing good in the world", says Nick.
To achieve this, Nick created a whole new café model. The model was established by choosing innovative higher education partners like Temple University's School of Sport, Tourism and Hospitality Management and designing a one-of-a-kind café. The idea was to then turn the keys over to an exclusively undergraduate team, give them the infrastructure and support and get out of the way to allow them to run their own business unit.
Saxbys has allowed for Nick's vision to have spread across nine states and there's no sign of stopping. Each location, overflowing with entrepreneurial spirit, serves up hope and change to truly better the communities in which they operate.
Through its university partnerships, Saxbys allows students the opportunity to get into the real world and use emotional intelligence. It's the perfect bookend to the education from the classroom, helping to make them well-rounded and ready to compete in the real world.

4. Brian Jennings, Chief Branding Officer at NHL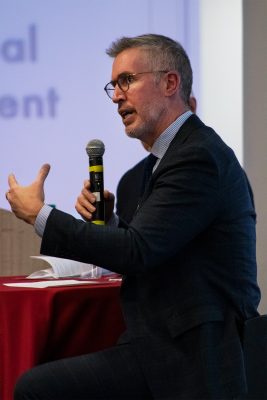 For over 100 years the NHL has been the dominant player in professional hockey. An estimated $5 billion per year business, the successful organization requires strong branding and strategic planning. This is where Brian Jennings comes in.
A lifelong fan of hockey, an eye for detail and a nearly three decades long career with the league has made Brian an incredible asset and visionary for the NHL. As the chief branding officer, Brian is responsible for the visual representation of the brand, connecting fans emotionally to the organization's broad range of products and ensuring brand guidelines are adhered across all teams and brand partners across the league.
So what does it take to keep up today as the chief branding officer of an international multi-billion-dollar brand? Brian tells us it requires a talented team with a passion and dedication to bring the brand to life day in and day out. In the last 10 to 15 years, the business and marketing surrounding NHL has evolved so much with the impact of social and digital marketing that it's unrecognizable. This creates new challenges and opportunities for sport professionals to grow and try new things.
Almost 30 years after starting his career in sports, Brian is inspired by the students at STHM. He shares some simple, but sound advice for our students during a Facebook Live interview with alumnus George Dudas. "Humility goes a long way, so stay humble and always be curious and make sure to ask lots of questions."
Each leader brings with them a deep-rooted love for what they do and offers a unique perspective into the changing landscape of the modern sport, tourism and hospitality world.
We're honored to share their enthusiasm and insights with our student body through the Executive in Residence program. 
For more news and stories, follow STHM on Facebook, Instagram, Twitter and Linkedin.