Dr. Daniel Funk Assumes Leadership of STHM's Department of Sport and Recreation Management
By: Alison Rooney
First Published: July 22, 2020
Topics: Faculty, Faculty and Curriculum, Research, SIRC, STHM School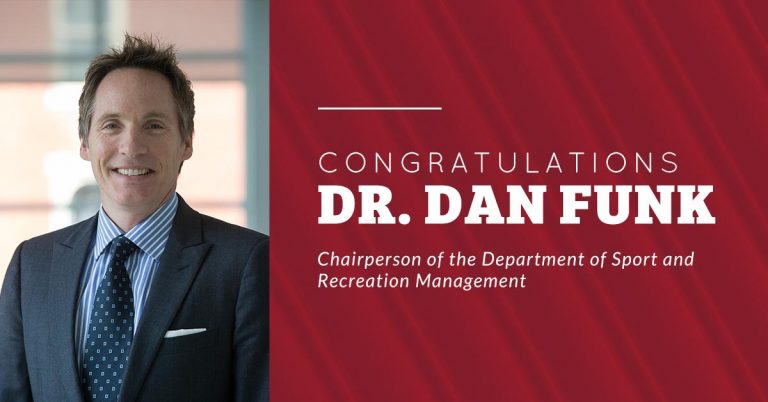 As of July 1st, Dr. Daniel Funk has assumed the role of Chair of Department of Sport and Recreation Management at Temple University's School of Sport, Tourism and Hospitality Management (STHM). Dr. Funk is a Professor, Washburn Senior Research Fellow and the Director of the Sport Industry Research Center. He holds a joint appointment in Temple's Fox School of Business and Management.
"In directing STHM's Sport Industry Research Center, Dr. Funk has distinguished himself as a producer of high-level research and mentored numerous doctoral students on the path to successful academic careers," says STHM's Associate Dean Jeremy Jordan. "I know he will have an even broader impact as chair of the department of Sport and Recreation Management—which continues to be one of the top sport and recreation management programs. His leadership will be vital as STHM's students and scholars find new ways to contribute to the rapidly changing climate that is having a unique impact on the fields of sport and recreation."
"I'm excited about the opportunity to continue the momentum that the Department of Sport and Recreation Management has gained under the leadership of Dr. Joe Mahan," says Funk. "My vision incorporates a student-centered approach, to develop and deliver quality educational experiences and opportunities for professional development. I look forward to working closely with the excellent instructional, advising and administrative staff that shares this vision, so we may provide even more valuable student experiences and continue to produce graduates with skills and competencies to find success in their field."
Dr. Funk's research focuses on the marketing, management and tourism of sport, and examining consumer experiences to help organizations understand customer acquisition, retention and expenditure. Much of his work has been funded, in full or in part, by industry partners, generating over $2 million in support of his research activities.
Dr. Funk has published three textbooks, contributed numerous book chapters and authored more than 130 peer-reviewed publications in a variety of top academic journals. He previously served editor for Sport Marketing Quarterly and as associate editor for the Journal of Sport Management. He has been recognized as a Research Fellow by the Sport Marketing Association, the North American Society for Sport Management and the National Academy of Kinesiology for his leadership and scholarly contributions.
Over the past two decades Dr. Funk has closely mentored numerous Ph.D. students and currently serves as faculty adviser for the Temple Esport Club. Dr. Funk earned a Ph.D. and master's degree in Sport Management from The Ohio State University and a bachelor's degree in Communication from the University of Kansas.