Doctoral Student Earns National Award for Athlete Branding Research
By: Alison Rooney
First Published: May 25, 2022
Topics: Awards, Impactful Research, Research, SIRC, Sport, STHM School, Student Stories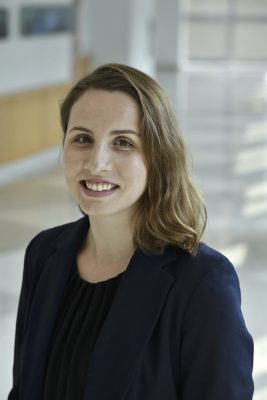 Nataliya Bredikhina, a PhD student at Temple University's School of Sport, Tourism and Hospitality Management (STHM), has won a highly prestigious student research competition presented by the North American Society for Sport Management (NASSM). She will be presenting her award-winning research at the NASSM conference in Atlanta in early June.
The NASSM award recognizes extraordinary student research in sport management. One of the premier professional academic associations in the field, the society is responsible for the Journal of Sport Management, which is widely considered the leading sport management journal. NASSM also named Bredikhina's colleague Colin Lopez PhD '22 a finalist in the competition. This award is not Brediknina's first in the field; she was recently also awarded a student research grant from the NCAA.
From Div. I student-athlete to sport researcher
A native of Moscow, Bredikhina and her twin sister are both tennis players, who first got out on the court at age 7. They came to the U.S. as student athletes at the University of Maryland. She also coached tennis for a year, before transitioning to a dual degree program at the University of Florida in sport business management.
During her master's program, Bredikhina performed research at the The Institute for Diversity and Ethics in Sport (TIDES), focusing on the diversity of intercollegiate athletics, from coaches to leadership. Her work also touched on issues of gender and diversity. She held several graduate internships at sport organizations related to athlete affairs and sponsorship analysis.
In turn, her work expanded to examining data from social media, including psychometrics on consumer perceptions. This is where her research began to overlap with athlete branding, an area of expertise for Associate Professor Thilo Kunkel, Director of the Sport Industry Research Center (SIRC), who would become her advisor.
Timely and impactful research
At STHM, Bredikhina's work has evolved her focus to include issues of athlete identity and how, given that they are all distinctive, fans relate to them differently. "I've been looking at what branding and social media means for athletes' experiences," she says, "and how they often will adjust themselves and even filter what they're posting."
Today Bredikhina's research is especially relevant, given the Supreme Court's 2021 ruling that college athletes, despite amateur status, are eligible to monetize their brands off their Name, Image and Likeness (NIL)—a subject on which Kunkel has been quoted widely in the press.
Bredikhina explains the significance of the ruling for the NCAA: sponsors can pay a student without it qualifying as "pay to play." This threw many institutions of higher education into a somewhat challenging period of transition.
"NIL opened up a lot of business questions in collegiate athletics," she adds, "especially for less mainstream athletes, like women and those of BIPOC race and ethnicity. The individual athletes are now in the position to go after opportunities on their own."
The award-winning project: elite athletes' personal branding

The research for which Bredikhina won the NASSM award is highly relevant to sports fans and social media users alike, titled: "'I Just Try to Be Myself': Disentangling Authenticity Negotiation in Elite Athletes' Personal Branding on Social Media."
"This research examines how (micro)celebrities, such as elite athletes, negotiate and manage their self-presentation under the pressures of commercialization and the external environment," she says. It draws on interviews with an international sample of elite athletes, including Olympians, Paralympians and members of national teams. Bredikhina will present her work at a highlight of the NASSM Conference: the President's Luncheon on June 3.
"This award is a result of Nataliya's hard work and innovative thinking," says Kunkel, named a NASSM Research Fellow in 2018. "She's a very talented researcher. I'm grateful for the resources and support we receive to attract and train some of the most talented sport business students. Her winning this award, and Colin being named a finalist—along with the history of previous Temple PhD students who've won the competition—is a testament of the quality of the PhD program at Fox and STHM."
At the conference next month Bredikhina will also be presenting "Cracking the Glass Ceiling One Post at a Time," which explores the determinants of female soccer players' popularity on Instagram. "This is interesting and promising work," she says, "which will provide guidance on effective marketing strategies for female soccer athletes." The project builds on research sponsored by a competitive CIBER Research Grant that Kunkel and she received from the Fox School of Business' Center for International Business Education and Research. Co-author on the project is SIRC research assistant Francesca Fumagalli MSSB '22.
A career trajectory
As for the NASSM award, Bredikhina—ever modest and gradious—says, "It is a big honor, and I'm grateful to Temple University's faculty at STHM and Fox, and especially Thilo, my advisor, for his mentorship, dedication, time and support on my journey toward my doctorate. Thilo and I are deeply grateful to Assistant Professor Ravi Kudesia of the department of Management at Fox School of Business, who offered helpful insights on the methodology for our study."
Bredikhina has been in Philadelphia for three years and her sister is now a researcher working toward her second master's degree at the University of Alabama. A multitude of talents clearly runs in the family.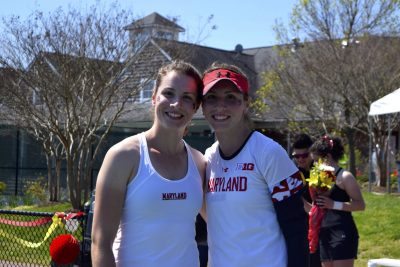 "Every PhD student's career is filled with a lot of ups and downs," Bredikhina says, "and this award makes me really cherish this moment."
STHM's deep NASSM connections
Bredikhina is the 7th STHM student or alumni to have won NASSM Student Research Competition Award. The list also includes Assistant Professor Bradley Baker (STHM '12, FOX '17). STHM also has a distinguished list of NASSM Research Fellows, in addition to Dr. Kunkel: SRM Chair Daniel Funk (recipient of NASSM's Earle F. Zeigler Lecture Award), Assistant Professor Gareth Jones (STHM '11, PhD '13), Professor and Senior Associate Dean Aubrey Kent (recipient of NASSM's Garth Paton Distinguished Service Award) and Assistant Professor Elizabeth Taylor.