Black History Month: 4 African-American Entrepreneurs from STHM
By: Courtney Kubitza
First Published: February 19, 2019
Topics: Alumni, Alumni Stories, STHM School

Entrepreneurial nature thrives at Temple University's School of Sport, Tourism and Hospitality Management (STHM). In honor of Black History Month, here's a look at the impressive achievements of four African-American STHM entrepreneurs.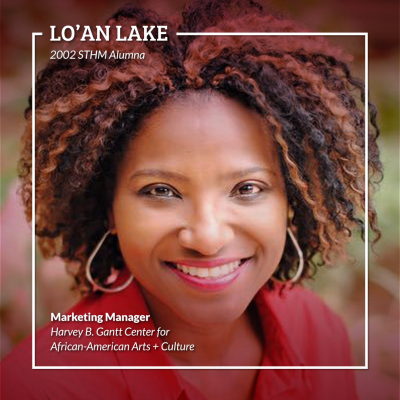 Lo'an Lake
A passion for hospitality and tourism runs deep in this marketing manager and multi-cultural communications leader. Growing up in St. Thomas, U.S. Virgin Islands, Lo'an Lake has always had the desire to make a difference.
While working in diversity and inclusion for a Fortune 500 company, Lo'an started a global awareness program in support of the Virgin Islands. The program led to the first U.S. Virgin Islands Economic Development Summit, which connected Virgin Islanders who had left to further their careers to economic opportunities back in the islands.
Today, the 2002 graduate of the Master of Tourism and Hospitality Management is the marketing manager for the Harvey B. Gantt Center for African-American Arts + Culture in North Carolina. The center celebrates the contributions of Africans and African-Americans to American culture and serves as a community epicenter for music, dance, theater, visual art, film, arts education programs, literature and community outreach.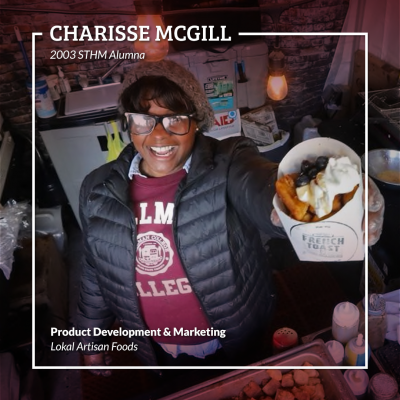 Charisse McGill
With her sights set on being the "Auntie Anne of French Toast", STHM alumna Charisse McGill is carving out her future in french toast and pools of maple syrup. Making a big splash at the 2018 Made in Philadelphia Holiday Market at Dilworth Park, Charisse is giving people a reason to crave the delicious bite-sized french toast.
On the way to creating a snack-food empire, her business Lokal Artisan Foods is already expanding from a successful start of events and pop-up markets to a kiosk at Philadelphia's Premier Outlets in Montgomery County.
Rian Wallace
Passion is a simple yet profoundly all-encompassing narrative to describe the essence of a true entrepreneur. With a deep passion for food, sport and people, 2005 STHM alumnus and former Pittsburgh Steelers player, Rian Wallace, is proving the passion is key to entrepreneurship.
His hospitality catering company, Bare Hand Love Cuisine, shares his love and passion for food through pop-up kitchens, parties and events. After working as a player for the NFL and independent contractor, Rian wanted to take control of his future and do so in a way that brought him happiness–through cooking. This led him to the creation of a successful catering business that gives guests a bite of his love for food.  
With a growing catering company, Rian still finds time for his passion with sports and helping others through his non-profit, Goals Over Obstacles (G.O.O). The organization uses football as a vehicle to promote health, wellness and education through exercise, healthy eating and community involvement. Holding an annual youth camp along with health and wellness fairs over the past decade, G.O.O has participated in over 40 + camps and fundraisers across the world, including California, Jamaica and Korea serving as a motivational speaker.
Catherine T. Morris
A vision to create a diverse and inclusive place for recording, performing and visual artists of color in Greater Boston led to an exciting program for 2008 STHM alumna Catherine Morris. After spending over a decade in events, community engagement and hospitality, Catherine created a signature event called the Boston Art & Music Soul Festival in 2018.
The festival is a platform for local emerging artists who have historically been overlooked due to their race, class, sexual orientation or socioeconomic status. The festival also celebrates and recognizes the contributions that black music, culture, arts and entertainment has had to the City of Boston.
A native of Boston, this festival gives Catherine an incredible opportunity to pursue her passion of bringing communities together for a music and arts festival that honors, celebrates and promotes the contributions of rising and legendary African-American musicians and artists whose work has shaped American pop culture. Catherine's powerful energy and passion shines through the festival to positively impact the livelihoods of the city's youth, families, seniors and future generations.
Have an entrepreneurial story to share? Submit your story to us.