3 Women Making Marks in Sport Business
By: Geena Bevenour and Hannah Eadie
First Published: March 19, 2019
Topics: STHM School
March marks the beginning of Women's History Month, a month paying special tribute to the vital role women have played in both American society and world. The sport industry, one considered largely male-dominated, continues to witness strong, powerful women rising to the top and defying the odds. STHM has no shortage of these leading ladies. In honor of Women's History Month, take a look at some of our tenacious young alumnae making their mark on the sport industry.
Transcending the Checkered Flag:
Sash Schaeffer, Bachelor of Science in Sport and Recreation Management '17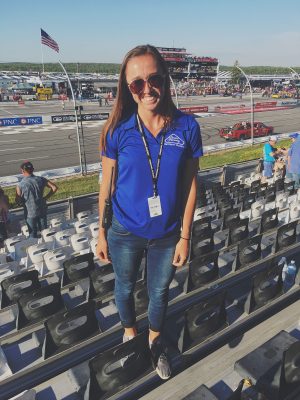 Sash Schaeffer, 2017 alumna, always hated the idea of sitting in an office, doing the same things in and out every day–naturally, the NASCAR lover craved something fast paced. That's why she decided to go into motorsports–for the opportunity to always be moving and doing. The alumna spent her senior internship at the family-owned Pocono Raceway in Long Pond, PA, where she started their VIP tailgate that still continues today. After graduating, she moved to Austin, TX, as a Guest Operations Coordinator for Circuit of the Americas, a large destination for motorsports and entertainment. She then became a Customer Success Agent for Chariot. Now a few years later, she's moving back to Pennsylvania to continue to work at Pocono Raceway doing business development and event planning. She's most eager to be working with and learning from her former boss Looie Mattioli, whose parents started Pocono Raceway in 1968.
In her classes at STHM, Sash noticed that the majority of students were predominantly male–about a 75-25 ratio. The number of women in her field decreased even more immensely when she started working specifically in motorsports and racing. Though being a woman in a male-dominated industry is difficult, Sash notes that it is both important and inspiring. "Everything I do has an impact," she remarks. "Even when it's challenging, it's meaningful." When asked about advice for other young women in the sport industry, Sash gave advice that Looie gave to her: "never doubt yourself! It's so easy to take no as an answer and just walk away, but you've got to prove yourself and come back even better the next time around."
Breaking the Ice Beyond the Arena:
Tarasai Karega, Master of Science in. Sport Business '15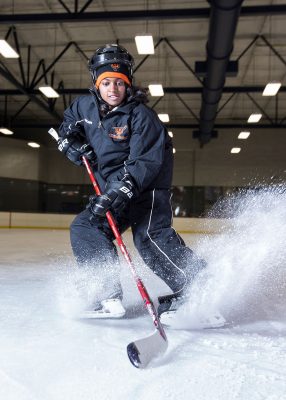 A true trailblazer of the sport industry, this Account Executive at NBC Sports Philadelphia is rooted in charting new territory. Growing up playing ice hockey as a teenager and later at Amherst College, Tarasai Karega remembers the odds being stacked against her as an African American female in a white male-dominated sport. Her passion and perseverance led her to the Ed Snider Youth Hockey Foundation, an organization dedicated to teaching hockey and life skills to youth who otherwise would not have the opportunity. There she created the first community outreach recruitment plan among other initiatives. After pursuing opportunities with the Walt Disney Company and Orlando Magic, she landed back in Philadelphia where she now plays a major role in driving revenue for NBC Sports Philadelphia and its partners. A pioneer on and off the ice, Tarasai views her involvement with both hockey and sales as the "same lyric, different melody," with sales also tending to be a white male-dominated industry. When asked what it means to be a leading woman in the sport industry, she reflects, "It's a sign of progress to an extent, while simultaneously being an acknowledgment that there is still a ways to go."
Serena Williams has been a particularly significant role model in Tarasai's life, a woman who has also defied the odds in tennis, a sport largely white-male dominated. Tarasai looks to her strength, her perseverance, her ability to defy the odds of participating in a sport where many have said someone like her cannot excel. "That's what I look to do in my career and in my life… defy the odds." Tarasai is dedicated to elevating the women who now view her as their own role model saying, "Using my platform to continue to grow and provide opportunities, expose women, African-American women, minority women, to these careers, is definitely a major focus of mine."
More Than March Madness:
Tori Cuccurullo, Bachelor of Science in Tourism and Hospitality Management '18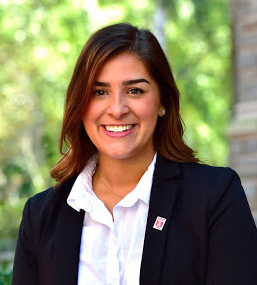 From the Wells Fargo Center to the State Farm arena, 2018 alumna Tori Cuccurullo is getting a taste of what it means to be a female in the sport industry. The event coordinator for the Atlanta Hawks basketball team works in the building operations department. Tori assists in putting on both internal and external events, ensures positive tour and preliminary game event experiences, and thrives on each day being different than the last. A graduate of the Tourism and Hospitality Management program, she embraces the importance of bringing a hospitality approach to the sport world, incorporating excellent customer service in all her tasks.
Tori was one of only two females in her previous department at the Wells Fargo Center. It helped establish a feeling of responsibility to do the job well, continue advancing, and defy the glass ceilings to pave a way for future girls coming into the industry. She now finds herself surrounded by strong women at the Atlanta Hawks acknowledging that, in a way, it has made her new position and move down south all the more empowering. "I feel more comfortable in my role knowing that I always have someone in my corner, fueling that creativity fire, and creating a certain comfort level." Tori reflects on her time at STHM as being foundational in this regard, "Having seen so many strong women from STHM killing it in the field has instilled, 'Okay, why can't that be me? I can do that too.'"
Although the sport industry may still be male-dominated, women like our alumnae continue to make breakthroughs and pave the way for other young women to succeed in sport. From all of us at STHM, Happy Women's History Month!
Do you want to make waves within the sport industry? Learn about our Bachelor of Science in Sport Recreation and Management, our Master of Science in Sport Business, or our 100% online Executive Master of Science in Sport Business.