Senior Awarded Prestigious Travel Marketing Scholarship
By: Alison Rooney
First Published: December 17, 2019
Topics: In the News, STHM School, Student Stories, Tourism & Hospitality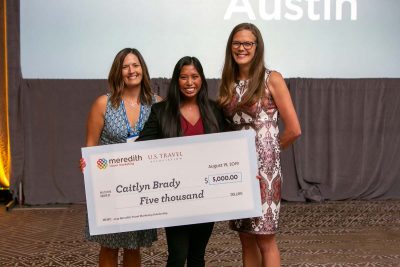 Caitlyn Brady '20, a senior at Temple University's School of Sport, Tourism and Hospitality Management (STHM), was recently a recipient of the Meredith Travel Marketing Scholarship.
Sponsored by the U.S. Travel Association's Educational Seminar for Tourism Organizations (ESTO), this $5,000 scholarship recognizes undergraduate students pursuing a career in any segment of the travel industry. ESTO is one of the premier learning and knowledge-sharing forums for destination marketing professionals.
Melissa Luebbe, national director of Meredith Travel Marketing, presented the scholarship at this year's ESTO awards ceremony, which was held in Austin, Texas. She described the award winners as "the best of the best."
During the ceremony, Brady took the stage and expressed her gratitude for the award in front of more than 800 travel industry professionals who attended the seminar. Brady received the scholarship after completing an internship at Visit Bucks County, the official tourism promotion agency for Bucks County, Pa.
"I was able to expand and apply my knowledge in many of the discussions I had at ESTO," Brady says. " My favorite session of the conference was The Great ESTO Debates, as they were entertaining and offered wide-ranging perspectives on controversial topics for any destination marketing organization (DMO), such as survey versus data, resident versus visitor, and traditional versus digital media."
Throughout this experience, Brady says she was able to create valuable connections with top marketing leaders at the local, regional, state and national levels.
"I gained knowledge and advice from so many DMOs and state tourism offices across the United States," she says. "I look forward to using this scholarship and experience to help myself continue to grow as a professional in the industry."