Alumnus Luis Guzman Learns Grace from the Game
By: Alison Rooney
First Published: August 10, 2020
Topics: Alumni, Alumni Stories, Applied Knowledge, Sport, STHM School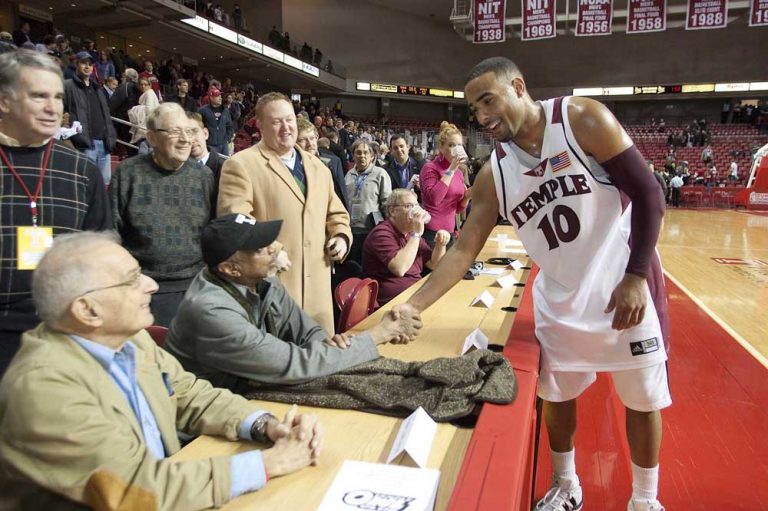 Luis Guzman (Temple '10, MSSB '17) has the unique honor of having been the final player recruited by legendary Temple basketball coach John Chaney before he retired—and he then went on to play under another coaching legend: Fran Dunphy.
Guzman graduated in 2010, after three successful seasons playing point guard for the Temple Owls, when he saw three Atlantic 10 Championships and four NCAA tournaments. Team captain his senior year, he was honored with the Anthony B. Cimino, Sr., Scholar-Athlete Award and earned a bachelor's in business marketing before going on to play five years of professional basketball internationally. "I feel graced to have been a part of winning teams," says Guzman.
Now in his second year as director of basketball operations for the Stetson Hatters, Guzman has forged an interesting path that draws on all his various experiences in sports—as a player and coach, in the NBA/WNBA office and later as a graduate student at Temple's School of Sport, Tourism and Hospitality Management (STHM). 
For the Hatters, Guzman manages a wide range of responsibilities, from scheduling and travel to ensuring that the student-athletes are taking the proper classes. He also handles community outreach for the university's basketball program and even serves as social media and video coordinator. "I love my job and the people I work for," Guzman says. "It offers a lot of opportunities to tap into skills I've never used before." 
Life as an international basketball pro
After graduating in 2010 with a bachelor's from Temple in business management, Guzman went on to a career as a professional player in the International Basketball Federation (FIBA), playing for eight countries between 2010 and 2015: Columbia, Denmark, the Dominican Republic, Mongolia, Mexico, Puerto Rico, Slovakia and Spain. 
He says the DR felt like a second home, since his parents had emigrated from there and he'd visited family many times. He later had the chance to return to serve as assistant coach for the National Team that competed in the 2019 FIBA World Cup in Shanghai, China.
Transition to a new career phase
Guzman ultimately suffered two back injuries that required him to let go of his time as a player. After returning from Europe, he found himself struggling. "I was trying to figure out my identity," he says. "I had international experience but no work experience. I would go on job interviews, but I couldn't get any traction."
Guzman reached out to Coach Dunphy for advice and learned there was an opportunity on the coaching staff for a graduate assistant. Dunphy also advised him to get his master's degree at the same time. "He said, 'You'll thank me for this when it's over.' And he was right. It was the best decision of my life," Guzman says. "I loved the business of sports—it has everything I ever wanted."
Transitioning back into the classroom
Coaching was a relatively smooth transition, but Guzman found graduate school to be tough. He speaks with gratitude of several staffers who made it easier, including Director of Alumni Engagement Jeff Montague (then associate vice dean), Temple Head Coach of Men's Basketball Aaron McKie (then assistant coach) and Jim Alton, manager of Graduate Student Services. "They wanted me to succeed," he says. "They pushed me but also supported me and made Temple feel safe."
Guzman says one highlight of his STHM experience was a two-week internship with the Philadelphia Phillies, where he worked on everything from ticket sales and front office duties to game-day operations and even translating for Spanish-speaking players.
Putting in the hours on and off the court
Guzman's other coaching experience includes serving as assistant coach at Monroe College of New York, and as director of player development at Rider University. He credits his immigrant parents for instilling in him a strong work ethic. "They didn't speak English and had to fight for what they built," he says. Beyond the years of hard work on the court, this has driven Guzman to put in many long hours. 
After a full day at Rider, for example, he'd drive two hours to Secaucus, where he'd supervise game operations to the NBA League Office from 6 pm to 2 am. "This entailed overseeing a room with dozens of screens showing all the various games," he says. For each game, a pair of analysts would audit statistics and evaluate compliance with league regulations—on everything from dress code and bench decorum to fights and technical fouls. At the end of the night, he'd compile the reports into a single document and after a few hours sleep would return to Rider for another day at Rider. When the NBA season was over, he did the same for the full season of WNBA games.
"I've been relentless about what I want," he says. "And I was not afraid to get my hands dirty. What's key is never thinking you're bigger than the job."
The game as a means to give back
In 2015, seeing his career as a player come to an end, Guzman founded the Washington Heights Invitational Summer Basketball Tournament to offer underprivileged kids in the Manhattan neighborhood where he grew up an opportunity to play organized ball. It's been an ambitious undertaking, and the summer tournament program is still going strong—even despite the pandemic—generally hosting close to 700 players each summer, who play on 40 teams in four different age groups, six days a week.
"Basketball is beautiful—it contains life lessons about how to work hard," Guzman says. "Coach Dunphy always said, 'It's what you do off the court that dictates your future.'"