Four Top Strategies for Achieving Excellent Events in Philadelphia
By: Alison Rooney
First Published: February 26, 2020
Topics: Industry Partnerships, STHM School, Tourism & Hospitality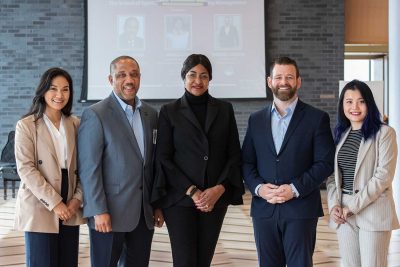 There are many essential elements to the art of managing successful events in a large city like Philadelphia. What do the local experts think you should make your focus? Here we draw upon recent reflections of three of the city's top event management leaders, shared during a recent Executive in Residence panel at the School of Sport, Tourism and Hospitality Management (STHM).
From infrastructure and risk management to partnerships and staying true to the mission of each panelist's organization—these experts offered insight on how to leverage your resources to make the most of each event.
Recent Executives in Residence were:
Michael DelBene, president and CEO of Welcome America, Inc.
Jazelle Jones, deputy managing director of the City of Philadelphia Office of Special Events
Kelvin Moore, general manager of the Pennsylvania Convention Center
What are the best practices for event leadership, according to Philadelphia's best and brightest?
1. Keep all segments of your audience in mind
Craft a marketing strategy that reaches all of your target audiences. Since last January, DelBene has run the nonprofit organization Welcome America, Inc., which produces dozens of entertaining and educational events over the week of July 4—and lots of these are free. "Many of our attendees are Philadelphians with families and limited disposable income," he says. "Your audience may not even have internet access, let alone cell phones, so save room in the budget for traditional outreach." Welcome America, for example, prints 250,000 brochures annually.
2. Train and plan for the worst-case scenario
With large-scale events, risk management is key, so planning is everything. Continually learn and re-assess, and create detailed action and incident plans as well as a crowd management plan. To ensure that visitors will be safe and are inconvenienced as little as possible, surround yourself with subject matter experts like Jones has. A 14-year City leader and veteran administrator, she oversees more than 1,500 events annually. Her team learns from the best practices of organizations like the Federal Emergency Management Agency (FEMA) and its resources: a comprehensive publication that outlines specific strategies, a Toolkit on Community Lifelines, and a podcast on dozens of topics. At every stage, get your team together and ask, "What did we learn today that we can apply tomorrow?"
3. Build and leverage partnerships to scale up your event
Success for event hosting in a large-scale market looks like this: "Philadelphia went from 600 events a year in the wake of the 2007–09 recession to hosting 1,600 over the past decade," says Jones. She knows first-hand, not only from 2015 when Philadelphia hosted the DNC but also the NFL Draft in 2017. "We leveraged partnerships with these national organizations," she says, "and it has contributed to the fact that people who used to go to New York City now see Philadelphia as an even more desirable destination."
4. Don't lose sight of your mission amidst economic incentives
Moore draws upon 27 years of industry experience at seven convention centers nationally and plans more than 200 events a year in the Pennsylvania Convention Center. Still, he never loses sight of his primary objectives: "First and foremost is a seamless and inspiring visitor experience," he says. "Nonprofits like ours certainly deliver events that have an economic impact on their city, but our main job is ensuring that our attendees have a fantastic time." How? Improve daily working procedures with client-focused strategies as a means to realign sales and services. And this is a day-in, day-out responsibility.