For the First Time Ever, Tom Brady is a Free Agent. Would His Brand Survive a New England Departure?
By: Steve Orbanek
First Published: January 15, 2020
Topics: In the News, Sport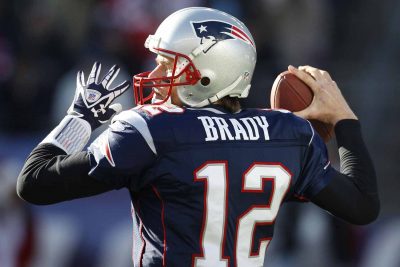 Thilo Kunkel, associate professor in the Sport and Recreation Management Department and an expert in athlete branding, offers his opinion on how the quarterback's brand might be affected should he leave the only franchise he has played for.
PHILADELPHIA, Jan. 16, 2020—There are few constants in professional sports. For the past 20 years, one of those has been Tom Brady wearing New England Patriots jersey. That may soon change.
On March 18, Brady, the six-time Super Bowl-winning quarterback for the Patriots, is set to become a free agent for the first time in his career. The thought of Brady wearing a Los Angeles Chargers or Cleveland Browns jersey seems inconceivable, but it could very soon be a reality.
Thilo Kunkel, associate professor at Temple University's School of Sport, Tourism and Hospitality Management, is an expert in branding as it relates to sports, and his research has focused on how athletes develop and position their brands. We asked Kunkel how Brady's brand could be affected should he jump teams.
Q: When you think of Tom Brady, you think of the New England Patriots and vice versa. Their brands are intertwined in a way rarely seen in professional sports. Knowing that, how would his brand be affected should he leave the only professional sports franchise that he's ever been associated with?
A: He's been with the Patriots for so long that he will always be associated with the Patriots, even if he goes to another team. I think that his departure would be forgiven as long as the team that he goes to makes sense. So, for instance, I think Los Angeles makes a lot of sense because of its location, his wife's career and its technology infrastructure as we more recently see a lot of athletes transition to being investors in their later years and retirement.
Q: Two recent examples of superstar athletes spending their entire careers with one franchise are Derek Jeter and Mariano Rivera of the New York Yankees. They remain as revered as ever with the New York fanbase. Is there something to be said for an athlete playing in one place for the entirety of his or her career?
A: When a player stays with one team for their whole career, it's seen as more of a pure connection. That's when you become a team legend because even one or two seasons with another team can put a dent in an athlete's image. In Brady's case though, I think fans and the general audience will forgive his departure if the other team makes sense. He's earned the right to do whatever he thinks is best, and his brand is more than strong enough to survive that.
Q: This would not be the first time where we've seen an athlete who is synonymous with one franchise change teams. Joe Montana, for instance, left the San Francisco 49ers and finished his career with the Kansas City Chiefs. His brand seemed relatively unaffected; few even remember he played for the Chiefs. The same could be said for when Michael Jordan, known for his time with the Chicago Bulls, came out of retirement to join the Washington Wizards. In comparison, Northeast Ohio native LeBron James left Cleveland (before returning in 2014) for Miami, and his brand suffered greatly. It could be argued that it never recovered until he came back home. How would a Brady move compare?
A: It's different than LeBron because he grew up in that area, and that's why fans were so upset back then. Also, it's not like Brady ever had the hype around him (like LeBron); he was not the No. 1 draft pick. He also has won several titles with New England whereas LeBron did not win one with Cleveland until he came back, so I think it's a very different situation.
Q: So let's go ahead and assume that Brady does leave the Patriots. Is there a team or teams where he could go that might be better for his brand? Are there teams that would be worse for it?
A: It has to be either a team that's ready to win or a team in an awesome location. I think the Los Angeles Chargers make a lot of sense. I think they have a decent team, and I think the location makes a big difference; Brady is a California native and Los Angeles is a tech and media hub that can help with his career transition. I think the acquisition of a superstar like Brady might also help that team connect to its community. The Chargers averaged barely over 25,000 fans per game last season. As for teams that would not be a fit, I think a team that has no realistic shot of making the playoffs would not be a good look. There are some teams, even with Tom Brady added, that would have no realistic shot of making the playoffs.
Q: Finally, what's your prediction? Does Brady stay or go?
A: I think he is going to stay. There's just too much of a legacy there, and I don't think he will move for what would just be one or two seasons. He has kids and he has a family, so if he were to move, I think it would have to be somewhere that he wants to live. So, once again, California makes a lot of sense.
About the School of Sport, Tourism and Hospitality Management
Established in 1998, the School of Sport, Tourism and Hospitality Management (STHM) at Temple University has a distinguished tradition preparing leaders in the sport, recreation, tourism and hospitality industries.
Thoroughly committed to providing student-centered education and professional development relevant to today's thriving sport, tourism and hospitality industry — STHM integrates applicable, real-world experience into the curriculum and classroom through its global network of industry partners and well-connected alumni network. Our award-winning faculty and cutting-edge research institutes engage in pioneering research, informing business practices and providing students with the knowledge and skills to succeed in these fast-growing industries.
The School offers undergraduate degree programs in sport and recreation management and tourism and hospitality management; traditional graduate degree programs in sport business, and hospitality management; and two online graduate degree programs in executive sport business and travel and tourism. STHM also offers a PhD program in business administration with a concentration in tourism and sport.