Virtual summit seeks to provide blueprint for tourism, hospitality and events recovery
By: Steve Orbanek
First Published: March 2, 2021
Topics: Faculty, Feature Story, In the News, Research, STHM School, Tourism & Hospitality, U.S.-Asia Center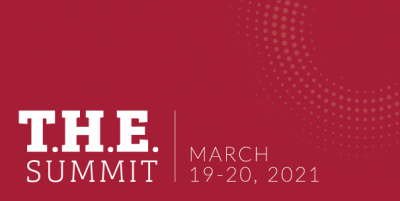 More than 800 industry professionals and academic leaders are registered to attend
T.H.E. Summit, a free two-day virtual conference scheduled for March 19 and 20
PHILADELPHIA, March 2, 2021 — While every industry has been affected by the COVID-19 pandemic, it's fair to say that tourism, hospitality and events have been amongst those hardest hit. International travel is down 60% compared to last year, the U.S. hotel industry suffered its worst year on record and in-person events have basically disappeared. 
In times of crisis, we often look to higher education and industry experts for answers. Enter the Tourism, Hospitality & Events Global Higher Education Leadership Summit 2021, aptly nicknamed T.H.E. Summit.
Co-organized by the Department of Tourism and Hospitality Management (THM) and the U.S.-Asia Center for Tourism & Hospitality Research at Temple University's School of Sport, Tourism and Hospitality Management (STHM), this two-day virtual conference will be held Friday, March 19, and Saturday, March 20, from 8 a.m. to 1 p.m. each day. The event is free and open to the public. Attendees can register at T.H.E. Summit website.
"This last year has certainly presented its fair share of challenges, but it's also presented opportunities for the tourism, hospitality and events industries," said Yang Yang, an associate professor and executive director of the U.S.-Asia Center. "As academics and researchers, we have a responsibility to assist the industries that we serve, and that's the thinking behind T.H.E. Summit. Academia-industry dialogue is key, and that's what we believe can help transform these industries moving forward."
T.H.E. Summit features an impressive lineup of keynote speakers spanning the industry. They include: 
Daniel del Olmo, president of SAGE Hotel Management

Gloria Guevara Manzo, president and CEO of the World Travel & Tourism Council (WTTC)

Mark Hoplamazian, president and CEO of Hyatt Hotels Corporation

Douglas A. Tutt, CEO of Hcareers
A total of 30 deans, directors and academic thought leaders from global leading tourism and hospitality schools will also speak during the event. More than 800 industry professionals and academic leaders have already registered to attend T.H.E. Summit.
"As we spoke with our industry and academia partners in programming the summit, we were showered with an overwhelming amount of enthusiasm and positivity with regard to the future of the industry and academia," said Laurie Wu, an assistant professor in the Department of THM and the Summit Program Chair. "We are indeed one family, standing together as we collaboratively innovate towards a better tomorrow."
"Together, we hope that speakers can offer their own perspectives to help us explore how to cope with the unprecedented challenges and opportunities facing both higher education and these industries," added Xiang (Robert) Li, professor and chair of the Department of THM. "Ultimately, we hope that the THM team at Temple can make an active contribution to the recovery and reimagination of the global tourism, hospitality, events and related industries."
T.H.E. Summit will also close with a special Betsy Barber Hospitality Leadership Forum, which honors Barber as the founding associate dean of Temple University's School of Sport, Tourism and Hospitality Management. The forum will explore the history of tourism, hospitality and events in higher education while also outlining its current relevance and providing a blueprint for how it can innovate and evolve in the future.
A full conference schedule can be found here.
For more information on T.H.E. Summit, contact Wu at laurie.wu@temple.edu or visit the event's website.
About the School of Sport, Tourism and Hospitality Management
Established in 1998, the School of Sport, Tourism and Hospitality Management (STHM) at Temple University has a distinguished tradition preparing leaders in the sport, recreation, tourism and hospitality industries. 
Thoroughly committed to providing student-centered education and professional development relevant to today's thriving sport, tourism and hospitality industry — STHM integrates applicable, real-world experience into the curriculum and classroom through its global network of industry partners and well-connected alumni network. Our award-winning faculty and cutting-edge research institutes engage in pioneering research, informing business practices and providing students with the knowledge and skills to succeed in these fast-growing industries. 
The School offers undergraduate degree programs in sport and recreation management and tourism and hospitality management; traditional graduate degree programs in sport business, and hospitality management; and two online graduate degree programs in executive sport business and travel and tourism. STHM also offers a PhD program in business administration with a concentration in tourism and sport.