International Sport Management Pro's Story of Amazing Perseverance
By: Alison Rooney
First Published: January 30, 2023
Topics: Alumni, Alumni Stories, EMSSB, Feature Story, Sport, STHM School, Transformational Education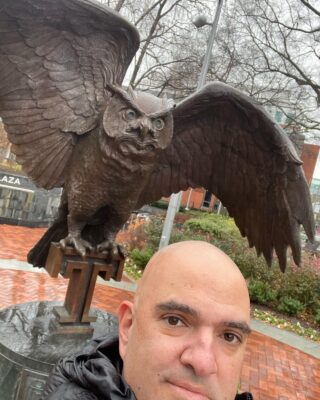 For Honduran soccer management professional Juan Saybe, EMSSB '22, graduating in December from Temple University's School of Sport, Tourism and Hospitality Management (STHM) was not merely a milestone. It was practically miraculous. 
Saybe suffered a massive seizure and was diagnosed with brain cancer in fall 2021, during his first semester in the Executive Master of Science in Sport Business (EMSSB) program. He was the school's first "Diversity in Leadership" Scholar—an honor designated for a mid- to senior-level manager enrolled in the online program. 
After a series of consultations with local doctors in Honduras, Saybe and his wife, Maria Alvarez, traveled to New York where he underwent a risky eight-hour surgery to remove a tumor from the right lobe of his brain. The surgeon warned the couple that the procedure could leave Saybe without his sight, hearing and ability to move. 
"But I knew it was a lifesaving operation," says the father of two. 
When he came out of surgery, he was paralyzed, but within a day he had regained some mobility. Over the following weeks and months, he progressed with what has been by all counts a remarkable recovery.
"My doctor said the biggest miracle is that I survived the seizure at all," says Saybe, who continues to receive medical care as he recovers. 
Despite the overwhelming challenges he faced during his time in the program, he remained committed to his coursework, even initially emailing his professors from the hospital to explain his situation. 
"After the surgery, I submitted my final paper from the hospital and finished the class," he says. He thought he might have to drop out of the program. However, his medical team had other thoughts. 
"After the operation, the neurosurgeon asked about my passions," Saybe recalls. "I told him that what was on my mind was finishing my degree. He explained that I would have trouble with my output"—in terms of written and verbal communication. "The doctor said, 'For us on the medical side, it's good for you to give your brain a workout.'" 
Saybe credits STHM with playing a fundamental role in his recovery. Part of his ambition was to complete his degree on schedule, within 18 months. 
"When Juan reached out to me to share his diagnosis, I was in shock," says John Allgood, assistant professor and then-academic director of the EMSSB program. "But the more he shared about his determination to finish the program—despite the incredibly difficult health challenges he was facing—the more motivated I was to help and inspire him. He not only wanted to graduate, but to stay with his cohort and graduate with them." 
In December, Saybe joined his fellow classmates at the Temple Performing Arts Center for a graduation ceremony that once seemed impossible. Because the program met online, it was the first time many of the students, faculty and staff would gather in person. 
"I was thrilled to have dinner with him the night before graduation," Allgood says. "He was beaming—just an amazing story of perseverance." 
Professor Amy Giddings, chair of the department of Sport and Recreation Management, taught one of the courses Saybe took in summer 2022 as he continued to recover from his surgery. 
"Juan was wonderful to have in class," Giddings says. "Not only did he bring substantial experience to the course, but his genuine enthusiasm for the content and for learning was infectious. 
"I am proud that Juan is #STHM and #TempleMade," she says. "We are better as a school and as a university community for having had him in our program." 
Saybe is back in Honduras, continuing his roles as vice president of the Honduran Soccer Federation (HENAFUTH) and the professional football Club Olimpia Deportivo—overseeing all football activity throughout Honduras, from amateur to professional, and around the world. His recovery and treatments continue, and he is excited about the Honduras team striving for the World Cup in its category in Indonesia 2023.

"I try to focus on what I can do, not what I can't," he says. "It's paso a paso—step by step, as we say here." 
He relishes the memories he made at his December graduation. 
"Meeting my STHM family was humbling," says Saybe. "So many people cared for my well-being through all this time, and being able to share it with them was a dream come true."