Dr. Elizabeth (Betsy) Barber was one of the main architects and the driving force behind the establishment of the School of Sport, Tourism and Hospitality Management (STHM) at Temple University. A small idea in 1998, Dr. Barber's vision led the school for 18 years, graduating thousands of students from around the world, recruiting over 25 top faculty, and solidifying the young school's reputation among peer schools far and wide. Because of her leadership, STHM is now regarded as a global leader in sport, tourism and hospitality management education.
Dr. Barber retired from her administrative and teaching positions effective July 1st, 2020. While we have been unable to gather in person to celebrate Dr. Barber's legacy, we look forward to finally doing so on May 3rd, 2022. Please RSVP by April 18, 2022.
Unable to attend? Write a message or record a video tribute to Betsy.
Write a message to Betsy   Record a video tribute to Betsy
About the Elizabeth Hicklin Barber Scholarship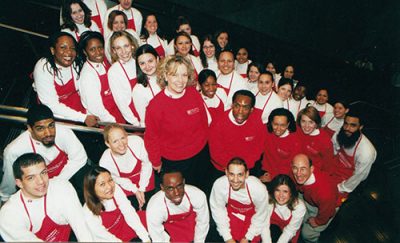 The Elizabeth Hicklin Barber Scholarship Fund provides support to junior and senior students with financial need, who have demonstrated organizational leadership with a preference for underrepresented students, majoring in Sport, Recreation, Tourism, Hospitality, and Event Management.
Gifts to the Elizabeth H. Barber Scholarship can be made online at giving.temple.edu/elizabethbarber. If you would like to make a gift by check, please contact Alaina Billing at alaina.billing@temple.edu.