STHM Welcomes Inaugural BSEEM Class
By: Angie Bazzano
First Published: September 30, 2022
Topics: BSEEM, New Programs, STHM School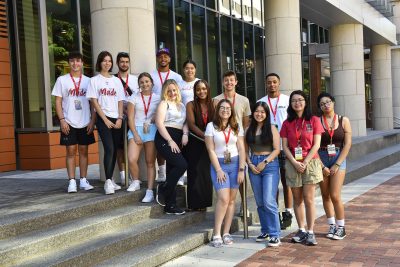 This semester, Temple University's School of Sport, Tourism and Hospitality Management (STHM) welcomed 14 students in the inaugural class of the Bachelor of Science in Event and Entertainment Management (BSEEM) to Speakman Hall.
"This is a dream come true. The industry needs qualified and skilled event and entertainment personnel," Assistant Professor Christine Cleaver says. "Being able to give back to the industry while educating the next generation of the workforce is an amazing thing for STHM and me personally."
The BSEEM degree equips students with the theoretical knowledge and practical skills to become leaders in the fast-paced event and entertainment industries. Graduates emerge with a business-oriented skill set and are prepared to successfully manage a wide variety of events including fairs, festivals, entertainment and sporting events, meetings and trade shows.
"What interested me the most about Temple's BSEEM program was the opportunity to get firsthand experience in the industry through Philadelphia's large and diverse entertainment scene," says freshman Patrick Cosgrove.
"I am most looking forward to expanding my knowledge in all events," says freshman Dionna Swinson. "I am excited to network through the years but also to grow exponentially with my peers."
Students learn all aspects of event management from inception to implementation including risk management, sustainability, marketing, finance and logistics. The curriculum incorporates the newest technologies and emerging trends coupled with essential business principles, helping students stand out amongst their peers.
"I am so excited about all the new opportunities and projects that will be presented to the students," Cleaver says. "I truly feel like there is no limit as to where we can take this program."