Travel & Tourism Alumna Kay Walten a Finalist in International Entrepreneurship Competition
By: Alison Rooney
First Published: May 3, 2021
Topics: Alumni, Alumni Stories, Applied Knowledge, Awards, STHM School, Tourism & Hospitality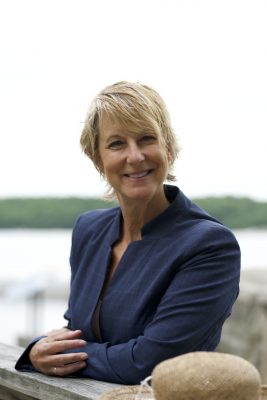 Kay Walten (MSTT' 20) saw it all during the quarter-century she spent running a tourist business in a small town an hour outside of Cancun, Mexico: 9-11, global economic collapse, hurricanes, sargassum, disease—the swine flu, SARS, the Zika virus—and other crises. And throughout it all, she persevered, building her small company that led visitors to "authentic" experiences of the local culture and landscapes. 

In fall 2020, as Walten finished up her capstone project in Temple's Travel and Tourism master's (MSTT) program, she was named a finalist in a Social Entrepreneurship in Travel competition in Berlin. Sponsored by the distinguished international membership organization Travel Massive, it claims to be the first global competition in the tourist industry to focus on social innovation and entrepreneurship. A contender in their "idea" category, Walten was the only finalist from the U.S.

A self-described adventurer, Walten is renowned—especially as a woman—in the elite international subculture of underwater cave exploration. Having been inducted into the Women's Diving Hall of Fame, she is credited with pioneering exploration beneath the surface of Mexico's Yucatán Peninsula, which has one of the largest underwater cave systems in the world. She served as a stunt double in the IMAX film Journey to Amazing Caves and has been a part of other projects with Smithsonian magazine, the Discovery Channel and National Geographic. Walten has also climbed Mt. Kilimanjaro and is significantly invested in protecting the environments where the tourism business leaves a footprint.

Applying her savvy in the current travel and tourism climate
Indeed a lifelong learner, Walten came to Temple in 2019 to—in her words—improve her personal travel brand, balance her experience and broaden her perspective. She describes herself as a global tourism ambassador," having seen first-hand both the positive and negative effects that tourism can bring to a community and its locals. 

Her three-minute video, submitted after the first round of the competition, focuses on how the global tourism industry has a responsibility to create positive, sustainable impact—especially in times of crisis. "The industry should be a catalyst for recovery in their communities," Walten says. Her competition proposal for a "Tourism Resiliency Alliance." The Alliance would educate and assist tourism businesses with disaster, response, and recovery planning, as she says "to empower tourism-reliant communities to protect their livelihood, and kickstart economies in the face of a crisis." 

From a tourism crisis management perspective, she sees parallels between the current coronavirus pandemic and other natural disasters. "If a country's economy is disproportionately reliant on tourism," she says, "a disaster like a hurricane—or COVID—has the power to cripple that industry, which can be an economic catastrophe for the country, the residents, and local businesses."
A master's degree that builds on a lifetime of learning
Walten has seen disasters and devastation up close. From 1996 to 2018, she lived and worked in the Mexican Caribbean, starting her own travel and tourism business called Loco Gringo. "I've seen the ways that tourism can translate to a financial boost for a community," she says. "I saw communities grow from having almost no infrastructure to becoming prosperous tourist destinations. But the same impact can result in damage to its culture and natural resources. I also witnessed how hurricanes and 'human-made' disasters such as infectious diseases and local corruption can bring tourism to its knees." She's carried with her the incredible toll it took on residents and the area to survive these experiences. 

This perspective is what first inspired her to ponder how the global tourism industry could become more proactive. She says earning a graduate degree at STHM propelled her ideas, and clearly it has amplified an already impressive set of skills. "I've spent years as an entrepreneur," she says. "But it wasn't until I came to Temple that I gained a much broader perspective and could identify areas where I still had a lot to learn."
Walten was surprised, for example, by all she learned in her Cultural Intelligence course. "I came to see that it's often not enough to feel passionate about a place and simply learn as you go," she says. "Temple gave me the foundation and the breadth of perspective to inform a more complex view of the industry as well as the destination I called home." 
She also emphasizes the value of working closely with members of her cohort who are professionals in other aspects of travel and tourism, such as the airline industry and travel writing. The many connections she made at Temple have not ended with graduation.  
Equipped for the next adventure 
Having graduated from STHM in December, Walten is weighing many options. She assists Hout Bay Tourism Connect, a recently formed destination marketing organization (DMO) near Cape Town, South Africa, which works to build awareness and programs that support the United Nations' Sustainable Development Goals. She is also currently serving on the MidCoast Maine Tourism Council and its marketing committee.  "I see how clearly my skills translate in the context of an environment that is completely different geographically and culturally from Mexico," she says.

Committed to ongoing professional development, Walten recently completed the Disney Institute Quality Service program and FEMA's Community Planning for Economic Resiliency course. She is currently finishing up Green Globe's accreditation for the roles of auditor and consultant. These many experiences position her well to work for other DMOs, but for now, she is dedicating her efforts to building a consulting business. She has also discussed pursuing a doctorate with her STHM advisor, Professor Benjamin Altschuler. There are many exciting possibilities for Walten, who is clearly on the verge of her next great adventure.
Watch the three-minute video Walten created as part of her proposal to Travel Massive for a Tourism Resiliency Alliance.
Learn more about STHM's programs in travel, tourism and hospitality management.