Alumni Are Front and Center in Philly Industries' Wave of Resurgence
By: Alison Rooney
First Published: June 4, 2021
Topics: Alumni, Alumni Stories, Industry Partnerships, Sport, STHM School, Student Stories, Tourism & Hospitality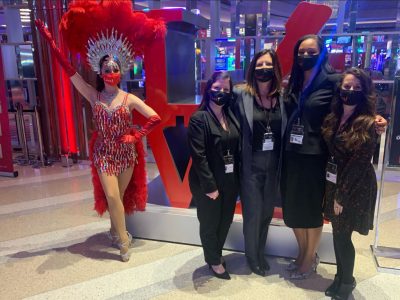 Live! Casino provides a vibrant experience for STHM interns and alumni. Pictured to the right of the dancer are (left to right): Breanna Simpson '16 and Exec. Asst. of Office Manager Erin Brady '21 with Tracey Witchko, VP of Property Operations, and Krystal Jones, senior VP and CFO.
Getting in on the ground floor of a new sport or hospitality enterprise is a highly coveted opportunity—in any economy, let alone now, in the post-COVID recovery. This can mean the chance to help transform a business plan into an operation or an audacious idea into a social media strategy or even an industry influencer. These kinds of invaluable experiences can set you apart in terms of your resume and your network. 
This spring, as every semester, dozens of STHM students and alumni benefited from exactly this level of experience through the school's partnerships with businesses in Greater Philadelphia's sport and hospitality industries that are resurging in the wake of the pandemic. We spoke recently with several who are working at Philly's Live! Casino & Hotel—which opened in February—and Maestroe Sports & Entertainment, a local company devoted to all high-growth sports, from axe-throwing to MMA. All were eager to share how their STHM experience has translated directly into a career opportunity that's as exciting as it is valuable.
A gamble that's paid off for Philly: Live! 
Thanks to SHTM's partnership with Live! Casino & Hotel, which was established well before the scheduled grand opening near the stadium complex earlier this year, the company had already hired a number of STHM alumni by last fall. Like other Live! Developments, this sports-anchored destination features gaming, dining, and entertainment—which requires highly skilled and motivated talent of all sorts to run effectively.
One of the Philly venue's first 150 team members, Breanna Simpson '16, who earned a Bachelor of Science in Tourism and Hospitality Management (THM), has served as administrative assistant to the Live! senior vice president and CFO and the vice president of property operations since November 2020. "Working for Live! leading up to the opening was a great introduction to the gaming industry," she says. In her first months on the job she got to watch the property transform from a construction site where the uniform was a hard hat and a reflective vest to a beautiful casino and hotel filled with servers, dealers, and staffers wearing suits. "It really gave me an in-depth understanding of all the elements required for operations to run smoothly," she says.
Ling Lin '16, who also earned a BS in THM, has worked as the Live! hotel front office assistant manager since December. "The gaming industry is fun because you feed off the energy and personalities you meet," she says. "I've found it's effective to be authentic and open minded so you can connect with all kinds of people."
Like so many, Lin thought it would take years for the tourism and hospitality industries to recover, but starting last fall she could see that plans for the new Live! facility were moving apace. However, like in every industry, a lot of modifications had to be made in real time. "I was surprised by how busy we've been," she says. "Working at Live! has made me more optimistic about our industry after COVID-19."
STHM interns who land a full-time job
One aspect of STHM's exceptional Career Services and Professional Development (CSPD) office is that they routinely leverage the school's Industry partnerships to create internships that not only offer valuable experience but have strong potential to turn into actual job placement after graduation—always a win-win for both parties. 
Nicolai Rodio '20 has been Slots and Guest Services Supervisor at Live! since January. "My STHM experience gave me the confidence and the opportunity to go into a leadership position directly after graduation," he says. Having worked throughout his time at STHM in working towards his BS in THM, now, looking back, he feels that every step was part of the rise to the position he's in now. "The amount of responsibility and the level of interaction with leadership I have in this position wouldn't be possible without the experience that STHM has provided."
This is obviously a huge benefit to these companies as well. In continually building relationships with the sport and hospitality industry, STHM is also providing its partners with new, exceptionally well-prepared talent. "It's truly a win-win," says Andrew Lovell, senior associate director of Industry Relations. "This is a unique chance to expand their network, but also to work closely with high-level, forward-looking professionals in their industry of choice."
Getting up close with up-and-coming sports
STHM students are also benefiting from another unique industry partnership that the school has developed in recent years with Maestroe Sports & Entertainment. Based outside of Philadelphia in Wayne, PA, Maestroe operates in the space of up-and-coming, high-growth sport and entertainment, offering sponsorship, activation, sports property development, and digital executions. And in part through an unique partnership with STHM, the company is growing strong and taking on more talent all the time.
"The idea for Maestroe was born when Gabby Roe helped to develop beach soccer into an international sport," says Jake Mcmenamin '18 who earned his Bachelor of Science in Sport and Recreation Management (SRM), and now serves as the company's business development manager. "In the wake of that success, he wanted to continue promoting and growing sports that were not yet in the mainstream," Mcmenamin says. Flash forward a few years, and now Maestroe works with an array of emerging sports, which tackles exciting arenas of axe-throwing, ultimate Frisbee, professional flag football, the Canadian favorite of curling, and even break dancing.
A testament to this entrepreneurial firm's take on sport branding and promotion is not just its survival but its success during the pandemic. "One of our clients, the American Cornhole League, found an opportunity for rapid growth during the pandemic," Mcmenamin says. The tossing game, which is by nature socially distanced, was able to continue while other sporting events were shut down. "The League is normally scheduled for 4 events through summer and had 12 events this past year," he says.
As a small and lean company, Maestroe holds high expectations of every employee, whether full-time staff or an STHM intern. "We call our interns 'associates,'" he says, "because we give them actual real life work, out in the marketplace. We treat them as full time employees and expect a lot from them. They are meaningful to our business, and at the same time, it is a great opportunity to learn and create connections."
When interning at a small organization, interns get exposed to a wide range of responsibilities. Kelly McGee '20, a graduate with a Master of Science in Sport Business (MSSB) and Temple BASc '18, is now a client services manager and also runs the internship program at Maestroe. Once served as an intern herself, she likes that, at a small boutique firm like Maestroe, "it feels like 3 or 4 internships in one, because they get exposed to sales, marketing, and business development" she says, "accelerating quickly as they learn different aspects of the business".
"Industry experience and faculty/staff connections are a hallmark of our school," notes Rick Ridall,  associate professor and director of Industry Relations. "Our network and faculty's connections in these industries helps students to set off right away on their career journey to exciting organizations of all kinds."
Ridall notes that STHM students get much more than eye-opening opportunities for behind-the-scenes tours of Madison Square Garden or major Destination Management Organizations (DMOs). "Through internships they also get a long-term insider's view of what industry pioneers are doing and how they do it. Many times—as with Live! Casino and Maestroe—this can lead in a full-time roles as well."