Gaming Professional Makes Her Own Marketing Magic During COVID
By: Alison Rooney
First Published: March 24, 2021
Topics: Alumni, Alumni Stories, Applied Knowledge, STHM School, Tourism & Hospitality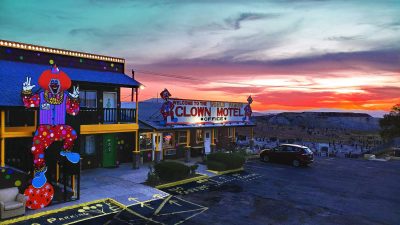 Gina Vorgiatzidis '15 had a flourishing career in gaming after earning her BS in Tourism and Hospitality Management. When the pandemic dealt a blow to the industry, as it did in so many, she used her initiative and creativity to transform a tourist experience into a lucrative side gig in online marketing.
An STHM internship had initially brought Vorgiatzidis out to Las Vegas, and within a few years she was named one of Global Gaming Business magazine's 2018's Class of "40 under 40" for the future of the gaming industry. She rose to the role of Direct Marketing Strategy Manager for MGM Resorts International. And then COVID hit.
Vorgiatzidis made it through MGM's first round of furloughs in mid-March 2020, and was kept on as part of the team charged with designing the strategy for the company's reopening. But once it became clear that date would be far on the horizon, she, too, was furloughed.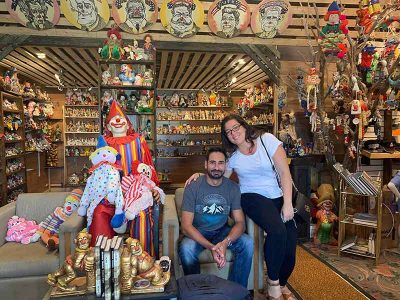 She and her partner, Lee Beresford, spent their newfound time taking road trips around Nevada. Over the summer they traveled to Lake Tahoe, and on their way back decided to stop at a site they'd seen on an episode of The Travel Channel's Ghost Adventures: The Clown Motel, located in the old mining town of Tonopah, NV right next to an old cemetery. 
"We were Googling it, trying to find out about room rates, and couldn't find anything," she says. "Once we arrived, we started chatting with the owner in the Clown Museum in the lobby. We mentioned that we noticed the motel didn't really have an online presence." There was no website, and just an Instagram account with a few followers. 
"He said, 'If you have the ability to do it, let's put something together.' Lee and I looked at each other and realized we could," she says. While she'd spent years working in casinos, and not managing websites or revenue for hotels, she was confident her classes at STHM had given her a lot of knowledge to draw from. 
Creating a lucrative online identity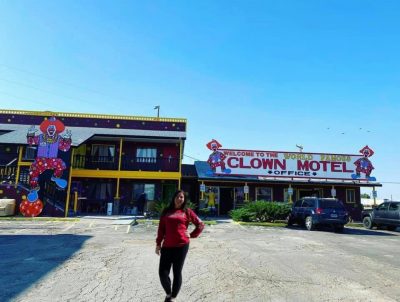 "We started building the site that same day," Vorgiatzidis says, and within two weeks it was up and running. The user-friendly, engaging site features history of the motel as well as great photography of the motel's interiors and exteriors and its fun as well as unsettling aspects. Most importantly, it features an online booking platform that transformed the motel's business. 
"The last time I had built a site was during my senior seminar at STHM," she says, "so I had to re-familiarize myself with design platforms." It was essential that it was mobile-friendly, given that most visitors would likely be looking for information from the road. She devised a reservation system that was easy for the owner to use, so it was simple to change rates and keep the room inventory up to date. She also began to advise the motel on pricing, based on competitor research, and drove their social media strategy, which is now up to more than 29K followers on Facebook and 3K on Instagram.
The reservation system was a massive success almost immediately. Within the first six weeks, the motel had generated more revenue—online—than it had in the entire first half of the year. By late August, Vorgiatzidis noticed that October was selling out in connection with Halloween, as "America's most haunted motel." 
Her event planning class at STHM was also paying off, as she'd devised a "Clown Hunt" activity—an add-on activity for guests—that she describes as a cross between a scavenger hunt and an escape room. "Working full-time hours with the motel during the planning process for the Halloween event desensitized me to what I'd found so unsettling about the whole clown motif," she says. 
Continuing to build on her STHM foundation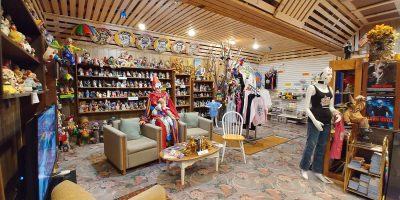 Despite this newfound success as an entrepreneur, her career in gaming beckoned. In late fall, Vorgiatzidis interviewed for a new position as systems manager for the MGM loyalty program. "This new role has been a good learning experience, and I'm enjoying it," she says. Now she sees the pandemic as the universe's way of helping her learn something outside of her comfort zone. "My STHM degree gave me a foundation to try new things," she says, "and I proved to myself I have an array of skills I can apply in many situations."
As for the Clown Motel, Vorgiatzidis still consults as their social media marketer. She's been approached by small businesses and acts from America's Got Talent to do similar projects. "I'd love to see where it goes," she says, but doesn't see herself quitting her day job in the gaming industry any time soon. She says being on her phone constantly—scheduling posts and engaging with Motel guests—is like second nature to her. Clearly so is her positive outlook and a "can-do" attitude, which have brought her such success in different environments and endeavors. "A lot of people look at 2020 as a bad year, but I like to think of it as a hard year," Vorgiatzidis says. "It's been an opportunity to think outside the box and has taught me that, if an opportunity doesn't come knocking on your door, don't wait—open a door yourself."