The XFL is back. Is it here to stay?
By: Steve Orbanek
First Published: February 20, 2020
Topics: Faculty, Feature Story, In the News, Research, Sport, STHM School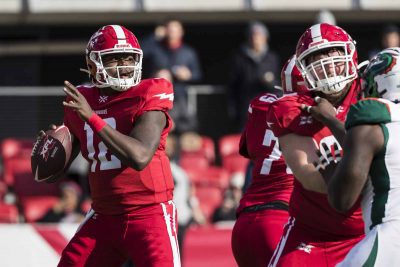 Jeremy Jordan, associate dean of Temple University's School of Sport, Tourism and Hospitality Management available to discuss sustainability and economic impact of XFL
PHILADELPHIA, Feb. 19, 2020 — For the first time in nearly 20 years, the XFL is back. Whether it's here to stay, however, remains up for debate.
"Football is still very much the most-popular sport in America. The XFL won't be viewed as an equal substitute, but for people who really are diehard football fans, this is that time of the year where you go into withdrawal and already start to think of the draft," says Jeremy Jordan, associate dean of the School of Sport, Tourism and Hospitality Management at Temple University. "This is nice because it does offer an actual live football experience."
Jordan's research examines the economic impact of sporting events as well as the individual and community benefits of large-scale spectator sporting events like XFL games. His research also examines consumer expectations and satisfaction as it pertains to sporting events.
So far, with the XFL, the early returns have been impressive. The games averaged 3.12 million viewers and a 1.0 rating among adults 18-49 during opening weekend. All four of the games drew more than 17,000 fans, too. Thanks to strong attendance in Seattle's home opener (29,172), average attendance across the league actually rose in week two as well.
Another unique thing about the league is how it is embracing sports betting. Point spreads and over/unders are displayed alongside the scores during XFL broadcasts, and ads promoting gambling air regularly during commercial breaks.
While there are a lot of positive signs with the XFL, the league still has a long road ahead of it. Last year's Alliance of American Football (AAF) also got off to a hot start and ultimately ceased operations before the end of its first season.
We touched base with Jordan to get his thoughts on the long-term sustainability of the XFL, its economic impact and the effect it could have on other sports leagues in the future.
Q: One of the interesting aspects about the XFL is the eight markets that the league chose to launch with. These are all large, major markets as opposed to smaller cities where the league's economic impact might really be felt. Do you see the league positively affecting the economies of these large cities?
A: In terms of new dollars coming into the cities, I think the economic impact is probably minimal, but I think you can make the argument that even some of the well-established professional teams don't have a huge economic impact either, because it's based on the local community. In terms of new dollars, you don't attract a ton of new visitors. Given the size of their crowds, most if these folks are regional, but I think there's still value there to the cities. If the league draws an average of 15,000 to 20,000 fans per game, I am sure they would be excited, and the cities would be, too.
Q: One of the eight teams to have an XFL franchise is St. Louis (BattleHawks), which recently lost its NFL franchise when the Rams relocated to Los Angeles. Does that team have a chance to resonate more with fans because St. Louis has been without football for a few years now?
A: I think that can go two ways. You're either going to have fans who are still bitter about losing the Rams, or you'll have fans who just really want a local team that they can support and have that experience. I'm guessing the pricing for this is more viable for families in that it's similar to the minor league baseball model where it's affordable to take a family of four to a game, and you still have a positive experience. That can help the league catch on in cities like St. Louis where it is now the only professional football option.
Q: We've seen the XFL really be proactive with embracing sports betting. Is this a sign of things to come?
A: Absolutely. Of the four major sports leagues, the NBA is the most progressive league in terms of wagering, and I do think you'll see them adopt some of the things that the XFL has already done. Also, if the XFL becomes sustainable, this will be one reason why. I think it would be difficult for the league to get to sustained attendance levels that are reflective of the NFL. This will come down to television contracts, sponsorships and sports betting and if all of those things take off, then I do think the league has a chance to be sustainable.
Q: If this does succeed, expansion is inevitable. Anywhere that you could see an XFL franchise going next? Philadelphia perhaps?
A: All of the teams so far are in larger markets. There are no small markets, except maybe Tampa and St. Louis, but those are still pretty large markets. Philly, to me, just has such a major league profile and persona. The XFL does not seem like an ideal fit, and I'm not sure where you would put the team? I could not imagine them playing at The Linc (Lincoln Financial Field). But if this season is a success, it will be interesting to see how quickly they expand. Given Philadelphia's size and fanbase, you have to believe it would at least be on the XFL's radar.
About the School of Sport, Tourism and Hospitality Management
Established in 1998, the School of Sport, Tourism and Hospitality Management (STHM) at Temple University has a distinguished tradition preparing leaders in the sport, recreation, tourism and hospitality industries.
Thoroughly committed to providing student-centered education and professional development relevant to today's thriving sport, tourism and hospitality industry — STHM integrates applicable, real-world experience into the curriculum and classroom through its global network of industry partners and well-connected alumni network. Our award-winning faculty and cutting-edge research institutes engage in pioneering research, informing business practices and providing students with the knowledge and skills to succeed in these fast-growing industries.
The School offers undergraduate degree programs in sport and recreation management and tourism and hospitality management; traditional graduate degree programs in sport business, and hospitality management; and two online graduate degree programs in executive sport business and travel and tourism. STHM also offers a PhD program in business administration with a concentration in tourism and sport.