What's it like to work for the Miami HEAT? Alumni Profile: Tyler Oliveti
By: Michael Kelly
First Published: October 10, 2018
Topics: Alumni, Alumni Stories, Sport, STHM School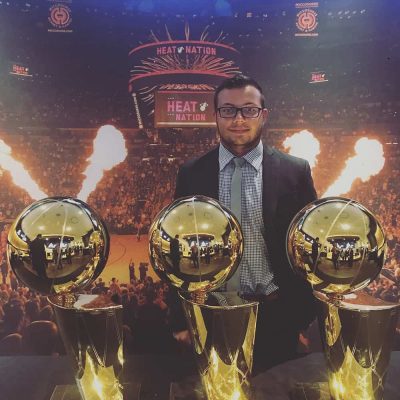 For as long as Tyler Oliveti can remember, sports were a huge part of his household back in Northeast Philadelphia. His father is an avid Phillies fan and his mother loved the Broad Street Bullies. Tyler's childhood was spent playing almost every sport imaginable including baseball, soccer, hockey and basketball. His love for sports continued to grow through high school as he dreamed of them one day becoming his career. But the question was how.
Though Tyler loved playing sports, furthering a collegiate career wasn't a fit so he began to search for another way to bring his love for sports into his career. When it came time to start the college search, Temple University's Philadelphia campus seemed like the perfect fit. "Whenever I'd visit my cousin at Temple, I always felt a connection. I knew I didn't want to be far from home for my first move out and with Temple's campus being one train ride away from the stadiums, I decided to look into some of their programs."
STHM: The Perfect Fit
After doing some research into Temple University's programs, he discovered the Bachelor of Science in Sport and Recreation Management at the School of Sport, Tourism and Hospitality Management (STHM). While certain that the blend of business and sports was the path for him, Tyler still never imagined his passion could take him to so many exciting careers. One of the biggest things Tyler took to heart during his beginnings at STHM was how much the faculty encouraged students to get involved—something Tyler was more than excited to do. "One of the best reasons to go to STHM was for all of the opportunities to get involved with sports. Volunteering with Temple's football team was an incredible experience."  
Through STHM, Tyler landed a position early in his schooling with the Temple football team. His enthusiasm for this position only exemplified his excitement for a career in sports. Every aspect of the job was a new opportunity for Tyler to learn and network. Having the opportunity to travel with the team for the away games quickly opened Tyler up to a new perspective on the world. Here, he learned how to facilitate a team on the road and how the industry worked from behind the curtain.
The faculty and internship programs at STHM continued to give Tyler more insight into how the industry worked. Richard Ridall, STHM Associate Professor, inspired his direction toward the sales aspect of the industry through class projects. The internship program and Center for Student Professional Development helped Tyler gain hands-on experience with the Philadelphia Soul and Charlotte Hornets.
The Power of the STHM Internship Program
While interning with the Philadelphia Soul and Charlotte Hornets, Tyler discovered a 360-degree view of the ticket sales process. With the Philadelphia Soul, he had the opportunity to get first-hand experience with group sales, planning techniques and the different sales-generation platforms used by minor and major league teams. While interning with the Charlotte Hornets, he learned about the technical aspect of the sales process including leveraging CRM platforms and sales forecasting. The internship with the Hornets and the NBA would also prove to yield even more than hands-on experience beyond the initial internship.
Not long after completing his internship and returning to Philadelphia, Tyler's supervisor with the Hornets contacted him with an exciting prospect. A colleague at the Miami HEAT was searching for a candidate to fill a role in the ticket sales department and knew Tyler would be the right fit. Tyler acted quickly and after a glowing review from that same supervisor, he was the newest Ticket Sales Representative of the Miami HEAT.
Welcome to Miami
It may seem ironic that the guy who didn't want to stray far from home would have an internship in Charlotte, NC and accept a position in Miami, FL, but he couldn't be happier with his career. Tyler's days are filled with non-stop correspondence through every medium imaginable focusing on group sales, season passes and preparing for sales and marketing for the upcoming season. Though his days are full and sometimes long, he loves every aspect of the job and really enjoys working and living in downtown Miami.
"If it wasn't for STHM, none of this would be possible. I wouldn't have had the opportunities and experiences during my years there and my current job may never had been possible." Tyler thanks STHM for helping him find direction by getting involved. In fact, his advice to those beginning their time at STHM is the same given to him, "get as involved as you possibly can. You never know who you will meet along the way and what they can do for you and your future."
Discover how to take the lead in your sport career through the Bachelor of Science in Sport in Recreation Management.
For more news and stories, follow STHM on Facebook, Instagram, Twitter, and Linkedin.