Tyronne Stoudemire of Hyatt Hotels Corporation Visits STHM as an Executive in Residence
By: Courtney Kubitza
First Published: March 23, 2018
Topics: In the News, Industry Partnerships, STHM School, Tourism & Hospitality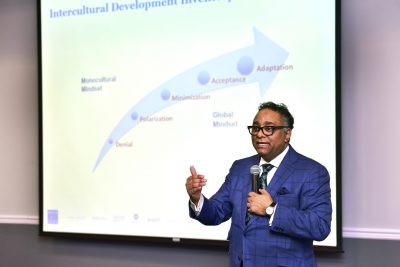 "Giving back has always been my key to success," Tyronne Stoudemire remarked after his presentation at Temple University as the first Executive in Residence of the spring semester.
On February 13, 2018, Tyronne Stoudemire, Vice President of Global Diversity & Inclusion at Hyatt Worldwide, shared insight of his career with students at the School of Sport, Tourism and Hospitality Management (STHM). The evening, which consisted of an intimate presentation and a Q&A session, was moderated by Richard Lee Snow, Senior Advisor of Multicultural Marketing at St. Jude Children's Research Hospital.
Currently, Stoudemire works besides one of the world's top hospitality companies, Hyatt Hotels Corporation, with the primary focus of increasing diversity in the workplace and global marketplace. Stoudemire, a graduate of Wayne State University, started his career in human resource management at Aon Hewitt.
"At a very young age I had to learn how to navigate through cultural differences," Stoudemire remarked. "So, it is of no surprise to me that I am doing work with diversity and inclusion."
Stoudemire credits his career, which he also considers his life's work, to his parents. Growing up outside Detroit, Stoudemire lived in a household where giving back was an essential aspect of the family dynamic. Stoudemire steadily witnessed his family extend their hands to those in need.
"Working in the church, contributing to communities where people were underserved and volunteering shaped my worldview," said Stoudemire. "These lessons followed me into my career which is why I'm so passionate about creating environments where all people can thrive."
A prime accomplishment in Stoudemire's career was being able to turn human resources into a profit center. Stoudemire, who's sales-oriented by trade, took a business approach when he was asked to diversity efforts at his current company. Stoudemire's solution was to create, test and implement strategies to increase inclusivity in-house and then market these strategies to other companies.
"I knew that certain communities were not given access and I also knew that this served as an opportunity to bring talent to the business," Stoudemire stated. "The best part of this whole venture was that I had the opportunity to transform corporations and do the right thing for people around the world."
As one of the first few in the industry to realize the value of diversity and inclusion, Stoudemire understands that organizations that are not cross-culturally competent will suffer long-term in talent, products and services and not be able to advance their business.
Having worked in a variety of industries, Stoudemire wasn't phased as he stepped into his role at Hyatt Worldwide. In his mind, people are people, regardless of the industry.
"You can train an individual in hospitality," Stoudemire claimed. "But what you can't teach is how to treat people with dignity and respect—that takes monumental practice and education."
Stoudemire stressed the importance of global diversity and inclusion in the hospitality industry due to the changing world. Working with Hyatt, which is a global organization, it's imperative to Stoudemire and his team that they became the first to initiate this type of change in the industry.
"Hospitality greatly benefits from inclusive practices due to the fact that it's an industry which revolves around people," Stoudemire noted. "If we don't understand cultures or aren't adapting to outside values, guests won't be willing to return to our hotel."
As Stoudemire's presentation came to a close, he shared the following advice with STHM students looking ahead to the future.
"If you have a good heart, a good mindset and a willingness to learn, you will do well in the industry," said Stoudemire. "If you want to give back and are people-focused, you will be immensely valued in any industry."
Visit the Executive in Residence page for more information on the series.