Two students represent STHM at elite U.S. Olympic Committee conference
By: Courtney Kubitza
First Published: October 6, 2015
Topics: In the News, STHM School
De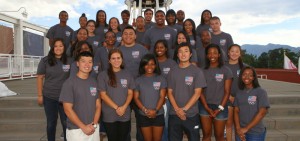 nisha Robinson has always considered opening a non-profit sports academy for inner-city youth a potential career path. This goal was an idea that she said became solidified following her participation in a U.S. Olympic Committee summer program.
Robinson, a junior Sport and Recreation Management major, was one of two students representing Temple University's School of Tourism and Hospitality Management (STHM) at the Finding Leaders Among Minorities Everywhere conference (FLAME), which is organized by the U.S. Olympic Committee.
Robinson and Elisa Drummond, a second-year STHM graduate student pursuing a Master's of Science degree in Sport Business, spent eight days from late May to early June in Colorado Springs, Colo. They were among the 29 handpicked students from around the country to attend the conference.
"I did enjoy having someone else from Temple there with me," Drummond said. "We had such a great sense of pride representing Temple and STHM."
The FLAME program is geared toward helping minority students pursue careers in the Olympic and Paralympic fields. This year's program brought students from 15 different states across the U.S. The event featured a number of elite speakers, including multi-medal-winning Olympic basketball player Teresa Edwards.
"Hearing how she had to persevere and push through different barriers was inspiring," Robinson said. "It was interesting that she wasn't just a minority because of her ethnicity, but also a minority because of her gender."
The student attendees were tasked with creating presentations to show the different sectors of U.S. Olympic Committee sports. Robinson said she and her team, whose assigned sport was volleyball, made a case for increased accessibility to the sport.
"Because volleyball is an expensive sport, if you're not paying top dollar to participate with club teams, then you aren't really getting attention," Robinson said. "For our presentation, we made a program that would distribute sport kits out to underrepresented schools and help them get involved with USA volleyball."
Exposure to sports with which she wasn't previously familiar intrigued Drummond.
"My absolute favorite part of the program though was participating in Paralympic games that I knew nothing about," she said. "For example, I played wheelchair basketball and goalball, which is a sport for the blind."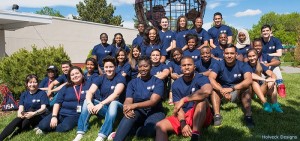 The FLAME program, Robinson said, informed students on the values of networking and how to utilize the FLAME experience in setting oneself apart, in a professional sense.
"What the organizers kept reminding us was to never forget the FLAME program," Robinson said. "They'd say, 'We are a family here. Next time you think you want to fill out an application for an internship, let us know, because this is your network and your family.'"
Robinson cited a conversation with STHM Associate Vice Dean Jeffrey Montague about her future goals, which include opening a non-profit sports academy upon graduation, for inspiring her to apply for the FLAME program.
"I talked about having a non-profit for inner-city youth and developing them in the areas outside of sport through the love of sport," Robinson said, recalling her dialogue with Montague.
Based on her experience with FLAME, Robinson said she is considering pushing forward with that dream, or weighing internship opportunities with the U.S. Olympics Committee. After completing her undergraduate studies, Robinson said she might opt to pursue a graduate degree in organizational leadership and management.
With plentiful professional options available to her, Robinson said she took comfort in the level or support she experienced among fellow FLAME attendees.
"We were all there with a common goal in mind, so we pushed to help each other, which is something I noticed doesn't happen a lot when you go to conferences," Robinson said.
–Emily Ivy Scott