Tourists Open Hearts to City of Brotherly Love
By: Steve Orbanek
First Published: January 29, 2020
Topics: Faculty, In the News, Research, Sport, STHM School, Tourism & Hospitality, U.S.-Asia Center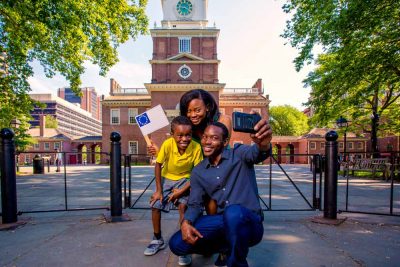 Forty-five million tourists visit Philadelphia as city tourism grows for ninth-consecutive year. Xiang (Robert) Li, professor in the School of Sport, Tourism and Hospitality Management, offers his take on why so many folks are now seeking out the city.
PHILADELPHIA, Jan. 29, 2020—Tourists are in love with the City of Brotherly Love, and the data speaks for itself.
In November, Philadelphia was named one of the top destinations in the world for 2020 by National Geographic. This comes on the heels of a record 45 million visitors traveling to the city in 2018, with 44.1 million of those visitors being domestic ones. This was also the ninth-consecutive year that tourism in the city has grown.
For comparison's sake, consider this. In 2008, Philadelphia welcomed 36.7 million domestic visitors. In 1998, that number was 27.5 million. That's a change of nearly 10 million more visitors per decade.
The growth of visitors seeking out Philadelphia is significant and now, perhaps more than ever, Philadelphia feels like a true tourism destination. So what's changed?
"The city is stepping up its game in polishing and promoting the Philly brand as a tourism destination," says Xiang (Robert) Li, professor in the School of Sport, Tourism and Hospitality Management at Temple University. "Whether it's leisure travel or conventions and events, international or domestic markets, Philly's two destination marketing organizations, Visit Philadelphia and PHLCVB, have both been exceptionally proactive and creative in promoting the city. Philadelphia International Airport has also continuously added domestic and international flights to Philadelphia, making the city a much more accessible destination than ever before."
Li is an expert in tourism, and his research focuses on destination marketing and tourist behavior. He is the author and co-author of more than 100 scientific publications, including many that have appeared in top-tier tourism, business, leisure and hospitality journals.
One potential reason for Philadelphia's growth as a tourist destination could be how it offers something for so many different audiences.
For instance, the Please Touch Museum and Philadelphia Zoo make it a great destination for families. If you're into history, Philadelphia happens to be the birthplace of America.
Like craft breweries? The Craft Beer Trail of Greater Philadelphia offers 90 of them, and Philadelphia has been named one of the 14 best beer cities in the world.
"It all starts with developing a better product," Li says. "From Longwood Gardens to Independence Visitor Center, many of the city's attractions have invested heavily in delivering better visitor experiences. The local hotel industry is experiencing major expansion and so is the retailing sector. And the city's recent successes in various professional sports, particularly the Eagles winning the 2018 Super Bowl, have certainly made the city a more attractive sports tourism destination."
Given the growth of Philadelphia's tourism numbers over the past 20 years, it's clear that it's more than just a trend, but is it sustainable? Should we again expect tourism to increase every coming year or have we reached a saturation point?
"Philadelphia's recent tourism success is the epitome of the city's overall economic rejuvenation," Li says. "At the end of the day, tourism has been both a driver and beneficiary of Philly's endeavor of building a more innovation and service-based economy."
About the School of Sport, Tourism and Hospitality Management
Established in 1998, the School of Sport, Tourism and Hospitality Management (STHM) at Temple University has a distinguished tradition preparing leaders in the sport, recreation, tourism and hospitality industries.
Thoroughly committed to providing student-centered education and professional development relevant to today's thriving sport, tourism and hospitality industry — STHM integrates applicable, real-world experience into the curriculum and classroom through its global network of industry partners and well-connected alumni network. Our award-winning faculty and cutting-edge research institutes engage in pioneering research, informing business practices and providing students with the knowledge and skills to succeed in these fast-growing industries.
The School offers undergraduate degree programs in sport and recreation management and tourism and hospitality management; traditional graduate degree programs in sport business, and hospitality management; and two online graduate degree programs in executive sport business and travel and tourism. STHM also offers a PhD program in business administration with a concentration in tourism and sport.