This STHM Student Says There Is No Place She'd Rather Be
By: Karen Naylor
First Published: March 21, 2023
Topics: Industry Engagement, STHM School, Student Showcase, Student Stories, Tourism & Hospitality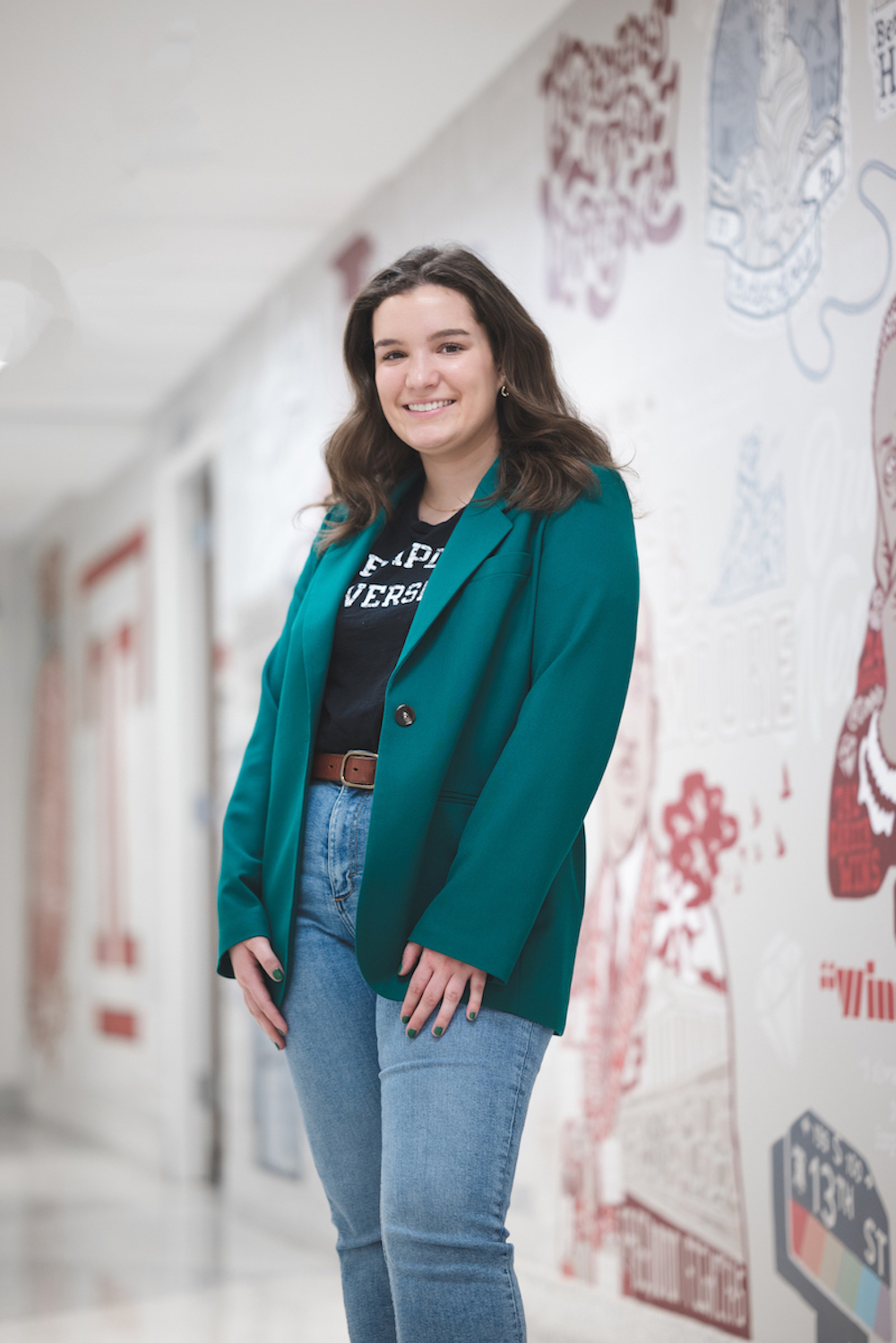 How is Ann Crockett's spring semester going at Temple University's School of Sport, Tourism and Hospitality Management?
"It's been intense, but it's also really fun," says Crockett, a tourism and hospitality major and member of the class of 2024.
In addition to her classes, she's turned her fall internship with Constellation Culinary into a part-time position where she is part of the team coordinating catering events at the Philadelphia Museum of Art.
Crockett started her work with Constellation as an intern during the fall semester after making a connection at one of STHM's career fairs. When her internship ended in December, her manager asked her to remain with the group in a part-time role. She quickly agreed.
"I'm technically a catering coordinator," she says, adding that her current role is similar to the one she had as an intern. "That entails a lot of operations work from an event standpoint. I help work on things like floor plans, rentals and sometimes event design if it's not dictated by the client.
"I'm often there on the day of an event, making sure that stations are correct. I work on supervisor packets that have all the information for the day that everyone needs so it has things like timelines, menus, all of those things."
At the art museum, she's helped coordinate events such as weddings, corporate functions and gallery exhibition openings.
"I really get to see all different types of events and I gain a lot of experience," she says. "I'm now able to say, 'Oh, I've seen that before, I think I could apply this here' for other events."
A skilled observer, Crockett sees things at a higher level, which helps her greatly as she pursues her bachelor's degree in tourism and hospitality management with a minor in event and entertainment management.
"Ann has an innovative thought process, she tries to look at things at a larger level," says Christine Cleaver, assistant professor at STHM and program director for the event and entertainment management degree. "She takes things very seriously and comes across very professional. Ann is a great representative of our school."
While her first interest was pursuing a business degree, Crockett decided to attend STHM's presentation during a Temple open house visit.
"I thought, 'Well we're here, let's look at something else,'" she recalls. "So, I went STHM's presentation and while I'm sitting in that room, I thought, 'Oh, wow! This is what I want to do.' 
"I didn't know studying events and hospitality was an option. So that really pushed me to go Temple and STHM."
Since her arrival at Temple, Crockett has immersed herself in opportunities, including her current role as the co-president of STHM's Event Planning Association. The student professional organization attended the association's most recent national convention in Columbus, Ohio.
"That was another amazing experience," she says. "STHM is so supportive of their students and what they're doing, it's all been great."
She says she couldn't see herself somewhere other than at Temple.
"I love Temple," she says. "Temple was an easy choice for me. It was close, and it had my major, but more importantly, Temple gives you an experience of being in the city, and you have all the benefits of being there.
"You get to meet people from all over, you gain experience, and no matter what school you're in, there's experiences that you can take advantage of in whatever your major is.
"People respect a Temple education and I'm very proud to go to Temple."