The Future of STHM: Dr. Jeremy Jordan Shares Vision on PHL Diversity Podcast
By: Jamie Cann
First Published: June 21, 2018
Topics: Applied Knowledge, STHM School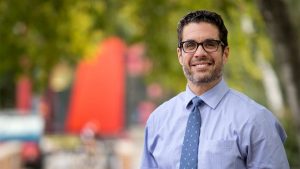 The School of Sport, Tourism, and Hospitality Management's (STHM) Associate Dean, Dr. Jeremy Jordan, joins the PHL Diversity podcast to discuss his professional and academic background, and offers insights on future of the school and its programs.
Appointed into his new position last July, Dr. Jordan has had an exciting 10-year career with the school, including a role as the School's director of The Sport Industry Research Center (SIRC). An innovative academic leader with a fresh perspective, Jordan shares his long-term vision for the school with three key areas of focus: Students, Industry & Research.
"We want to provide the best possible experience for our students. Not only in the classroom, but the opportunities we help them gain by working in the industry." shares Jordan. The School in collaboration with Saxbys opened a new exclusively run coffee shop on campus in January. Led by an STHM Senior, the coffee shop is just one example of new ways STHM will develop students through real-world experiences.
Finding new ways to engage with corporate partners and industry leaders in relevant, meaningful ways beyond workforce development and thought leadership is another goal where Jordan has big ideas for the future. The School's two cutting-edge research centers, The Sport Industry Research Center and U.S./ASIA Center for Tourism and Hospitality Research, play a big role in informing the sport, tourism, and hospitality industries. "We want to do cutting-edge research that moves things forward. Research that expands understanding and creates new ways of doing things." shares Jordan. "And, we want this to be industry relevant to help our partners grow and get better at way they do."
With the celebration of the school's 20th anniversary, it is an exciting time to be a part of STHM and its unparalleled growth and impact on the industry. The original pioneers of STHM have developed a strong foundation that will help move the school into new heights over the next 20 years.
To hear the full interview, check out the PHL Diversity Podcast.
The PHL Diversity Podcast, brought to you with support from the Pennsylvania Convention Center, shares brief insights, views and opinions from tourism and hospitality leaders, meeting/convention professionals and academics regarding specific hospitality, tourism and diversity topics. Tune into the full series to hear from professionals leading the tourism and hospitality industry.