The Future of eSport
By: Jamie Cann
First Published: May 15, 2018
Topics: In the News, SIRC, Sport, STHM School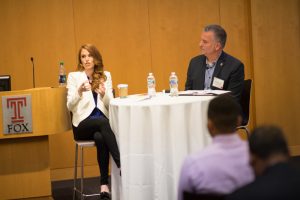 Temple University's School of Sport, Tourism and Hospitality Management professors and eSport pioneers explore the $1.48 billion industry at the school's first eSport conference.
The eSports industry spans more than 4 decades, and with the evolution of technology and waverying economic climate, it has definitely seen its fair share of ups and downs. Today, eSports is on the rise with a market share estimated to hit $1.48 billion by 2020.
As a pioneer in sport industry research and education, The School of Sport, Tourism and Hospitality Management (STHM) joined with the Sport Industry Research Center (SIRC) to host a conference dedicated to discussing this thriving industry.
The rise of eSport has been a wave slowly building. As it is reaching new heights, companies and institutions from various industry sectors are positioning themselves to capitalize on the eSport wave and ride the momentum. During the conference, eSports: The Next Generation in Sports and Entertainment, students and industry professionals learned how eSport got its start and rose to become a champion in sport and entertainment.
The conference kicked off with industry pioneers Wayne Kimmel and John Fazio sharing insight into the state of the eSport industry and 3 things that saved the sport industry. Alyssa Gentile, Marketing Coordinator at the Philadelphia Union discussed emerging opportunities for sports teams and sport-based video games. Philadelphia eSport companies Comcast Spectacor and Philadelphia Fusion answer questions from students and discussed how eSport is reaching the local market in Philadelphia.
The large turnout and engagement of the panels was a clear indicator that eSports is a passionate industry that is here to stay. For STHM and SIRC, this event is scratching the surface of their efforts in supporting the growing market. Dr. Daniel Funk, director of the center, said this is just the beginning, As a pioneer in sport research and education, STHM plans to continue their efforts supporting the growing market through eSport research and helping industry professionals prepare for a career in the emerging market.