Temple launches new undergraduate degree in Event and Entertainment Management
By: Steve Orbanek
First Published: January 13, 2021
Topics: Feature Story, In the News, New Programs, STHM School, Tourism & Hospitality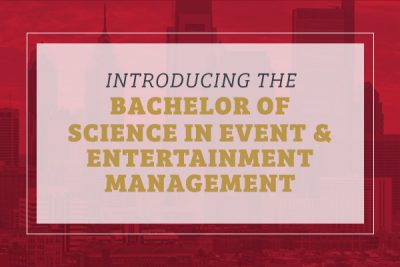 Bachelor's program prepares students to take advantage of
rising industries; free launch event is set for Thursday, Feb. 4 at 6 p.m.
PHILADELPHIA, Jan. 12, 2021 — Thanks to COVID-19, the event and entertainment industries looked a bit different in 2020. Concerts moved from stadiums to living rooms. Live crowds were replaced by Zoom audiences, but the thirst for live, in-person events remains.
The pandemic has also created new opportunities. Hybrid events have a strong future moving forward and virtual events aren't going anywhere, either. According to Trends Exchange, the virtual event industry is expected to grow from $78 Billion to $774 Billion by 2030. In-person events are also expected to recover following the introduction of a COVID-19 vaccine, meaning that the event and entertainment industries could soon be bigger than ever before.
To help prepare its students to take advantage of the rising demand, Temple University's School of Sport, Tourism and Hospitality Management (STHM) has launched the Bachelor of Science in Event and Entertainment Management.
"If 2020 has taught us anything, it's that we all need to be agile and flexible, and that's especially true for anyone who wants to work in the event or entertainment industries," said Christine Cleaver, an assistant professor in the school and founder of the new program. "This new program will equip our students with the knowledge and skills needed, so they can become leaders and adapt as these industries continue to evolve and grow."
A special launch event for the new program will be held Thursday, Feb. 4, at 6 p.m. via Zoom. It is free and open to the public. Register here.
In the event and entertainment program, students will learn all aspects of event management from inception to implementation including risk management, sustainability, marketing, finance and logistics. The curriculum incorporates the newest technologies and emerging trends coupled with essential business principles.
Through class projects, industry-related hours and two required internships, students will apply their learnings to real-world situations and graduate with years of hands-on event experience. Students will also graduate with certifications in leading event software systems and a comprehensive digital portfolio that provides employers with a glimpse of their learnings both in the classroom and in the field—helping set students apart from the competition.
"At STHM, we pride ourselves on offering experience-driven education, and that's a perfect description for this new bachelor's degree program," said Jeremy Jordan, associate dean of the school. "We have the entire city of Philadelphia as our classroom, and with this degree, graduates will be well prepared to manage a variety of events, including fairs, festivals, entertainment and sporting events, meetings and trade shows."
Applications are now being accepted for fall 2021 semester. For more information on the Bachelor of Science in Event and Entertainment Management, visit the program's webpage or contact the admissions team at askSTHM@temple.edu. 
About the School of Sport, Tourism and Hospitality Management
Established in 1998, the School of Sport, Tourism and Hospitality Management (STHM) at Temple University has a distinguished tradition preparing leaders in the sport, recreation, tourism and hospitality industries. 
Thoroughly committed to providing student-centered education and professional development relevant to today's thriving sport, tourism and hospitality industry — STHM integrates applicable, real-world experience into the curriculum and classroom through its global network of industry partners and well-connected alumni network. Our award-winning faculty and cutting-edge research institutes engage in pioneering research, informing business practices and providing students with the knowledge and skills to succeed in these fast-growing industries. 
The School offers undergraduate degree programs in sport and recreation management and tourism and hospitality management; traditional graduate degree programs in sport business, and hospitality management; and two online graduate degree programs in executive sport business and travel and tourism. STHM also offers a PhD program in business administration with a concentration in tourism and sport.