At Temple, Barber's legacy is lasting
By: Jamie Cann
First Published: July 14, 2016
Topics: In the News, STHM School
As Dr. Elizabeth Barber transitions into a new role at STHM, a school she helped found, she leaves behind a legacy of success.
Two decades ago, Temple University's School of Tourism and Hospitality Management was nothing more than a concept. Today, it is regarded globally as a leading provider of sport, recreation, tourism, and hospitality management education.
That would not have been the case without the contributions of Dr. Elizabeth H. "Betsy" Barber.
At the forefront of STHM's evolution, STHM has evolved from its modest beginnings of six faculty and 120 students in 1998, to today's School of Sport, Tourism and Hospitality Management, which features 24 faculty, 15 full-time staff members, nearly 1,000 undergraduate- and graduate-level students, an internationally recognized research center, and more than $1 million in externally funded grants and projects.
Barber's story begins nearly a thousand miles west of Philadelphia, in her hometown of Wapello, Iowa. The tiny town, nestled between Chicago and Des Moines, Iowa's capital city, has a population only double that of STHM's total enrollment. One of its more-notable natives is Barber's grandfather – Edwin Richley Hicklin, a former United States federal judge.
A career in teaching was always Barber's plan. But teaching tourism and hospitality management? It actually made perfect sense, she said. Barber was raised around tourism, a top-three industry in Iowa, trailing only agriculture and insurance. With outdoor attractions like the "Field of Dreams" filming location in nearby Dyersville, and Orange City's annual tulip festival, and scenic spots along the Mississippi and Iowa rivers, Iowa "has become a landmark state that you just can't skip," Barber said.
Her upbringing was incredibly diverse, a credit to the steady encouragement of her parents. In high school, Barber headed student council, was a four-sport letterwinner, played in the band, and performed in stage shows. Her parents championed education and pressed her on where she would attend college.
After earning her PhD from the University of Iowa, she began her career in higher education, teaching for two years before accepting a tenure-track position in 1989 at Temple University. She became a junior faculty member in the Department of Recreational Leisure Studies within the now-defunct College of Health, Physical Education, Recreation, and Dance (HPERD), which went by "Hyper-D".
In 1991, Barber was named the department's graduate coordinator and challenged to oversee the PhD program. A few years later, Barber began writing the curriculum for an independent program in tourism and hospitality management. With a PhD in instructional design and technology, Barber possessed the background to design courses and tailor curriculum. She affectionately recalled those experiences as "the most fun I've ever had." She turned over the curricula for Bachelor's and Master's degree programs to HPERD's dean, and then to the university's provost.
Not long after, Barber's life changed forever when then-Temple President Peter Liacouras picked up a daily newspaper.
"Our school may never have come to pass if not for Peter Liacouras," Barber said. "The story is a simple one: He was reading a newspaper article about booming industries in Philadelphia – hospitality and tourism – and he said, 'Why don't we have a program for this?'"
Liacouras commissioned a task force, comprised of university trustees, senior staff, and Barber, to determine Temple's next move. The task force recommended to Liacouras that the School of Tourism and Hospitality Management be created and, on July 1, 1998, it became the first school of its kind in Philadelphia.
"Betsy was the driving influence on that task force," said Dr. Ira Shapiro, STHM professor emeritus. "Her vision, in her words, was 'to create a powerhouse of excellence,' and she's been guiding the school ever since. Temple's motto is Perseverance Conquers, right? Well, Betsy gave her heart and soul to make this school a success. Back then, Jeffrey and I were just the cheerleaders, because she created the school, the curriculum, the Board of Visitors – she did everything."
Some things never change.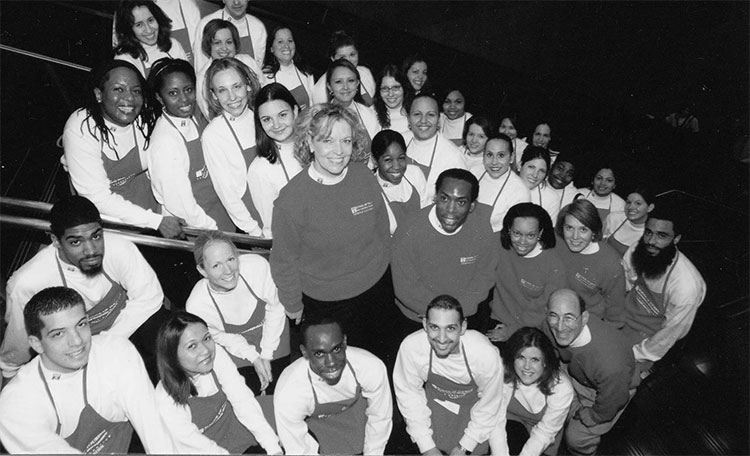 Since STHM's founding in 1998, Barber has been behind every faculty hire, curriculum redesign, and industry partnership. Her duties even spanned marketing, during those early days. The school's first campaign featured Hooter, the mascot for Temple Athletics, wearing a tank-top on a beach or on a gondola in Venice. A year later, Hooter wore a business suit in the advertisements. The goal, Barber said, was "to demonstrate that our Owls will study abroad or take internships, but eventually, they grow into business leaders who manage their respective industries." Barber remembers dispensing beach balls and Frisbees emblazoned with STHM's name to Atlantic City beachgoers, and carrying balloons as the major sponsor of the Thanksgiving Parade in Philadelphia.
"She was able to let things come to her," said Steve Korman, the founder of Korman Communities and the longtime chair of STHM's Board of Visitors. "She never forced situations. She heard your suggestions and if you had a good idea, it was incorporated. She was collaborative. She was part of a community, and that's hard to fill.
"She built the structure. It wasn't a copy of anyone else's. She did it that way not just to be the best in Philadelphia and the U.S., but to also compete globally. And she created an environment in which people felt comfortable. It's unique. It's real."
"Everything was methodical," Barber said. "There was always a plan. Nothing was haphazard. It was, 'In Year 1, we'll do this. And in Year 2, we're doing this,' and so on. The university has been tremendous in its support, and they've watched us grow and have given us the support we've needed in order to grow."
Internally, the growth to which Barber referred has revolved around the quality of students – academically skilled and professionally motivated young men and women who envision bright futures in the sport, recreation, tourism, or hospitality management industries.
And Barber was committed to stellar academic success for all students – from undergraduate to the PhD level.
"She cut me no breaks," said Mike Diorka, PhD '98, for whom Barber acted as PhD advisor. For Diorka, who now serves the University of Pennsylvania's associate athletic director of facility management, he remembers a feeling of defeat in those days. "I would walk with two shopping bags, one in each hand, on my way to the train. Those bags had my dissertation, with red ink all over them. Dr. Barber said to me, 'This is all part of the process. You'll be better off for it.' At the time, I didn't agree, but boy, was she right."
Barber's impact traveled beyond the classroom, too.
STHM announced a Summer Olympics-related study project, and Patrick Brogan, BS '04, pounced. Brogan had to negotiate with Barber in order to represent STHM in Athens, interviewing International Olympic Committee employees and working with U.S. Olympic Committee representatives.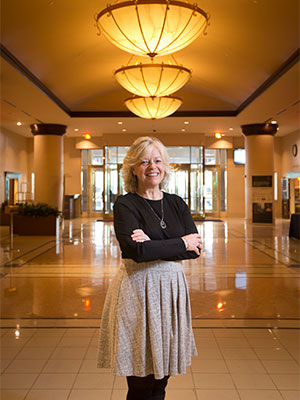 "I had graduated a day before that email came, so technically (Barber) didn't owe me anything," said Brogan, now senior vice president of programming with ArtsQuest. "And I'm so thankful she gave me a chance, because that experience was one of the signature moments of my life."
"She has the biggest heart," said Kate Isbel, BS '12, the marketing and communications coordinator for Philadelphia Convention and Visitors Bureau (PHLCVB). "You know how special Dr. Barber is? My parents went out their way to thank her on my graduation day. I feel privileged to have shared so much time with her as a student."
The stories are endless.
Barber helped establish STHM's Center for Student Professional Development. Before that, dating to the HPERD days, "her library for employment was anything that could fit on a corkboard," said Christine Cleaver, BS '96. Today an adjunct faculty member, Cleaver remembers the pre-STHM days in what was then Vivacqua Hall, where Barber juggled teaching and advising duties in a tiny corner office. "They had 150 students interning in a semester and, out of that, she saw the future. I'd use the word 'visionary' to describe Betsy Barber."
Jack Ferguson would use "inventive." In 2012, Ferguson called Barber when PHLCVB hosted a number of executives from Active America who were conducting studies into where middle-class Chinese tourists were most likely to visit. Barber, who sits on PHLCVB's Board of Directors, identified STHM's top Chinese students who could act as 1-on-1 interpreters.
"Only six years ago, China was not among Philadelphia's top 10 for international tourism. Today, China is second only to the United Kingdom," said Ferguson, PHLCVB's recently retired president. "Is that because of Betsy Barber? Well, she deserves some of the credit, because of her role all those years ago. … Overall, what she's accomplished at Temple, it's monumental."
Humbly, Barber shrugs off any public acknowledgement of or credit for STHM's progress and continued momentum. She points to the collective work by her and her peers for the rankings the school has attained, the founding of its nationally recognized Sport Industry Research Center, the scholarship opportunities she helped establish, and the innumerable corporate partnerships she fostered.
As she prepared to step down as STHM Associate Dean, she recognized that there's still work to be done. For one, Barber said she'd like to see a hotel developed on Temple's campus and utilized by STHM students as a teaching laboratory, helping create North Philadelphia's identity as a destination.
Yet there's also plenty in which she can take pride.
"I hope I'm remembered for always pushing for the school to be the best it can be, and for setting a good foundation for it to grow," she said. "I didn't do it by myself. It took a group to let Philadelphia and the rest of the world know who we were."
The end of the 2015-16 academic year closed out Barber's tenure as Associate Dean, a term that has spanned the 18-year existence of STHM. She will transition from Associate Dean into a position that allows her to retain and strengthen current industry partnerships while cultivating new ones, and returning to one of her passions – teaching in the classroom.