Alumna Reinvests Her Philly Sports Sales Savvy at STHM
By: Alison Rooney
First Published: May 26, 2020
Topics: Alumni, Alumni Stories, Applied Knowledge, Industry Partnerships, New Programs, Sport, STHM School, Student Stories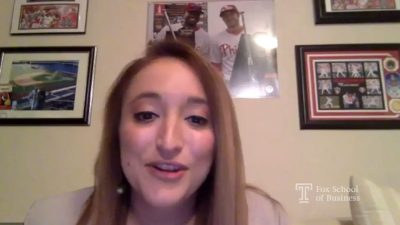 Alumni at Temple University's School of Sport, Tourism and Hospitality Management (STHM) have demonstrated again and again the myriad ways to give back and stay engaged with the school. Angelise Stuhl is taking this commitment to new heights. As an adjunct professor, she has created new courses, and this spring, the COVID-19 crisis provided an opportunity to involve students in a crucial aspect of her business.
Stuhl is CEO and sports director of PhiladelphiaSportsDigest.com, a multimedia outlet highlighting high school and college sports in the Philadelphia area. She created the site in 2015 when she was earning a Master of Sport in Sport Business (MSSB) at STHM. Running a startup multimedia news site that strives to be "the ESPN of high school sports" requires that she serve as a one-woman sales and marketing team, editor-in-chief and multimedia producer. 
A Leader on Campus and in the Classroom
Having earned a journalism degree from Klein College of Media and Communication in 2014, Stuhl was a commencement speaker at STHM's joint graduation with the Fox School of Business in 2016. She now generously brings back what she has learned over the past five years to students in courses at both STHM and the Fox School. 
This spring she developed a course at Fox called "From the Locker Room to the Board Room, the Making of a Modern Day Leader," which she co-taught with legendary Temple basketball coach Fran Dunphy. The course is open to students at STHM as well as Klein College. One highlight of this past semester was when she arranged a surprise visit from Philadelphia Phillies shortstop and World Series champion Jimmy Rollins. 
In April 2019, Stuhl served as a panelist part of the inaugural "Temple University Sports Business Conference" established by STHM's Sport and Governance Association. As one of four speakers on the "Changing the Game" panel, she focused on how to make your mark and make an impact on the ever-changing sport industry. Stuhl has also conducted senior exit interviews at Klein for the past three years.
Providing Students a Real-World Opportunity
This spring Stuhl stepped in to partner with Associate Professor Rick Ridall in his "Sport Sponsorship and Sales" class, part of the MSSB program. She was familiar with the class, having taken it as a graduate student and returned for the past three years to as a speaker. 
The original focus of the class had been a term-long project focusing on sales for the Philadelphia Phillies, but when the Major League Baseball season was delayed, Ridall had to devise another project that would provide similar hands-on sales experience.
Stuhl and Ridall quickly turned the students' attention to generating revenue for PhiladelphiaSportsDigest.com. Divided into four groups, the students developed a local sales campaign for a particular sport: a strategic plan, pricing options for prospective advertisers and sponsors and ideas for special supplements, student-athlete features or multimedia elements. "Being able to put class content into a live/relevant industry experience with a top alumni and industry partner in Angelise was the perfect combination for success," says Ridall. 
Most exciting for the students was that, if Stuhl liked the campaigns, graduates interested in a career in sales could ultimately work with her to put their plan into action—and any that were successful would earn a commission. Class member Zach Mutasak (MSSB '20) liked the real-world implications. "The cool aspect of this project is that, come fall 2020, we can go out, target those businesses and get paid," he says. "This motivated us to continue working in a practical sense." 
About halfway through the project, Stuhl visited the class, brainstorming and providing feedback on their approaches. "It was fun to see the students start to figure out various strategies, like how businesses and athletes can serve as tag-team partners in advertising campaigns," she says.
On April 29, the four teams made 15-minute presentations to Ridall and Stahl via Zoom. Mutasak's team—who called themselves the Philadelphia Elite Ticket Agency (PETA)—focused on seasonally themed sponsorships for football. "I was beyond impressed with all four student presentations," says Stuhl. "Their sales packages to target businesses in the area would be a perfect fit to advertise on our pages for those sports." 
Stuhl's engagement with STHM continues to extend beyond the scope of this open-ended project. In the fall she will again teach a special topics course she created titled "Emerging Multimedia Roles in the Sports Industry." Those STHM students will be fortunate to benefit from her sport industry experience, entrepreneurial spirit and hands-on leadership style.
Read more about Stuhl's spring leadership course at Fox School of Business with Fran Dunphy and their recent guest speaker, Jimmy Rollins.