The Student C.E.O Behind Temple University's Newest Saxbys Café
By: Courtney Kubitza
First Published: February 2, 2018
Topics: In the News, STHM School, Student Stories, Tourism & Hospitality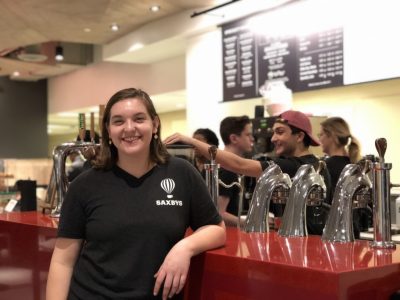 Hospitality first, coffee second. That's the mentality of Julia Maass, the Café Executive Officer (C.E.O.) in Saxbys' newest addition to campus, and her team.
Maass, a senior at Temple University's School of Sport, Tourism and Hospitality Management (STHM), is the student C.E.O of the newest location by Philadelphia's own coffee icon, Saxbys.
The café, which is located on the first floor of Speakman Hall, is part of Saxbys' Experiential Learning Program. The partnership allows students like Maass to serve more than just lattes for academic credit.
Maass has been given the opportunity to expand her entrepreneurial skills by being fully responsible for the café's profit and loss statement, managing a team of 60 students, and the overall operation of the café.
As a tourism and hospitality major, Maass is determined to establish her career  in the hospitality industry which is why she couldn't pass up the chance to work with Saxbys.
Learn more about Maass and her role as the C.E.O in the STHM Saxbys through the question and answer section below:
Where are you from?
"I grew up in Harleysville, Pennsylvania. It's a little rural town just 45 minutes outside of Philadelphia".
What made you choose Temple University?
"When I was initially going through the college application process everything aligned for me when I visited campus. Right then, I knew I wanted to be in the city and I wanted to be at Temple. A large part of my decision in coming to Temple was for the vast amount of study abroad opportunities. I traveled to Rome in the fall of 2015 and had the time of life. If anyone is questioning whether or not to study abroad I highly recommend it!"
Were you always interested in tourism and hospitality?
"No, I was originally was a human resource management major. It wasn't until I was the event planning intern at the National Multiple Sclerosis Society that I realized my passion was within the hospitality industry. I joined STHM in 2015 and haven't looked back since."
What other activities are you involved in?
"I've been working with Temple Campus Recreation for the past 3 years and I'm also a coach for Girls on the Run, which is an after school running program for girls ages 8 to 13. I've interned with the National Multiple Sclerosis Society, which I still enjoy volunteering and working with when I'm able to. I was also the sales and marketing intern at the Stratus Rooftop Lounge in the Kimpton Hotel Monaco."
How do you feel STHM prepared you for your previous internships and now with your current position with Saxbys?
"In many of my STHM classes we discussed multiple leadership tactics and how to effectively manage a team. It's amazing to see the theories I was taught in the classroom come to life."
What are you looking forward to most as the Student C.E.O of the café?
"What I'm most excited about, which is also what I'm most nervous about, would be managing the team. Our staff is full of vastly different individuals and I'm looking forward to helping us grow into a team. I don't just want to be their manager, I want to be a role model for them. Each one of our team members has unique aspects about themselves and I'm excited to help each of them grow professionally. Even if they decide not to stay with Saxbys I want each of them to take the skills we're learning with them to wherever they're headed next."
Do you have any advice for students who would be interested in having a hands on experience like you've had with Saxbys?
"Just apply! Don't be afraid to try something new. So many doors are going to open for you as soon as you take that first step. Also, utilize your resources. STHM is a global hospitality brand and it is as great as it gets. Build relationships with your professors and take advantage of every opportunity that comes your way".
What's your favorite beverage on the menu?
"I love espresso. A chai latte with soy milk is also one of my favorites."
If you're a current STHM student interested in opportunities like this one visit the STHM Passport where you can find internships, industry related hours and job opportunities. Industry partners interested in exploring a partnership program may reach out to Andrew Lovell, Associate Director of Industry Relations, at andrew.lovell@temple.edu.