STHM's MS in Sport Business earns another top-10
By: Jamie Cann
First Published: July 3, 2017
Topics: In the News, STHM School
For the second straight year, a graduate degree program at Temple University's School of Sport, Tourism and Hospitality Management (STHM) has been considered one the best of its kind in the world.
STHM's Master of Science degree program in Sport Business jumped two spots in SportBusiness International's rankings to reach No. 7 among its North American counterparts. Globally, the program climbed one spot to hit No. 9.
The publication announced its most-recent rankings in the July 2017 edition.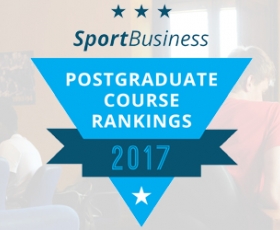 "I am delighted to learn that STHM's MS in Sport Business has once again been recognized as one of the world's top programs," said Dr. Jeremy S. Jordan, STHM Associate Dean. "This most-recent ranking from a leading industry publication such as SportBusiness International helps to confirm our school's reputation as a leading national and global provider of graduate- and undergraduate-level sport business and sport management education."
After polling alumni respondents, SportBusiness International ranked sport business programs based upon the following criteria: job-placement rate within three months of graduation; student satisfaction; enrollment demographics; average salary within three years of graduation; and quality of teaching satisfaction, among other areas.
Temple's MS in Sport Business program prepares graduates for high-level management careers in one of the fastest-growing industries in the United States. The 36-credit program, which can be completed in two years, affords students four distinct areas in which to pursue a concentration: athletic administration; recreation and event management; sport analytics; and sport marketing and promotions.
The program is the Philadelphia region's largest provider of management- and executive-level employees in sport and recreation. Graduates of the MS in Sport Business program have achieved professional placement in pro and college sport, recreation, event management, venue management, sport analytics, and sales, marketing, and promotion.
"We tailored this program and its concentrations not only to prepare students for the high-paced sport industry, but also to accelerate their careers in what has grown into an in-demand field," Jordan said.
The latest in a line of award-winning and highly ranked sport offerings at STHM is the newly launched Executive MS in Sport Business. This fully online, 30-credit programs combines foundational courses from the No. 1-ranked Online MBA at Temple's Fox School of Business, with sport-focused modules for leading executives with anywhere from 5 to 25 years of sport industry experience.