STHM Welcomes 50 Industry Partners to the 26th Annual Career Fair
By: Courtney Kubitza
First Published: December 14, 2017
Topics: In the News, Industry Partnerships, STHM School, Student Stories
More than 400 students passed through Mitten Hall on November 15, 2017 for the 26th annual School of Sport, Tourism and Hospitality Management (STHM) Career Fair. Each year, the STHM Career Fair invites a wide network of partners from the sport, recreation, tourism and hospitality industries to interact with and recruit the best and brightest students of the school.
The morning kicked off with a welcome address from the Associate Dean of STHM, Dr. Jeremy Jordan. Following his address, Jordan welcomed the keynote speaker Angel Prinos, Deputy Director of Athletics at the University of Pennsylvania. Prinos received both her bachelor's and master's degree from STHM and was proud to come back to share her insight with current students. She discussed how her education paved the way for her successful career in the sport industry and highlighted the importance of networking and making connections from the very beginning.
"The industry is just as much about who you know as it is what you know. It's important to build those relationships early on because you never know where they will take you," Prinos told students.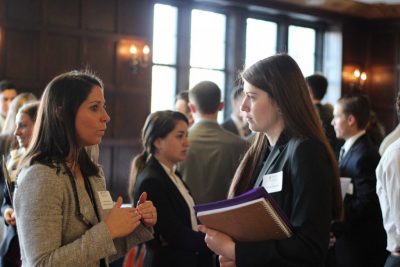 The first STHM Career Fair took place in 1991 with only five participating industry partners. Today, STHM's vast industry network has grown exponentially with over 50 companies attending the Career Fair to meet with students. Among those partners included the Cleveland Cavaliers, Philadelphia Convention and Visitors Bureau, Tiffany & Co., Aramark, the Philadelphia Phillies, Salamander Resort & Spa, and many more. STHM was also thrilled to welcome more than 30 alumni back to campus as representatives of their companies.
This is the first year that students in senior seminar did not plan the Career Fair, with a new course taking on the role. With a changing curriculum in the works, students in the Meetings, Conference and Convention Management class had the opportunity to plan and execute the event.
"The STHM Career Fair is now being implemented by the Meetings, Conference and Convention Management class to enhance the learning experience of the event leadership certificate," said Professor Christine Cleaver, who teaches the course. "The Career Fair is an experiential learning project that culminates the students' overall learning experience."
For more information about the Career Fair and STHM's strong industry ties, please visit the industry relations page.