STHM students in exclusive company at Major League Baseball's Diversity Business Summit
By: Jamie Cann
First Published: March 29, 2016
Topics: In the News, STHM School, Student Stories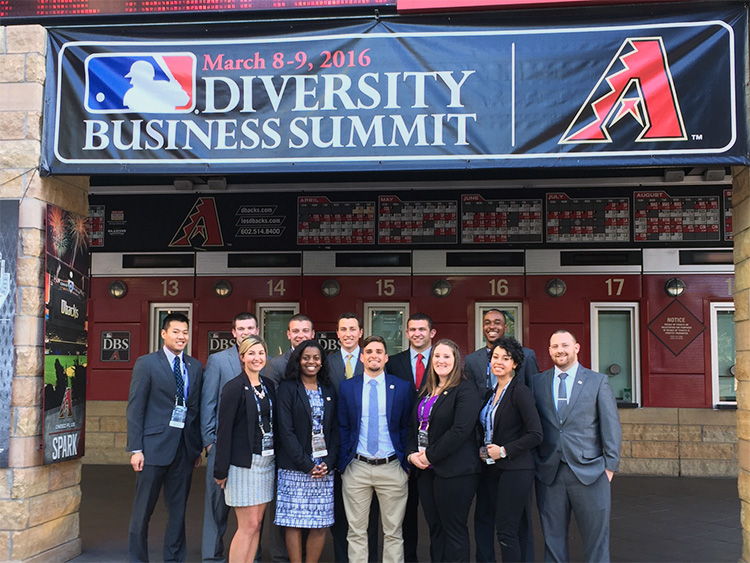 Twelve Sport and Recreation Management majors from Temple University's School of Tourism and Hospitality Management (STHM) traveled to Phoenix to attend the Major League Baseball Diversity Business Summit, a premier two-day sports employment and diversity trade conference.
And from the moment the students had landed in the Grand Canyon State, they got the sense that they were destined for a unique experience.
"Whenever I engaged in conversation, they'd recognize my STHM pin and discuss our top-ranked Sport and Recreation Management program," said Alexis Sullivan, a junior.
"A professor from the University of Oregon sat next to us at a spring-training baseball game that we attended," added junior Brenton Bender, "and he had nothing but good things to say about the upward trajectory of our school and our Sport Management program."
Representatives from the National Baseball Hall of Fame and Museum, and each of MLB's 30 franchises and more than 15 minor-league franchises attended the summit, which was held March 8-9 and hosted by MLB's Arizona Diamondbacks.
STHM's students received financial sponsorship to attend the MLB Diversity Business Summit from two divisions of the Philadelphia Convention & Visitors Bureau: PHL Diversity and PHL Sports.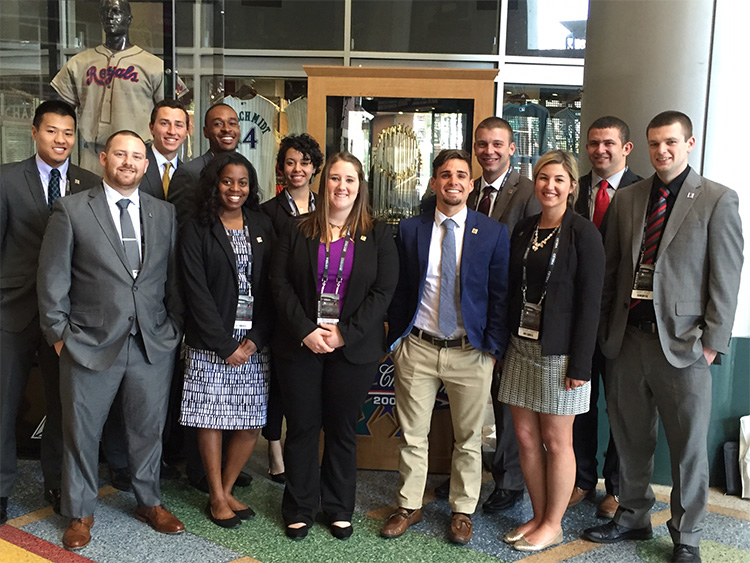 STHM Associate Vice Dean Jeffrey Montague and Associate Director of Industry Relations Andrew Lovell facilitated the opportunity and joined the student group, which featured five STHM Honors students among the six seniors, five juniors, and one sophomore. STHM students last attended the MLB Diversity Business Summit in 2014, when the New York Yankees served as hosts of the biannual event.
More than 1,500 undergraduate and graduate students, recent college alumni, and career-changing professionals traveled to Phoenix for this installment of the Diversity Business Summit, which focused on expanding the reach of baseball for the economic growth and well-being of diverse communities.
"We were fortunate to host William Rolack, the Senior Director of Workforce Strategy, Diversity, and Strategic Alliances with Major League Baseball, during his visit to STHM in November," said Montague. "In many ways, our students' attendance and participation in the MLB Diversity Business Summit reinforced Mr. Rolack's message of always pursuing professionalism, diversity, and inclusion."
Upon their arrival, STHM's students visited University of Phoenix Stadium – the home of the National Football League's Arizona Cardinals – for a stadium tour led by Steve Ryan, the Cardinals' vice president of business development. Ryan earned his Master of Education degree in Sport Administration from STHM in 1991.
The next day, students heard from keynote speakers MLB commissioner Rob Manfred and retired all-star outfielder Harold Reynolds, an analyst for MLB Network. The summit also afforded the STHM students interviews with human-resources personnel and exclusive networking opportunities with executives who hold corporate positions that span the baseball landscape.
"But the summit was so much more than a career fair," said Tyler George, a senior.
"Major League Baseball truly understands the importance of fostering an inclusive environment," fellow senior Amber O'Brien added. "They have become pioneers in ensuring inclusivity and diversity within the workplace, and the opportunity to be surrounded by leaders from all 30 clubs was amazing."