STHM Students Gives Back
By: Ray Periano
First Published: January 21, 2019
Topics: STHM School, Student Stories
The School of Sport, Tourism, and Hospitality Management (STHM) recognizes the importance of community service. This year, led by a group of philanthropic staff and faculty, a senior day of service was made a top priority for the senior level professional development course. What better way to learn about corporate responsibility and the power of charity than first hand. Richard Ridall, a professor and event organizer, said "charity and corporate responsibility play a large role in today's professional world. We want to better prepare our students for thinking not only about their future but about the positive impact they can have on their community."
On November 29 and 30 of 2018, more than 125 students and faculty from STHM gave their time and energy to Philadelphia's diverse and deserving community through the STHM Senior Seminar Days of Service. Coordinated efforts were spread across five well-deserving local organizations. The project included a variety of clean up and food services projects as well as organizational assistance such as running after-school programs and participating in youth activities.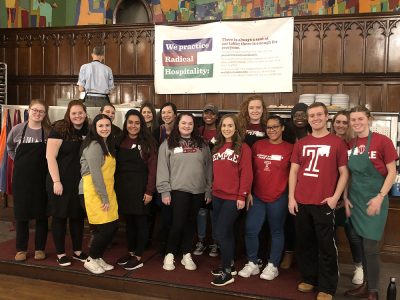 STHM partnered with Broad Street Ministry, adopting the Ministry's mantra of "Radical Hospitality" to provide the organization extra operational support. Students also spent quality time at The Beckett Life Center (BLC), an organization that believes "that the best way to invest into our community is to provide programming that supports, empowers, and uplifts local families." By focusing efforts on health and wellness, youth and professional development, BLC is able to enrich the community through a multitude of program offerings. STHM provided extra hands and minds to help BLC's ongoing mission. In addition, students also stopped by "the Y". As one of the nation's largest nonprofits with over 2,700 local entities, the YMCA is one of the farthest reaching organizations that STHM had the pleasure of partnering with. STHM sent students to Columbia North YMCA to support the location in its continuing efforts to provide a safe environment for local residents to stay active, happy and healthy.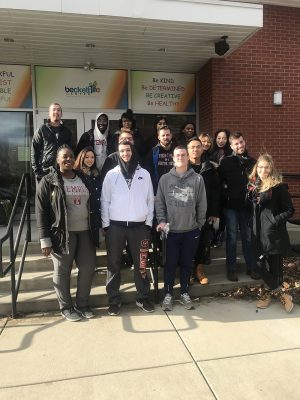 At STHM it's no secret that the Philadelphia Parks and Recreation department is near and dear  to our hearts. From parks, playgrounds and pools, to ball fields, farms and fairways, Philadelphia's Parks and Recreation department is a treasured part of this great city. The department's reach ensures that people across the city have access to some of the most exciting and tranquil spaces no matter which neighborhood they call home. Unfortunately, the size also makes public areas susceptible to litter and the need for clean-up efforts. STHM sent up to 15 volunteers per site, to four sites to aid in cleaning, operations as well as after-school program assistance.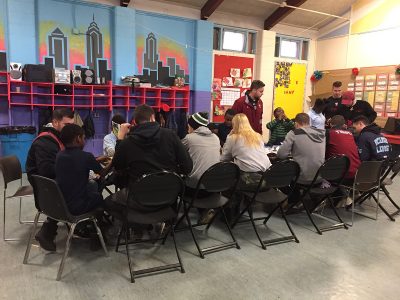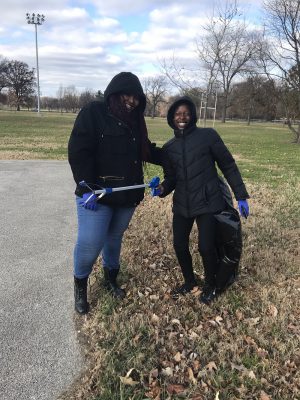 Resources were also provided to Philabundance, an organization striving to "drive hunger from our communities today and end hunger forever." It's that kind of tenacity and vision for the future that we appreciate here at STHM. Philabundance, being the largest hunger relief organization in the Delaware Valley, relies on a massive collaborative effort from volunteers who successfully distribute in excess of 24 million pounds of food per year to those in need. For more than 30 years their herculean effort has grown stronger and farther reaching each year. STHM helped with the organization and packing of food for distribution, nearly doubling the daily output from the typical 8,000 pounds to approximately 15,000 pounds. Students were "wowed by the difference and quality of care" that such an organization was making right here in the city of brotherly love.
The first Senior Day of Service was wildly successful and gave students and staff alike a unique perspective on the true value of charity. STHM intends on fostering this semiannual initiative for years to come because we believe it's important for our students to share in a sense of community no matter where their careers take them.
For more news and stories, follow STHM on Facebook, Instagram, Twitter and Linkedin.