STHM professor Ben Altschuler Embarks on Teaching Journey in Japan
By: Sarah Weitzman
First Published: September 5, 2023
Topics: STHM School, Tourism & Hospitality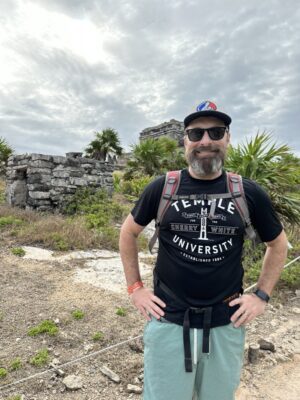 Ever since Ben Altschuler came to Temple University, he has been waiting for the right moment to teach abroad.
This fall, Altschuler, a faculty member at the School of Sport, Tourism and Hospitality Management (STHM), is going to Japan for a year to start the tourism and hospitality management (THM) curriculum at Temple's Japan campus (TUJ).
Despite never having taught in Japan, Altschuler is no stranger to teaching abroad. He obtained his PhD in Parks, Recreation and Tourism with an emphasis in Tourism, China and Cross-Cultural Studies at The University of Utah. He taught in China for three summers.
"I really came to love that area of the world and knew I wanted to go back there," Altschuler says.
His interest continued to grow as the years went by. But when the opportunity was finally offered, a global pandemic squashed his plans.
"I had been in talks with Temple Japan to go over there in the summer of 2020 because of the Olympics, but I think we all know what happened that summer," Altschuler says referring to the global pandemic. "So that never happened."
In December 2022, just after travel restrictions to Japan were eased, Altschuler was offered another opportunity to teach at TUJ. This time, however, he wasn't going just for the summer—he would be going to Japan for the whole year.
"It was like a no-brainer for me," he says. "We've just been trying to do it for years. And I was like, 'I got to do it.' Who knows when there's going to be another pandemic?"
Altschuler's background in cross-culture studies and his time in China is what made him interested in understanding how hospitality and tourism industries are different in Asian countries in comparison to the United States.
One difference he notes is that in China and Japan, there is more attention to the well-being of the group versus the individual.
"These are very collectively oriented countries where the group is very important," Altschuler says. "People just look out for each other in China and Japan."
The TUJ curriculum and classes will maintain a close connection to what is happening at the Philadelphia campus.
"For the most part, we are going to offer what we have on Main Campus," Altschuler says. "So as this curriculum gets built out, if students want to come abroad to TUJ for a semester, maybe longer, they will be able to get those same courses and fulfill the same sorts of credits."
Altschuler believes the program will offer Fox and STHM students a front-row seat to a myriad of opportunities for careers in Tokyo.
In April, MGM Resorts, a Casino Resort Empire, announced its $10 billion plan to build the first major casino resort in Osaka, Japan, in 2029, according to an MGM press release.
"Someone from MGM came and visited TUJ to get the word out that they are interested in our students," Altschuler says. "They're going to need 16,000 to 20,000 employees.
"And I imagine they will need employees who speak every language because they're looking to pull not just domestic tourists from Japan, but international folks as well," he adds.
Matt Wilson, dean of Temple University Japan, also agrees that implementing a THM program at TUJ would allow students more job opportunities.
"Japan is a world leader in tourism and hospitality," Wilson says. "Temple University is a global leader in tourism and hospitality management. This combination, together with the 60% growth in the undergraduate student body at TUJ since 2000, made the introduction of the world-renowned THM program a strategic priority."
Altschuler encourages all those in STHM to study abroad and to take a chance in experiencing a culture that's different from our own.
"That's what tourism, hospitality, events and sport is all about," Altschuler says.
"We interact with people from other countries, we provide hospitality for them, and we provide experiences for them. Traveling abroad provides lessons you will never learn anywhere else."