STHM Associate Vice Dean honored as Philadelphia business leader
By: Courtney Kubitza
First Published: September 3, 2015
Topics: In the News, STHM School
The applause began when Jeffrey Montague rose from his seat at the Crystal Tea Room in Philadelphia's John Wanamaker Building. By the time his name been called, the cheering echoed throughout the room, forcing the event's master of ceremonies to re-read a portion of Montague's biography.
The Associate Vice Dean of Temple University's School of Tourism and Hospitality Management, Montague received the 2015 Philadelphia Business Journal Minority Business Advocate Award, at the business newspaper's Aug. 27 award ceremony.
The event's emcee even christened STHM's awardee with a new nickname – "Jeffrey 'Popular' Montague," said Philadelphia Business Journal publisher Sandy Smith – as Montague arrived at the stage to accept his award, behind the stirring support of his family and STHM colleagues.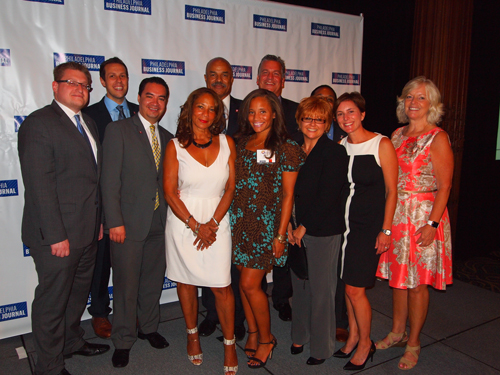 "Upon learning that I'd receive this award, it made me reflect upon what students, colleagues, alumni, and industry professionals have said to me for quite some time. They'd said, 'I don't think you realize how many people you've impacted in your role at STHM,'" Montague said. "In that context, I am certainly humbled to have been chosen.
"I'm so happy my wife, Robin, my daughter, Blayre, and my Temple family were there to celebrate this honor with me."
Annually, the Philadelphia Business Journal recognizes the region's top minority business advocates and business leaders by selecting those with "strong leadership roles outside of their jobs, and who serve in industry or community organizations," the program said. Namely, the newspaper seeks "influential people who are making a difference."
Executive director of the PHLDiversity Multicultural Affairs Congress Greg DeShields and Ray Yabor, president and CEO of Havana Holidays and Business Consultants, in conjunction with the Philadelphia Business Journal's editorial team, were responsible for selection of this year's honorees.
"Temple's School of Tourism and Hospitality Management has been a valued partner of the Philadelphia Convention & Visitors Bureau over the years," said DeShields, who came to know Montague while serving for more than a decade as the director of corporate relations for STHM. "And as Associate Vice Dean for the School, Jeffrey's contributions to the regional hospitality industry are tangible. There isn't a person more deserving of this award, and we are extremely pleased that he has been recognized for his strong leadership within our industry."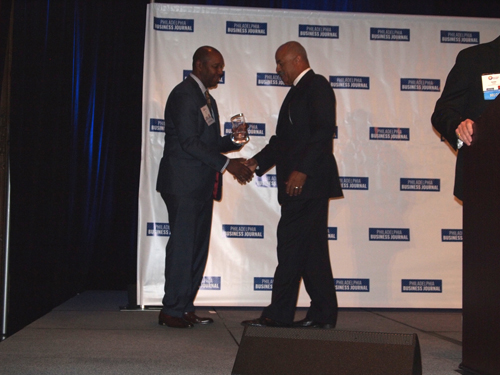 Montague, a co-founder of the School, is responsible for all student services at STHM, which serves nearly 900 undergraduate students and close to 100 graduate students, as well as 19 doctoral students. He is credited with evolving STHM's approach to academic advising and applying a professional approach to the development of minority talent.
Montague also founded STHM's senior seminar professional development course, the capstone course in which all students in tourism, hospitality, sport, and recreation management must enroll during their senior year. The course prepares STHM's students for internships they will hold in the subsequent semester, thus simulating the experiences they will have while working for a small company.
"Senior Seminar is one of the best academic preparations for the real world that I've ever seen," said STHM Associate Dean Dr. Elizabeth Barber, who co-founded the School with Montague. "Its concept, its design, under the leadership of Jeffrey Montague, teaches our students about the importance of giving back. No one has given back and supported STHM quite like Jeffrey, and I am proud he's been recognized for his exceptional leadership."
–Christopher A. Vito