STHM alumnus experiences World Series in front-office role with Cleveland Indians
By: Jamie Cann
First Published: January 28, 2017
Topics: Alumni Stories, Connections, In the News, STHM School
In October, Jesse Rathner reached the pinnacle of the baseball world.
A graduate of Temple University's School of Sport, Tourism and Hospitality Management (STHM), Rathner serves as the Executive Development Fellow within the Cleveland Indians' Service Excellence department.
The Indians won the American League championship to reach the World Series for the first time since 1997. They also recently became one of the first Major League Baseball franchises to dedicate a department within their front office to the support and improvement of customer service. In his role, Rathner is tasked with assisting in efforts to develop the service capabilities across the organization, including the Indians' customer-service experience at their home ballpark, Progressive Field.
Rathner accepted his position with the Indians less than one month after graduating from STHM with a Master of Tourism and Hospitality Management degree. He anticipated seeking work in the hotel or tourism industries, given his service management and customer service expertise.
In fact, those skills come into play on a daily basis with the Indians. Rathner has been tasked with conducting an external business analysis of other organizations, which provides insight into how a strong service strategy can positively impact the entire business operations of an organization. He is also in the process of visiting a variety of venues, attractions, and destinations within Northeast Ohio that will help provide additional insight to this analysis. During the season, Rathner also has the opportunity to work with the Indians seasonal staff to help build an enduring customer-service culture, ensure maintenance of core standards, and improve internal service training at all departmental levels.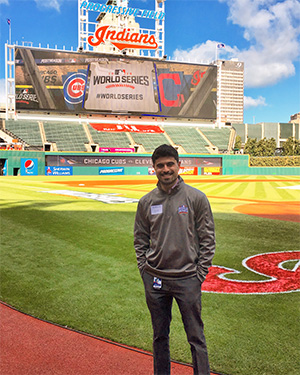 For the Indians, Rathner said, customer service is a priority.
"I have seen (customer service) consistently, beginning from when I went through the recruitment process for the position, and it has only grown as I have gotten more familiar with the organization," said Rathner, a native of Bethesda, Md.
"It's incredible. I feel extremely fortunate to be part of an organization that is such an important part of the lives of so many people. The Indians do an amazing job of encouraging employees to understand how their efforts fit into the big picture, and take pride in our collective accomplishments."
Rathner joined the franchise's front office in June, four months before the Indians won the American League Central Division, then the A.L. pennant, to reach the World Series. Of course, Rathner couldn't avoid getting swept up in the product on the field.
"I had the opportunity to work with other departments that I otherwise may not have experienced," he said. "My days were certainly a little bit longer, too. I would get to the ballpark by 9 a.m. and leave after the games had concluded, which was sometimes 12 a.m. or 1 a.m. During the games my main priority was to assist in any way that I possibly could, in delivering a high-quality experience to the fans at our games."