STHM alum Patrick Brogan strikes a chord as Musikfest's Senior VP of Programming
By: Jamie Cann
First Published: August 18, 2014
Topics: Alumni Stories, In the News, STHM School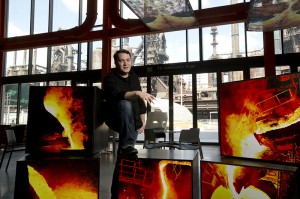 Hard work helped Patrick Brogan strike a chord with his employer.
A School of Tourism and Hospitality Management alumnus, Brogan had interned in Summer 2002 for ArtsQuest, a music- and arts-centric non-profit. He pined for a full-time position, so he committed himself to doing just about anything to get his foot in the door.
"I even used my vacation time to work Musikfest," Brogan said of ArtQuest's 10-day summer concert staple of the Lehigh Valley that features 350 acts. "I did that for two years. I would use vacation from my real job, as the managing director of the Philadelphia Film Festival, and come back as stage manager at Musikfest. I loved it. It was everything from crew calls to working with the union labor we were using, hospitality in the green room and coordinating fan meet-and-greets with the bands. It was everything I wanted out of a career."
In a way, Brogan never left ArtsQuest. These days, he's their Senior Vice President of Programming and counts booking bands for Musikfest among his primary responsibilities. The headlining bill at this year's Musikfest's included Keith Urban, Jason Derulo, Sheryl Crow, Weezer, The Moody Blues, Steely Dan, Alan Jackson and The Avett Brothers.
The end of Musikfest brought about planning for the 2015 installment of the festival, as is to be expected. In between, though, Brogan books musical acts and promotes concerts and events year-round, also managing holiday craft festivals, jazz festivals, blues festivals and other related events.
And Brogan, STHM's recipient of the 2014 Outstanding Alumni Award, said he relishes all of it.
"I think the key is that, whatever I do, I'm all in," said the native of Allentown, Pa. "ArtsQuest realized that and, to some extent, I grew up at Musikfest both professionally and personally. I was part of the family, and when the opportunity came open to extend their commitment to me, it was a great connection there. They've entrusted me with more and more responsibility and it's been a great run."
A 2004 STHM alumnus, Brogan books more than 1,000 acts annually for ArtQuest's programming. (In his eight-year tenure, he's booked more than 8,000 performances.) Maroon 5 and Urban rank among his most-notable bookings, with the latter producing a memorable moment.
Brogan had solidified a date with rising country music star Hunter Hayes, but the concert fell through. Using his budding reputation in the industry, Brogan worked the phones with Hayes' agent, who also represents Urban, and was able to lock down a date to bring Urban to Musikfest.
"We sold out the day we went on sale," Brogan said. "That was a great day."
Not every day is as monumental, however.
An illness befell ZZ Top bassist Dusty Hill and forced the cancellation of the legendary rockers' date at this year's Musikfest only 10 days before they were to take the stage. Knowing the show must go on, Brogan and his colleagues refunded all ticketholders, locked up an Allman Brothers tribute band and put on a free show open to the public that drew nearly 5,000 people.
"We lost a revenue opportunity, but we saved the night," Brogan said. "Making lemonade out of lemons – that's what this business is about. You have to be flexible and you have to make the customers happy.
"You have to go hard at what you do, because there are tons of people who would love to have the opportunity I've been blessed with. STHM and the professors, who were great mentors and great people to bounce ideas off of, taught me that skill."