Philadelphia Union CEO visits STHM as Executive in Residence
By: Jamie Cann
First Published: March 30, 2015
Topics: In the News, Industry Partnerships, STHM School
The transition, from soccer goalkeeper to soccer executive, wasn't smooth. For Nick Sakiewicz, the bumpy path is the preferred route.
"My whole career," he said, "has been about taking risks."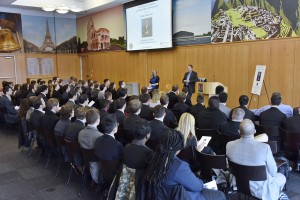 Sakiewicz has built a career upon a series of personal and professional risks. The Chief Executive Officer of Major League Soccer's Philadelphia Union, and Operating Partner of Keystone Sports & Entertainment, LLC, the Union's ownership group, Sakiewicz visited Temple University March 19 and spoke to students from the School of Tourism and Hospitality Management (STHM) as an Executive in Residence.
With Comcast SportsNet anchor Amy Fadool serving as moderator, Sakiewicz shared stories of his move from a career in professional sports to one in sport business at the age of 29, how he helped found the Union, and what challenges await the sixth-year soccer franchise.
Before helping build the Union into a Major League Soccer (MLS) fixture, the 54-year-old Sakiewicz played the sport. In the last stop of his playing career, he said he earned $500 per game "and maybe a steak dinner if we won" while playing in 1990 with the little-known Tampa Bay Rowdies, of the American Professional Soccer League.
"I was chasing the dream, and that's when I had a conversation with my dad," said Sakiewicz, whose father had played semi-pro soccer in his day. "I'll never forget what he told me: 'As an athlete, the older you get, the less valuable you get. But as a businessman, the older you get – presumably, if you do it right – the more valuable you become.'
"He was right."
Sakiewicz hung up his spikes after that one season with the Rowdies, moved to California to pursue a career in banking and, in 1995, accepted an offer to become an employee of MLS. The career switch landed him with Tampa Bay Mutiny, for whom he served as President. In 1999, the New Jersey native moved back to the Garden State to become President of the New York/New Jersey MetroStars. He'd stay in that role for five seasons, and then accept a position with AEG New York. With AEG, he later became President and oversaw the 2006 sale of the MetroStars, his former team, to energy-drink giant Red Bull.
Again, Sakiewicz looked ahead to the next big thing.
"When it was time for me to leave AEG and figure out my next step, I honed in on Philly because it was available," he said. "Why a team wasn't in Philadelphia was beyond me. So I pulled out my American Express card and started Keystone Sports. It was either going to be a great story one day, or a really big credit-card bill."
Jumping through political hoops and cutting through construction-loan red tape, Sakiewicz navigated the first steps of the Union's infancy, which fell in line with an American recession. He oversaw the location scouting for the stadium, PPL Park, which sits in Chester, Pa. He hired the first coach. He helped field the first roster. And he watched in 2010, as the Union took the pitch for their inaugural season.
"The canvas was blank when I came to town seven years ago, and we're incredibly appreciative and proud of what we've built and what we continue to build," Sakiewicz said. "But we're not done.
"I say to my staff quite regularly, 'We're like an 18,000-seat restaurant that, on Saturdays, hosts parties. The product on the field is the food that goes on the plate. And if that food isn't good, those patrons – in this case, our fans – are not coming back.'"
The Union have carved out a foothold in the region. They've established a youth development academy near King of Prussia, Pa., they've erected practice fields in Chester, and they're making plans for an adjacent, state-of-the-art training facility. They boast 100,000 fans engaged on social media, average 18,000 fans per home match and have paced MLS in merchandise sales for three of the Union's first five seasons.
"The next thing we need to do," Sakiewicz told STHM's students, "is win a trophy. Philadelphia loves hard work and grit, but this city loves a winner more."