STHM Hosts National Society of Minority Students in Hospitality Conference
By: Alison Rooney
First Published: February 19, 2020
Topics: Alumni, Applied Knowledge, In the News, STHM School, Student Stories, Tourism & Hospitality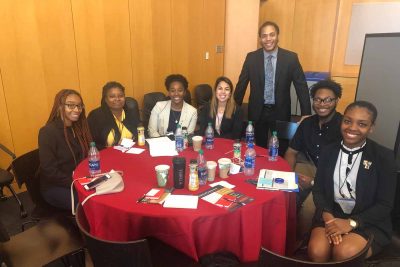 In October, Temple University's School of Sport, Tourism and Hospitality Management (STHM) hosted the 2019 Northeastern Regional Conference of the National Society of Minorities in Hospitality (NSMH). The Temple University Chapter of NSMH helped to organize the conference, which convened nearly 100 representatives of various chapters from across the Eastern region of the U.S.
The premier professional organization for minority hospitality students, NSMH supports the career development of its members and brings dynamic talent to the industry. The society also addresses issues of diversity and multiculturalism that are important to the future leaders. The October conference was just one of the many events and programs NSMH leads to connect college-level students with company sponsors, industry representatives, other hospitality organizations, advisors and mentors and high school students.
"The event provided the opportunity for chapters of the organization to network among themselves as well as with a number of industry partners," said Valentina Acosta (STHM '21), Vice President of the NSMH Temple University chapter. Participating institutions included Penn State University, Cornell University, Johnson & Wales University, the University of Maryland, University of Central Florida and University of Massachusetts Amherst.
Sponsors for the two-day event included Destinations International, Hyatt Hotels Corporation, Hilton Hotels & Resorts and PHL Diversity, a division of the Philadelphia Convention & Visitors Bureau. The workshops covered a range of topics, from unions in hospitality and branding yourself to diversity and inclusion in sales and events. Alumni panelists included Amanda J. Molinaro (STHM '17) of Thomas Jefferson University and Hyatt's Erica Rudy (STHM '18).
Representatives of Hyatt and Hilton provided insightful presentations on a variety of opportunities such as internships at hotel properties, ambassador positions for the Hyatt brand and corporate management training programs.
Participants also enjoyed tours of prominent Philadelphia destinations, including four premier hotels in Center City as well as Temple and its food service provider, Aramark. The conference provided valuable opportunities for attendees to expand their networks as professionals in the hospitality industry, including learning about STHM's graduate program in hospitality management.
"Similar to NSMH, STHM has a legacy of producing hospitality superstars," says Ronisha Goodwin, regional director of Human Resources Operations at Hyatt Corporation and a member of the NSMH Advisory Board. "I am always impressed by the industry exposure and level of preparation in the internship and management trainee candidates we hire from the program. The conference was a terrific opportunity to get to know the STHM students and create a deeper connection around diversity and inclusion—a shared passion for everyone involved with both organizations."
The Temple University Chapter of NSMH is now working with STHM's Dean's Office to prepare for NSMH's Annual National Conference in Houston, Texas, in February 2020.